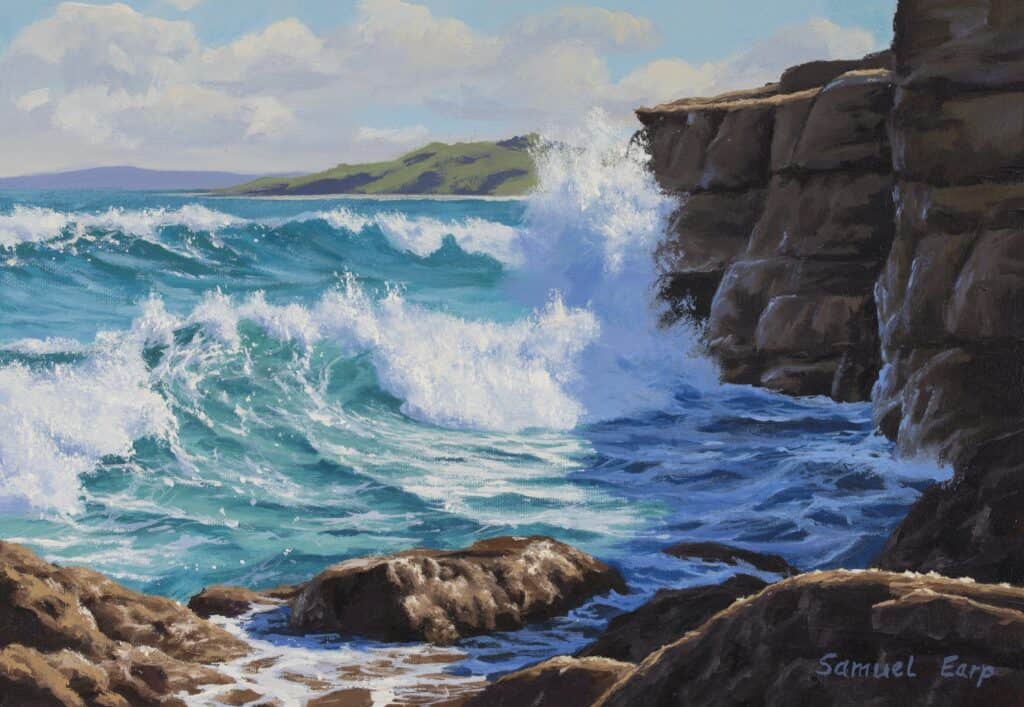 Are you feeling stuck, unmotivated, or uninspired in your painting? These inspiring painting ideas will help you break through your artist's block, get fired up, and get your creativity flowing again.
Have you ever found yourself staring at a blank canvas with no ideas, uninspired or unmotivated to create? Artist's block and feeling unmotivated is a real struggle, but it doesn't have to be permanent.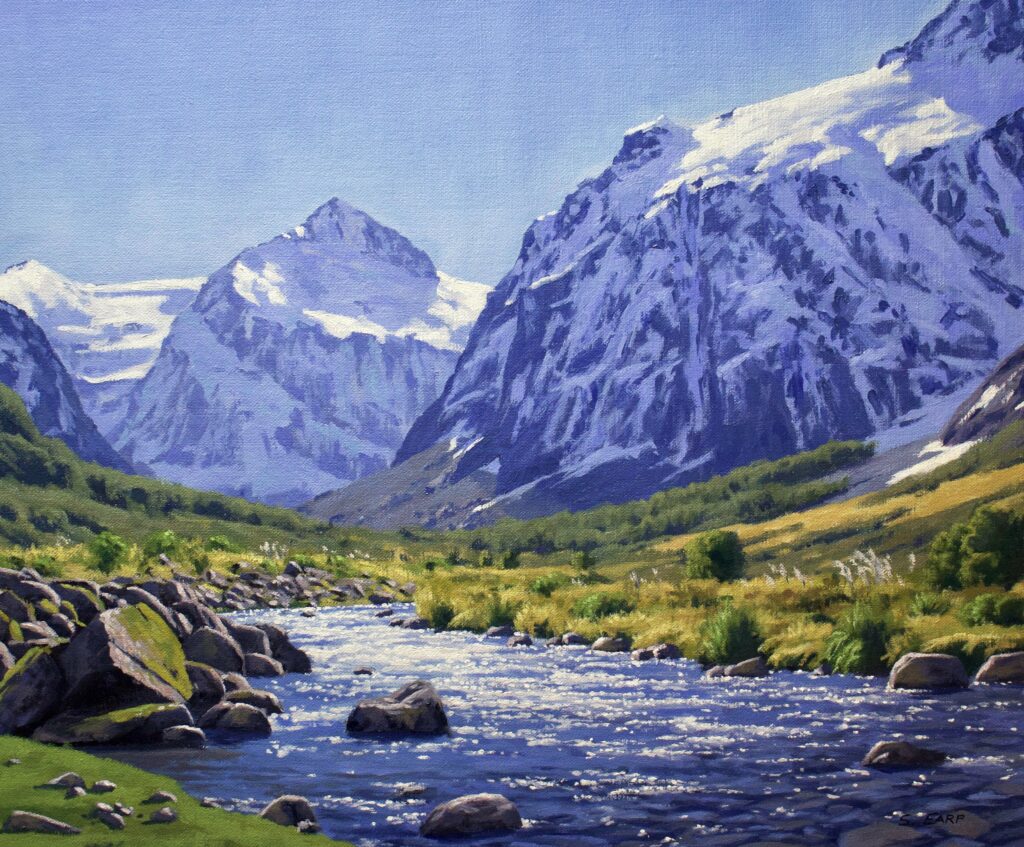 To help get your creativity flowing again, I have compiled a list of painting ideas to inspire you to pick up your brushes and start painting. While I have mostly painted the following artworks using oil paint, you can use various paint types and art supplies to create these painting ideas.
From landscape painting ideas, still lifes, and seascapes to playing with colors, lights, and darks, these easy painting ideas will surely spark your artistic imagination. So get ready to break away from your creative slump and discover new possibilities with these painting ideas.
Bookmark this post on Pinterest!
1. Create Beautiful Landscape Paintings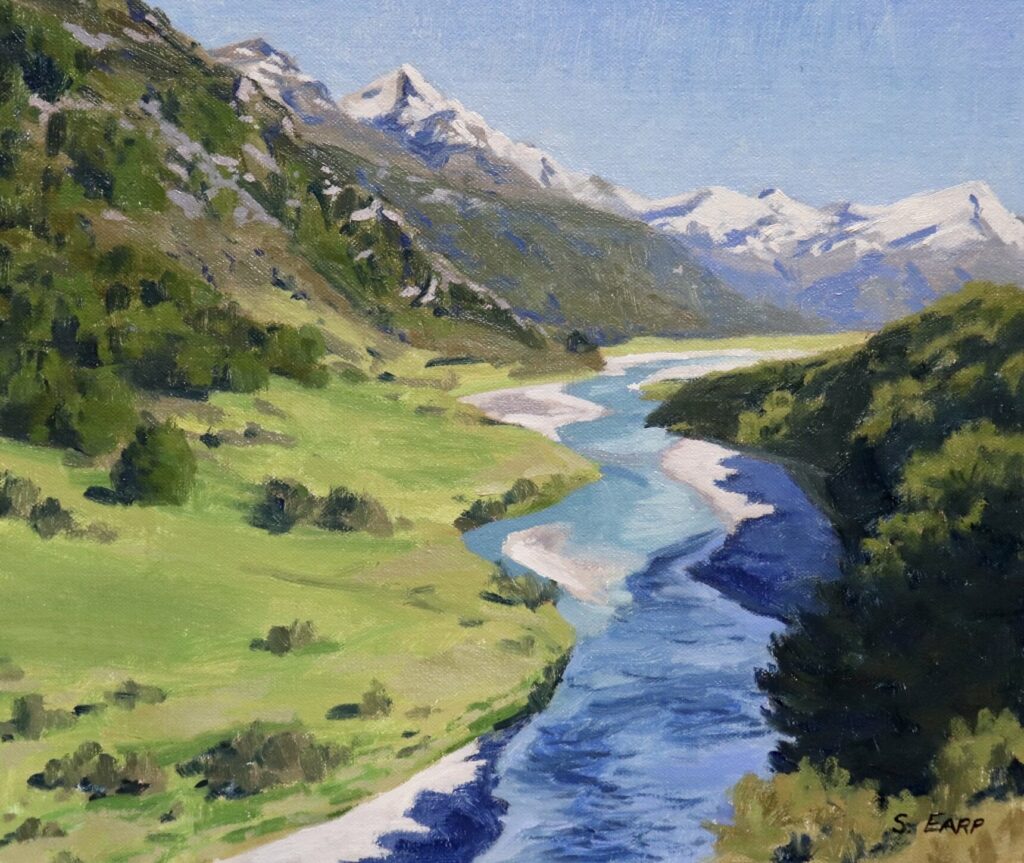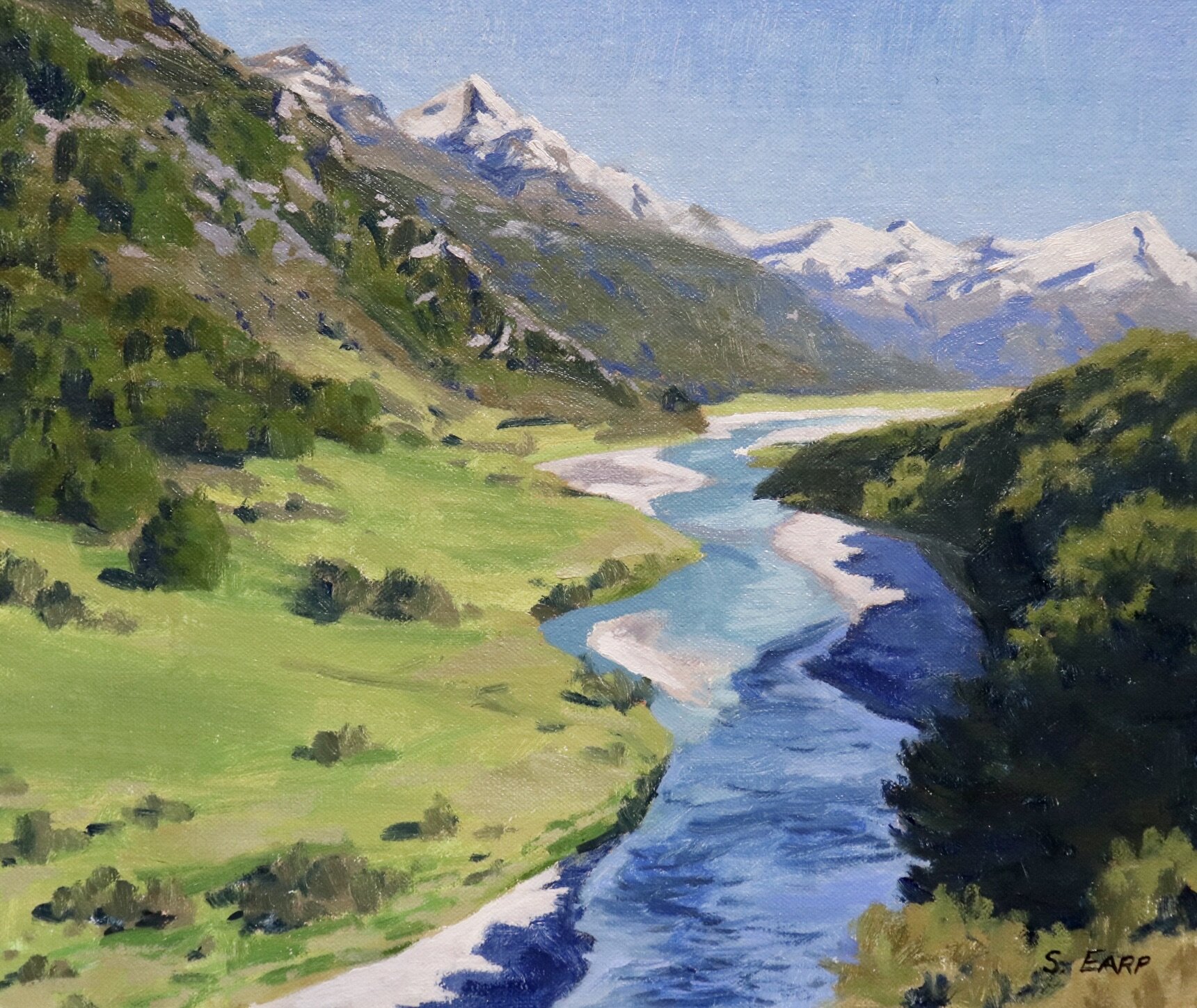 Creating landscape paintings is an easy painting idea that can help you shake off an artist's block. Landscapes have been a beloved subject of art since the beginning of time. From serene meadows and hills mountains to rivers and forests, the great outdoors is an endless source of inspiration. 
Consider taking a walk or driving to a nearby park, nature reserve, or the countryside and observe the colors, forms, masses, and textures within the scenery. Note how the light passes through the trees or how the shadows fall on the ground.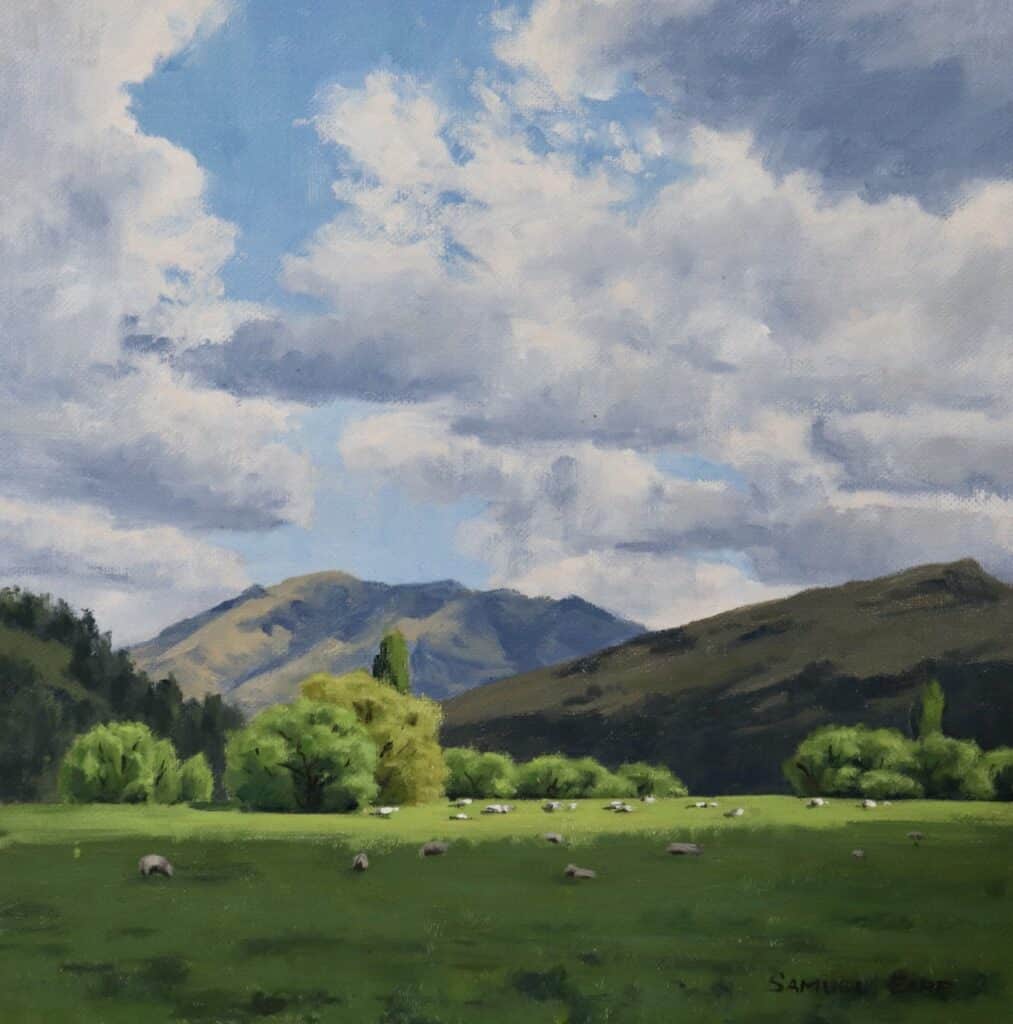 Bring a camera or sketchbook to collect ideas for landscape paintings. Then, use these observations to create ideas that capture the essence of the natural world. 
Experiment with different brush strokes and be bold and expressive. Try other layering techniques and color combinations to create depth, texture, and dimension in your painting. The beauty of painting landscapes is that they can be created in many ways.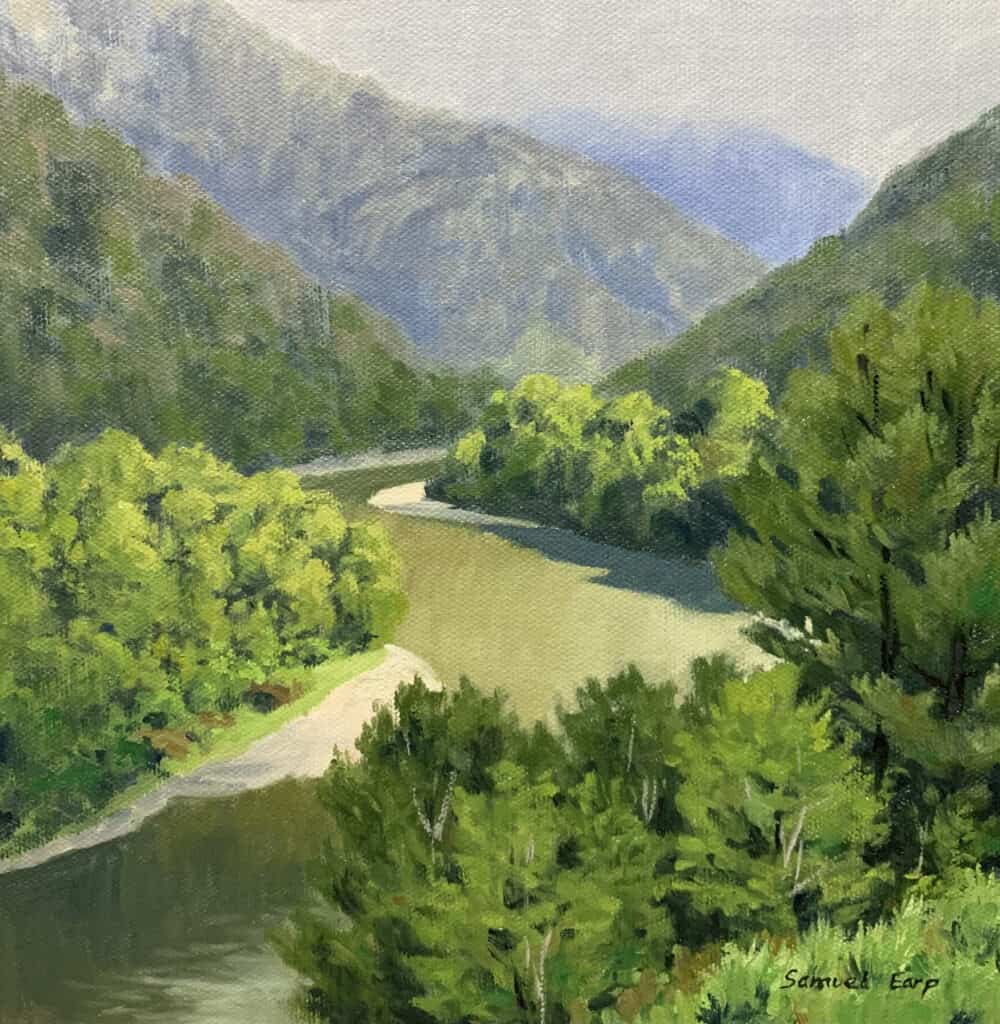 You can quickly learn how to paint landscapes using oils, acrylics, watercolors, and gouache.
Check out these tutorials on painting landscapes;
How to Paint a Rural Landscape
How to Paint a Landscape – Painting Trees and Rolling Hills
ARE YOU STRUGGLING WITH YOUR PAINTING?
JOIN MY ONLINE ART SCHOOL AND UNLEASH YOUR INNER ARTIST.
Step-by-Step Painting Tutorials
Helpful Tips and Techniques
In-depth lesson notes
Inspiring reference photos
Instant access to all content, including videos, lesson notes, reference photos and more.
A vibrant and friendly community, meet other members, ask questions, and share your art.
Zoom meetings for Q&A's, painting critiques and painting livestreams.
Ideal for beginners and experienced painters.
Lots of inspiration, help and support to take your painting skills to the next level.
2. Paint Majestic Mountains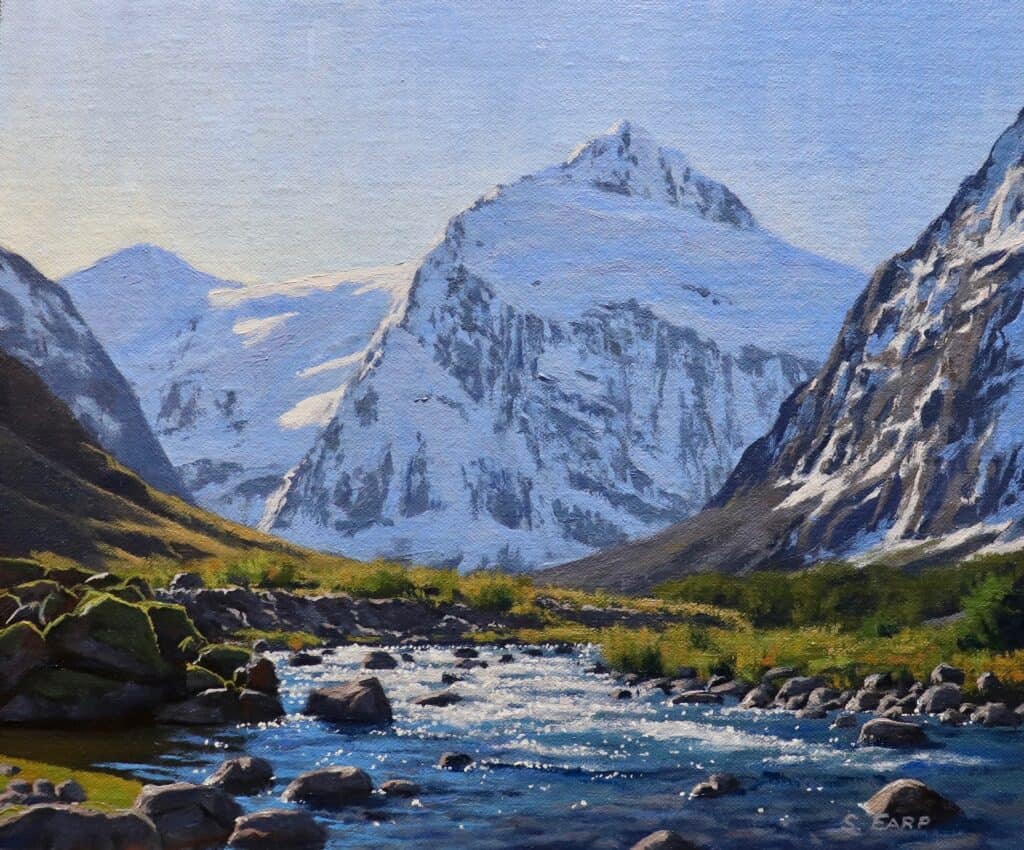 The mountain range is one of the landscape's most iconic and dramatic elements. Whether it's a distant peak or a towering cliff, mountains can add drama, scale, and complexity to your paintings. 
When painting mountains, it's essential to consider the tonal values within your painting to create a sense of scale distance.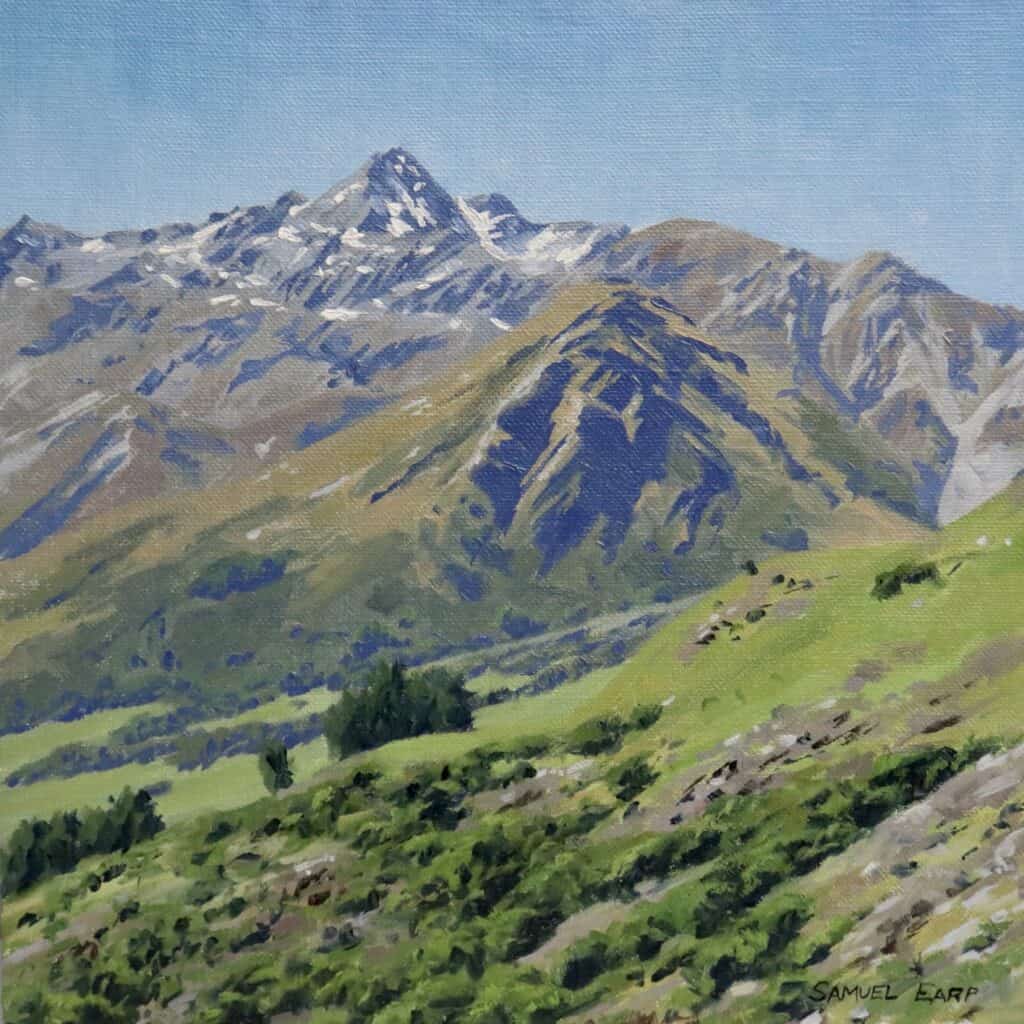 Mountains are an excellent subject for creating drama and tension in your painting but in a good way. A mountain peak near your canvas's top can communicate great height.
Painting mountains is fun and fabulous for a beginner a painting because it can help you understand the landscape's tonal values. This will help you to create more depth in your paintings.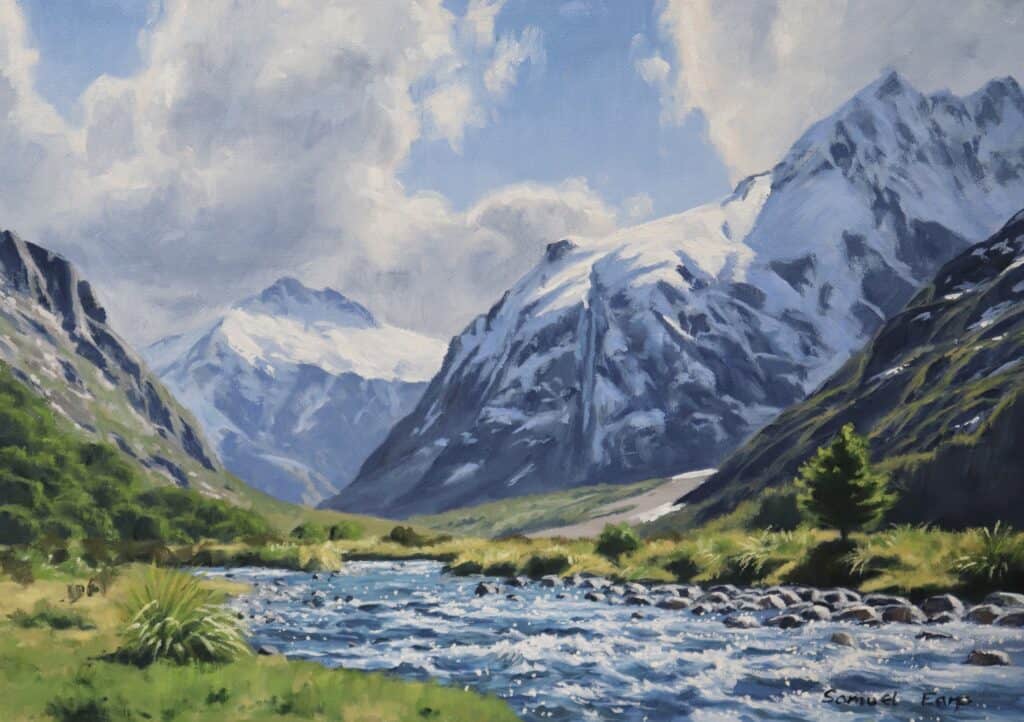 Check out these written tutorials on painting mountains;
How to Paint a Mountain Stream
How to Paint Mountains in Five Easy Steps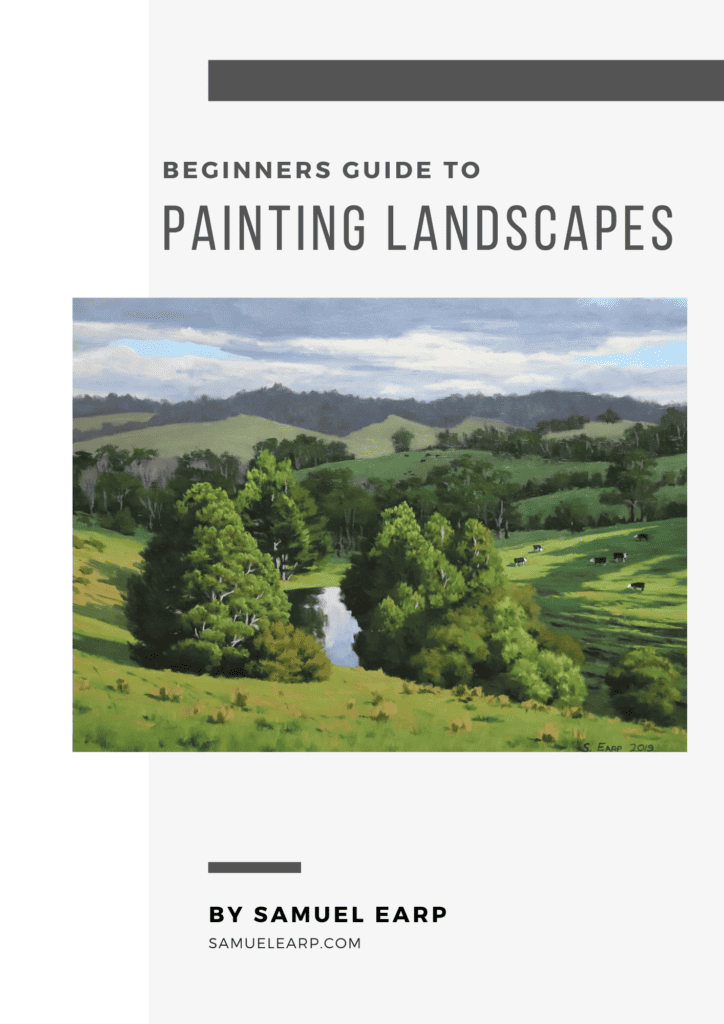 3. Paint Beautiful Trees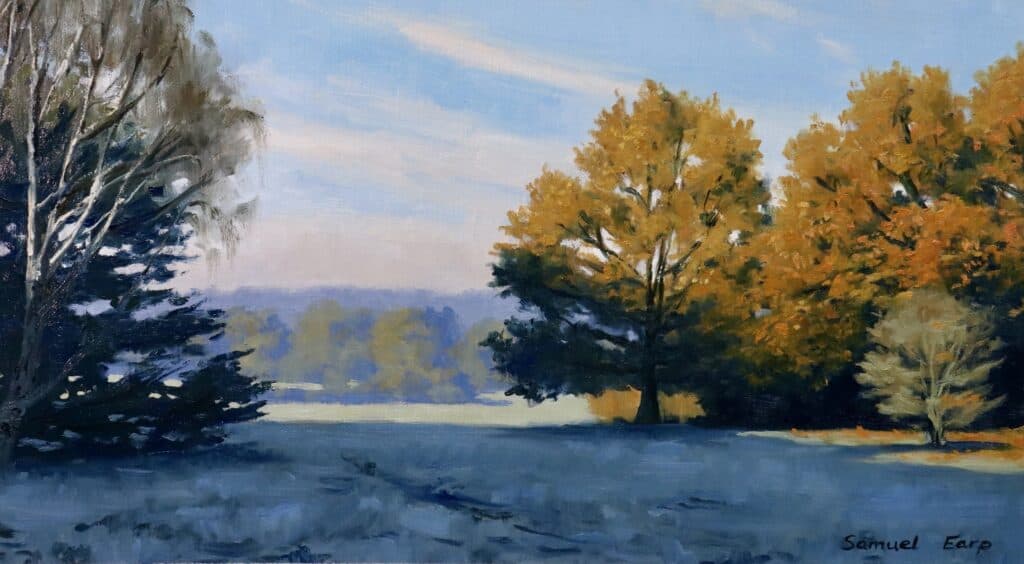 Consider including trees in your composition to further elevate your landscape paintings and overcome the artist's block. Trees can add depth and interest to a landscape painting and invoke a sense of calm in the viewer. Trees in a painting can also help to communicate the seasons or time of year. 
One way to begin is by observing trees in real life and studying their characteristics. Go outside with your camera and note how their trunks and branches twist and turn and how the light falls on them. Take note of the characters of the leaves and foliage.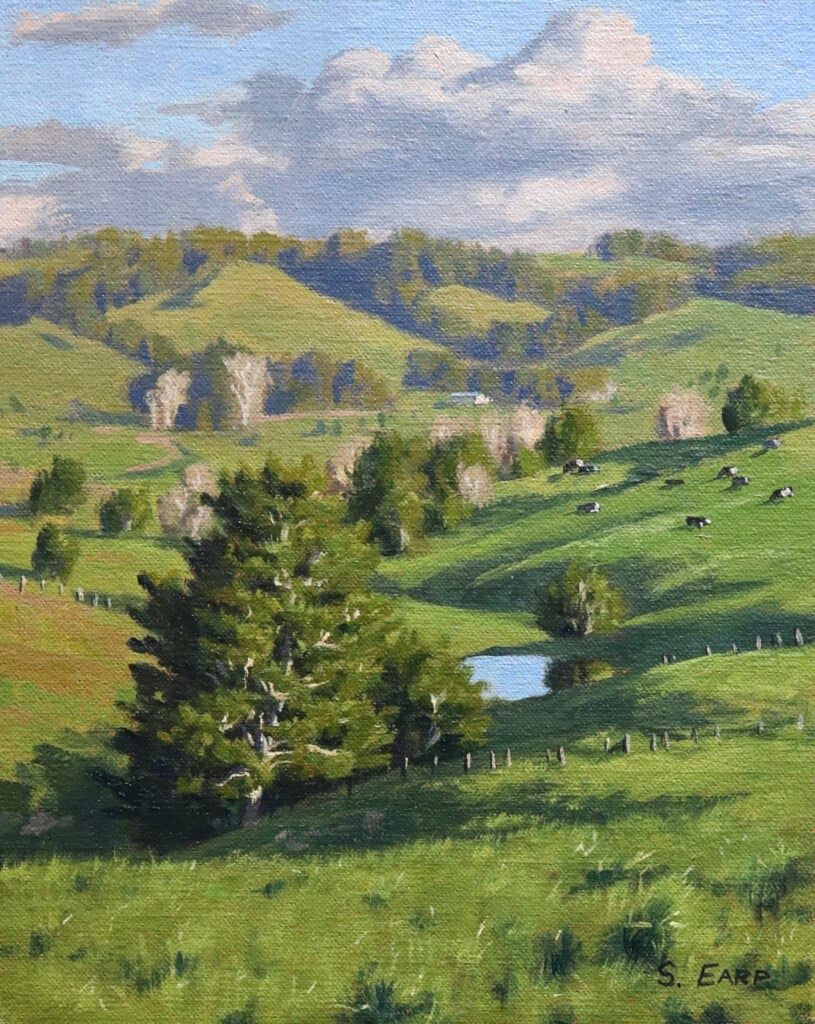 When painting trees, it is often easier to simplify them into basic shapes and forms using loose brushwork and then add details on top later on. This helps create a more stylized or abstract version of a tree while still maintaining its recognizable form. However, you can go as detailed as you like.
However, if you choose to incorporate trees into your landscape, keep in mind the overall composition and atmosphere of the painting. Trees can lead the viewer's eye and create stability and a sense of depth in a composition.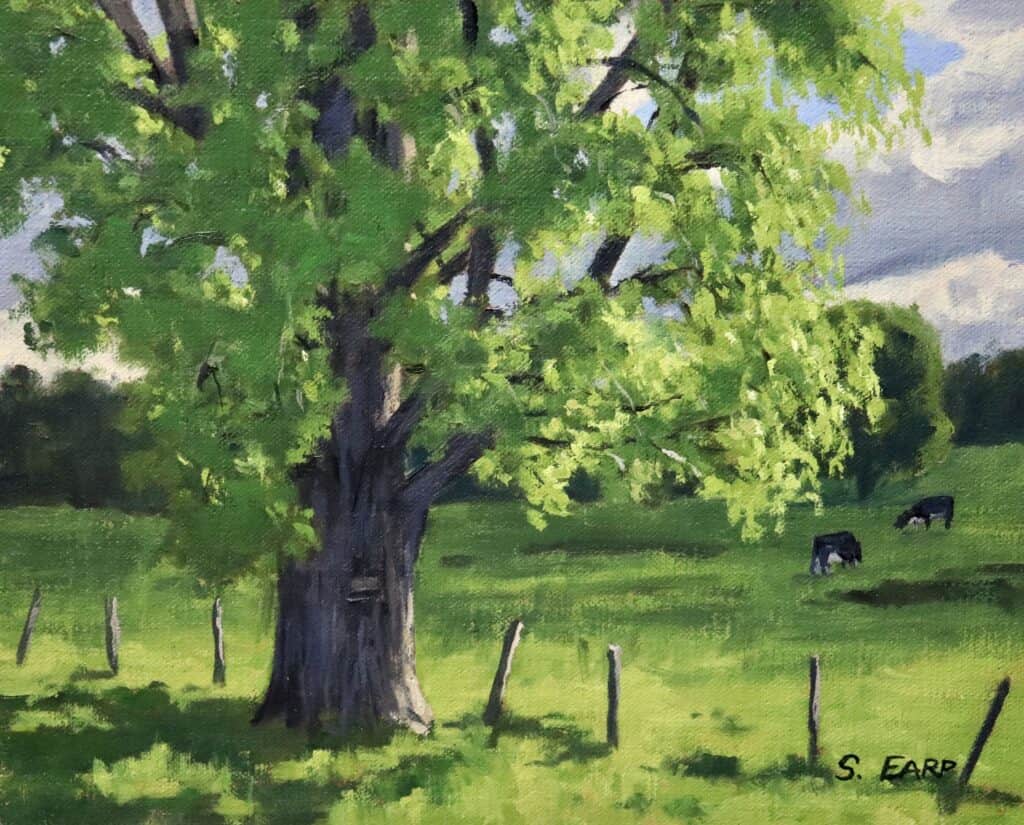 Have a look at these tutorials on painting trees;
4. Paint The Wild Sea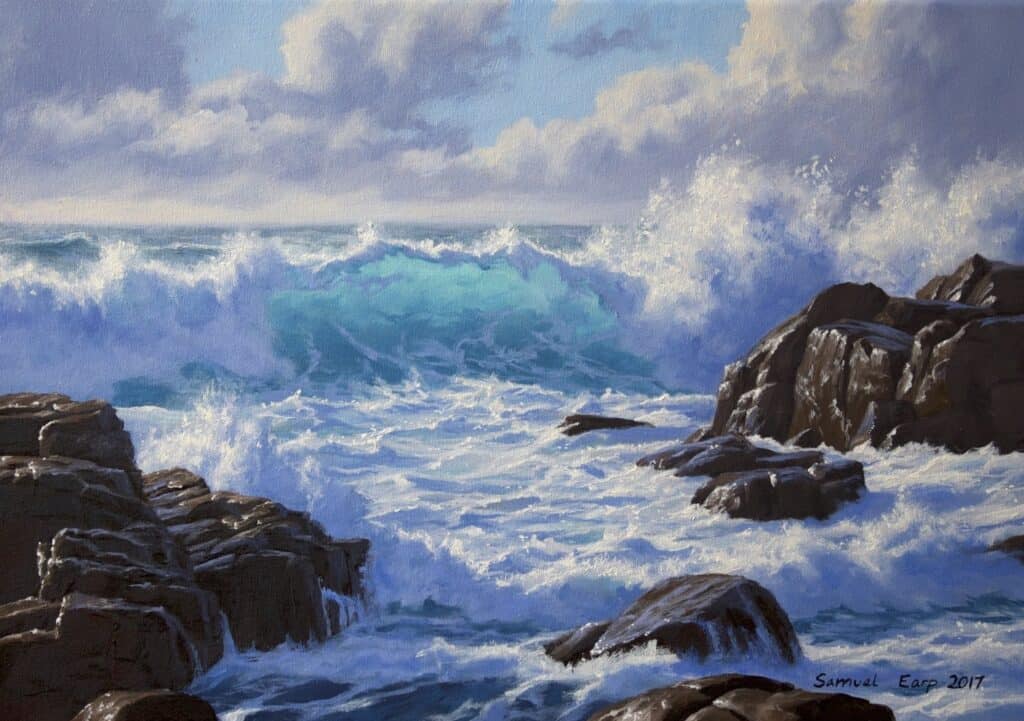 One of the subjects I love to paint is seascapes. Painting a subject as dramatic and beautiful as the wild sea can help you overcome an artist's block. 
As the beauty of painting landscapes lies in their endless interpretations, there is precisely the potential in marine and painting ideas. A seascape painting idea can transport you to different places. With the unique colors and elements of the ocean, it can be an endless source of inspiration for paintings.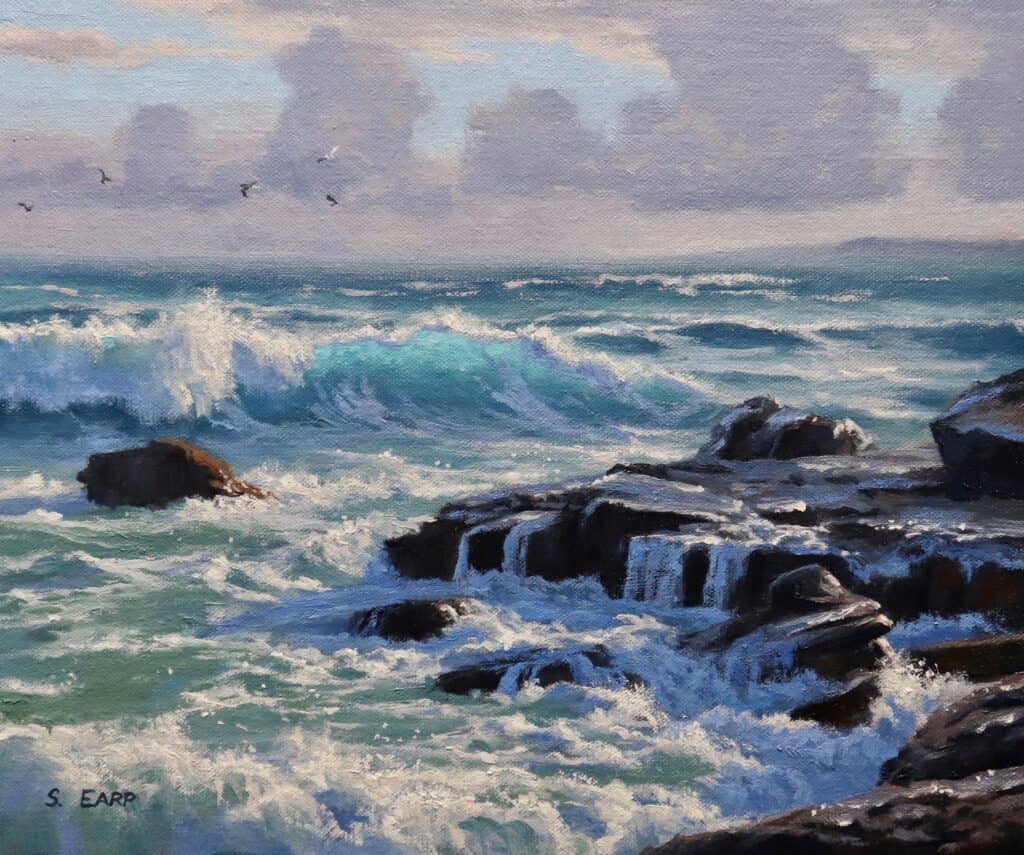 Take a trip to the coast or walk on the beach, observing the sea, the breaking waves, how they crash over rocks, and the tendrils of foam patterns in the water. Be sure to take a camera, paper, or sketchbook with you so much fun.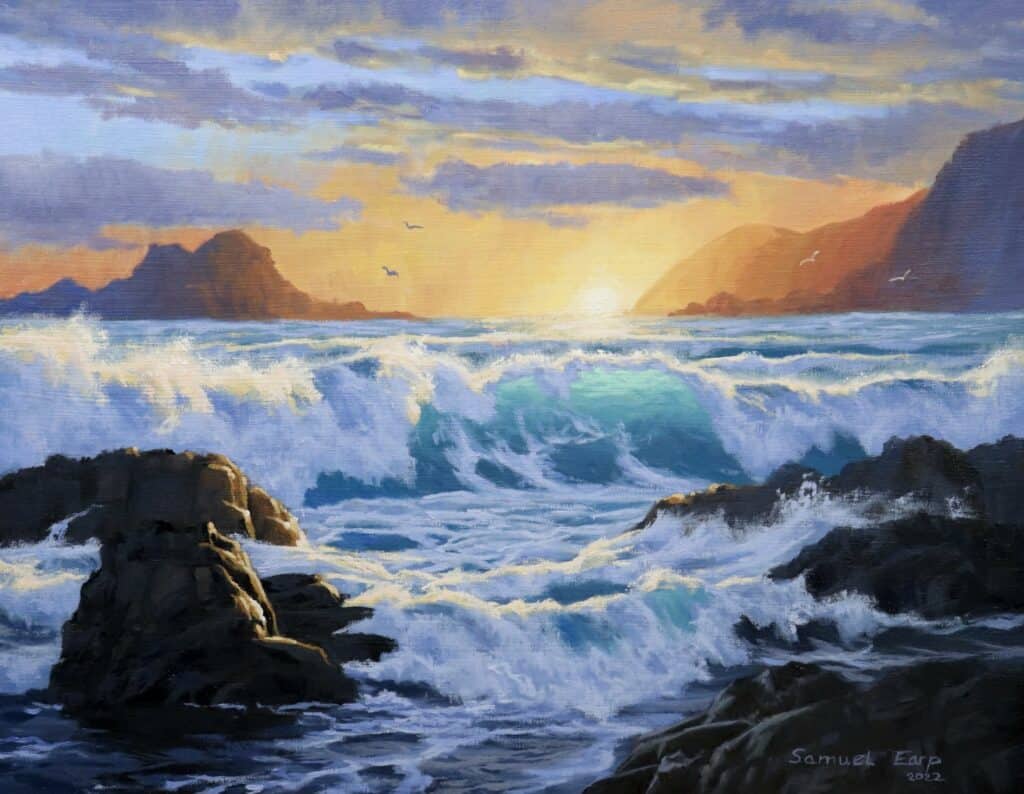 If you don't live by the ocean, check out these painting tutorials and copy the royalty-free photos of the sea.
Here are some written painting tutorials on painting the ocean;
How to Paint a Dramatic Seascape in 5 Easy Steps
Check out this video tutorial on painting seascapes
Discover the beauty of the sea and unlock your inner artist with my Seascapes painting tutorial video bundle.
Whether you're a beginner or an experienced painter, my friendly instruction will guide you through each step of the process, from mixing the perfect ocean colors to capturing the essence of the sea with your brush strokes. 
With my painting tutorial videos, you'll learn the techniques and tricks used by myself to confidently create stunning seascapes that evoke drama and atmosphere as well as serenity and tranquillity. 
This video bundle is packed full of helpful information that will help you to improve your seascape painting skills and create successful artworks.
Bring a piece of the ocean into your home, download this video bundle now, and start painting your own masterpieces today!
5. Paint Boats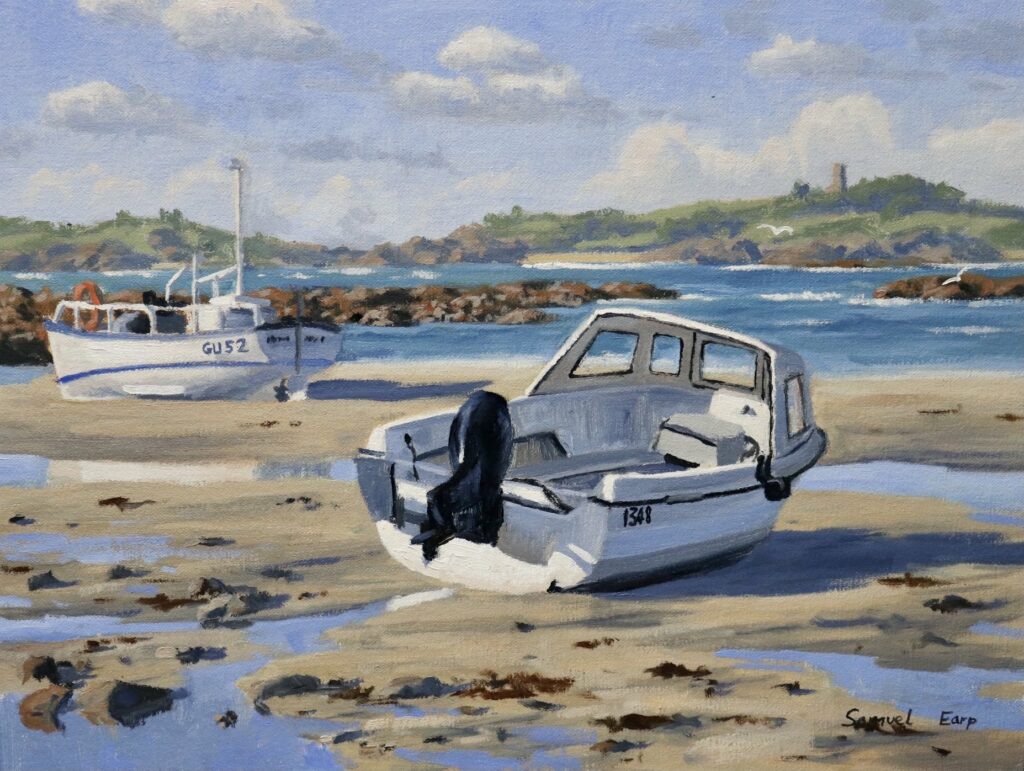 If you want specific ideas to kickstart your creativity, why not try painting boats? Boats look great in paintings, can be found in various settings, from busy harbors to peaceful lakes, and can make for interesting subject matter. 
Painting boats offers unique challenges in capturing their movement and reflections in the water.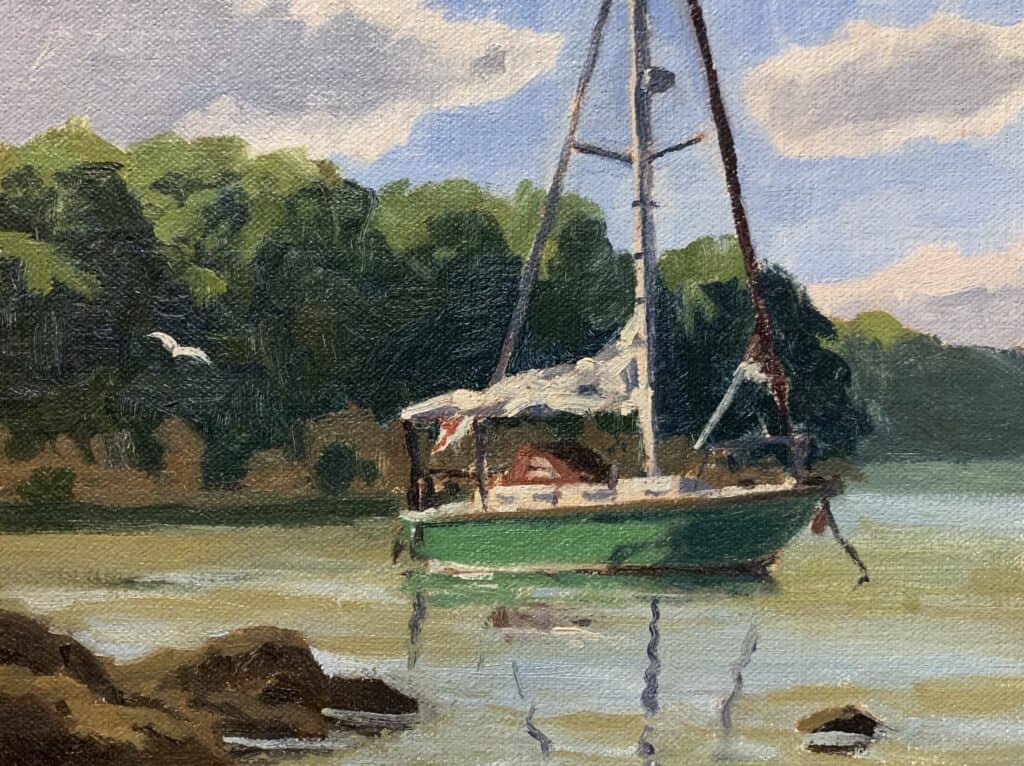 When painting boats, consider the different textures and materials involved, from the smooth surface of white paint on the hull to the rusted metal of the anchor. Try to capture how the color on the boat interacts with the water, the reflections, and the surrounding environment.
Painting boats can be a fun and engaging way to get outside and experiment with new techniques.
Check out this painting tutorial on how to paint boats;

6. Try Still Life Painting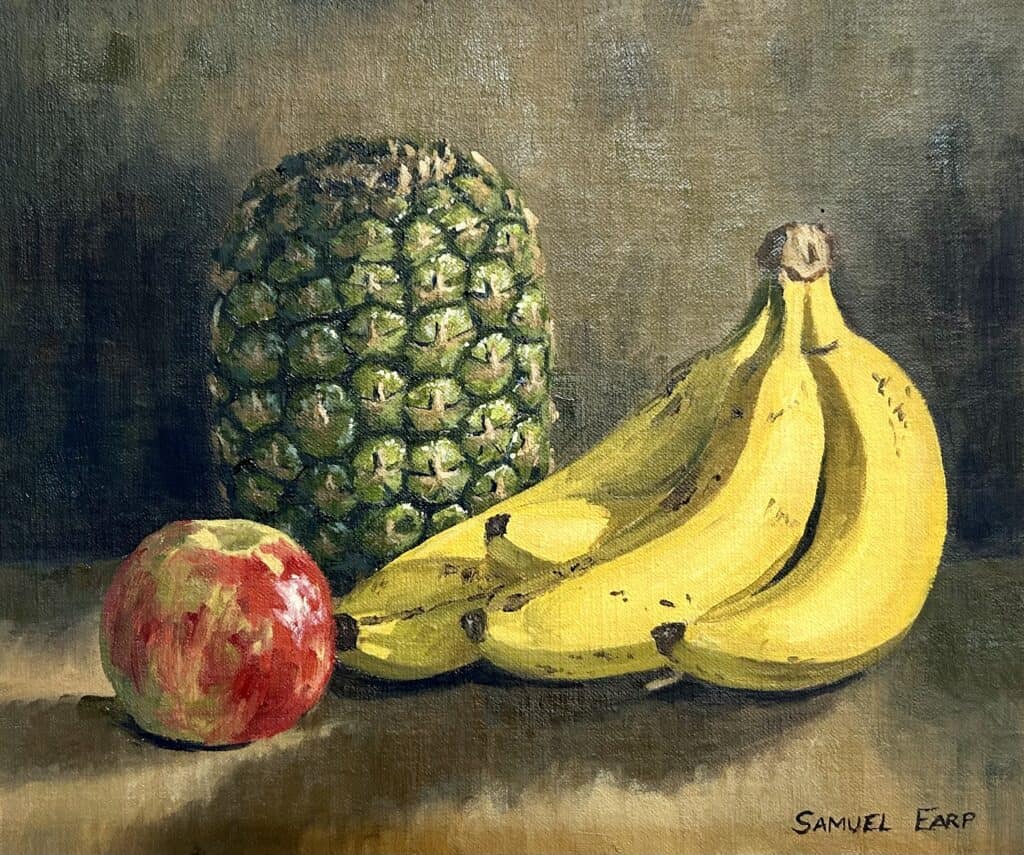 Another great way to overcome an artist's block is to try still-life painting. Still-life painting is easy to set up, especially if you cannot go outside. You can use any objects, from fruit, household items, flowers, books, and vintage items. 
When setting up a still life, arrange objects visually interestingly. The key to successful still life painting is to create a strong composition but also think about contrast. For example, a dark background of canvas or white paper can emphasise a light-colored piece of fruit.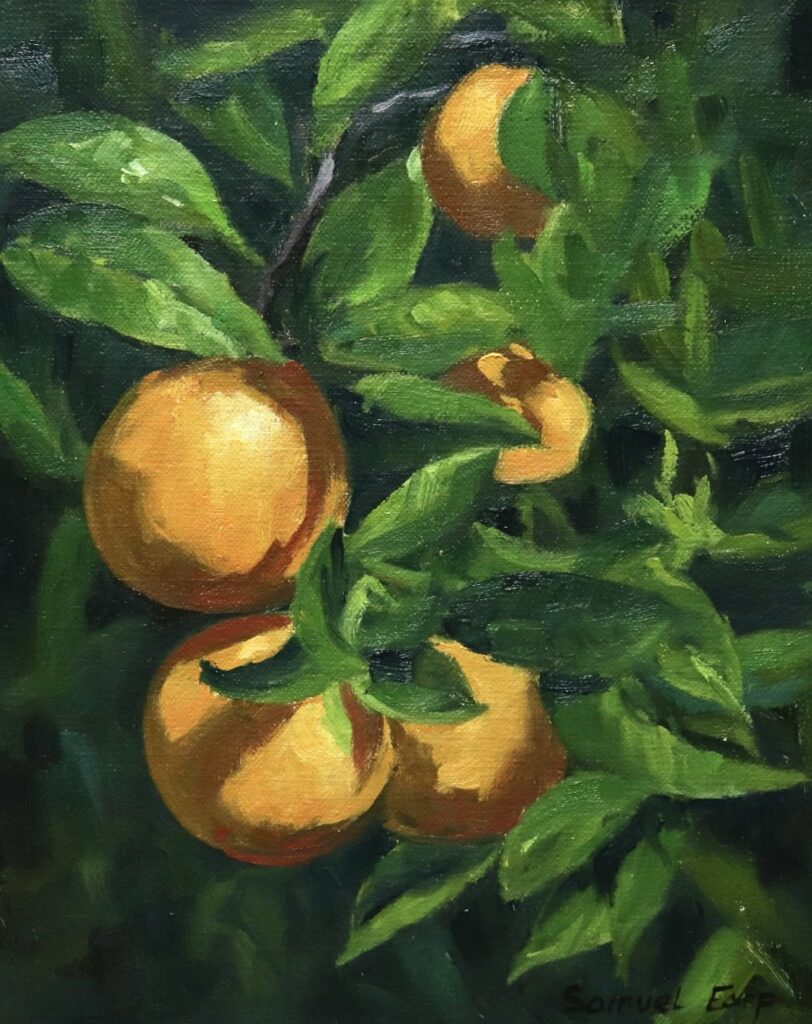 You can easily set up your still-life arrangements at home or find inspiration from photographs or other artwork. 
7. Paint Animals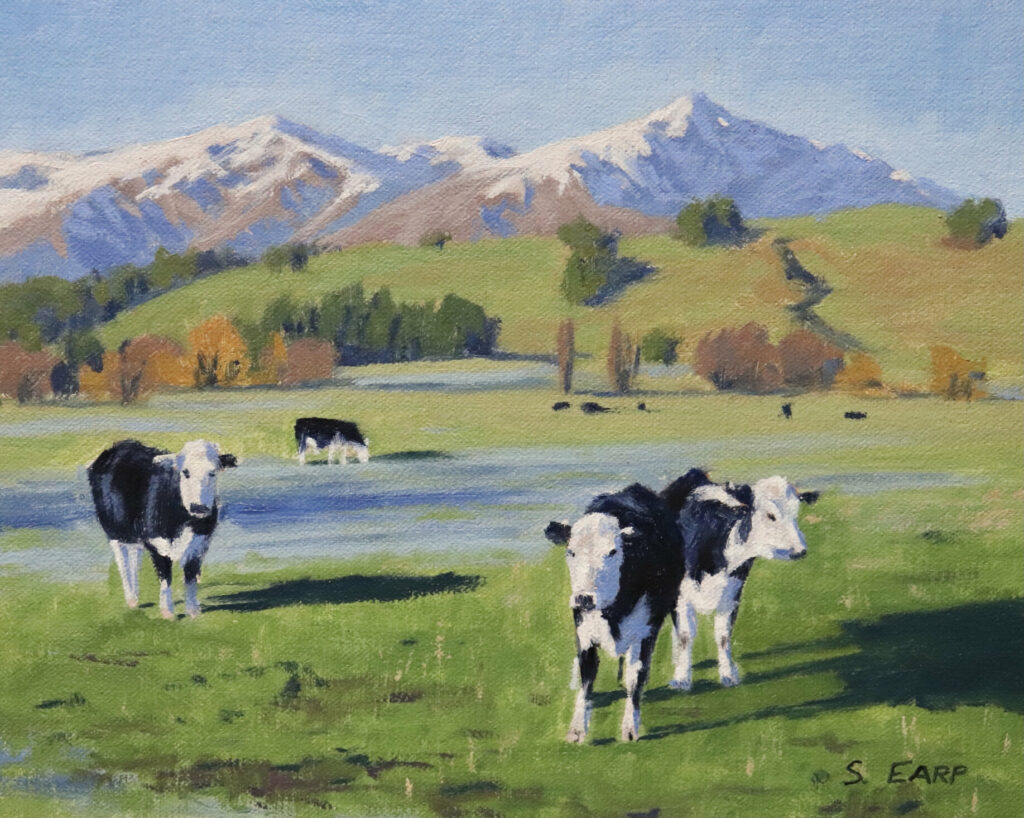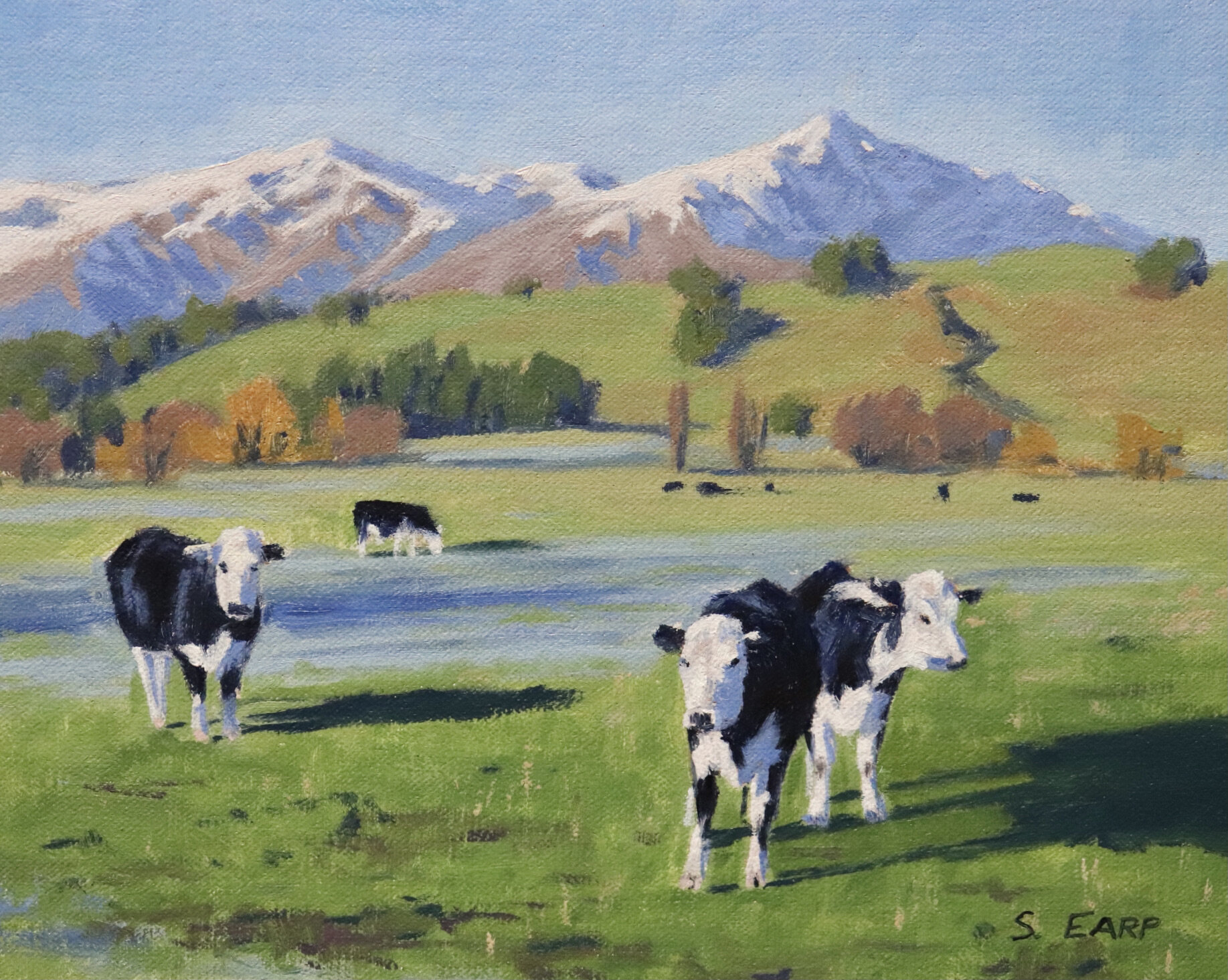 Getting out into nature and observing animals' beauty can be another source of inspiration for artists. Whether you want to paint a loyal pet or an exotic animal, this idea can help you infuse your work with personality and meaning. 
I like to draw and paint farm animals, and observing animals like these can give the artist lots of ideas and inspiration to paint. When we paint animals, we can capture their unique personality and energy. Animals make great additions to landscape paintings giving them life and a sense of movement.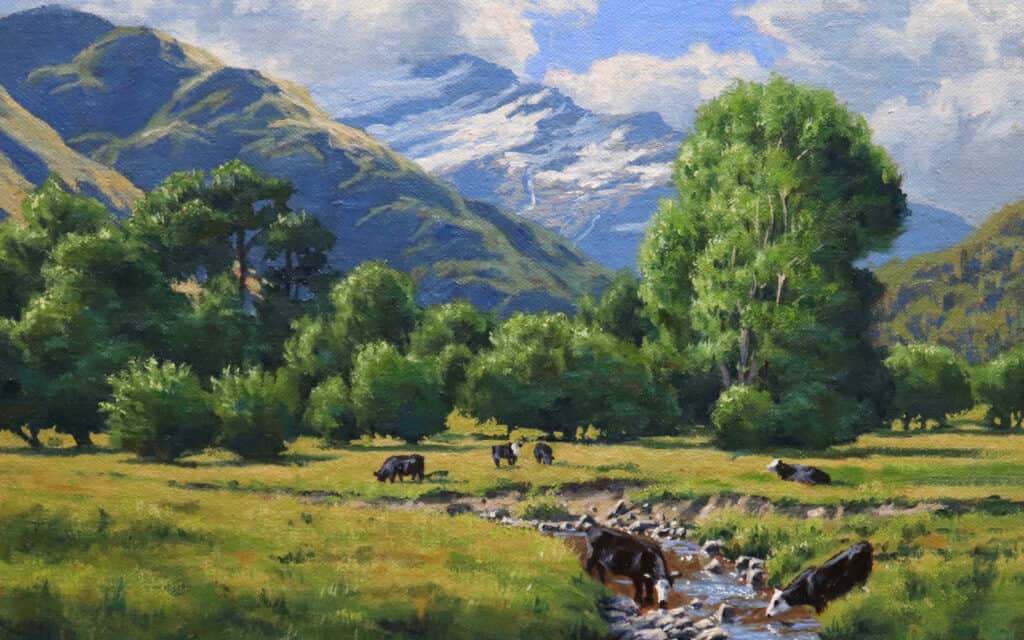 So, why not give it a try? Pick a pet or an animal that inspires you, and start sketching. 
Have a look at this painting tutorial on painting animals;
How to Paint Cows in a Frosty Field
8. Paint Outdoors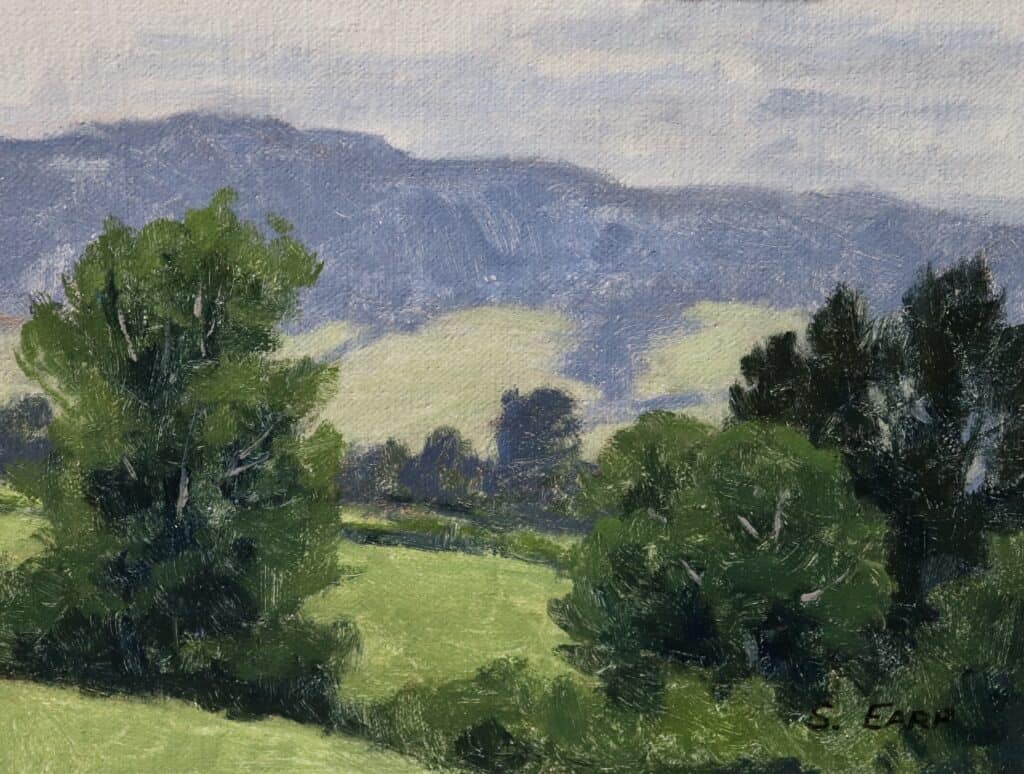 Sometimes, it can take much work to get inspiration while working inside your art studio all day. That's where painting outdoors is beneficial to your creative process. 
Painting outdoors, or painting en plein air, can provide a fresh perspective and inspire new ideas and techniques. The natural light, being in the sun, and changing scenery benefit your creative process.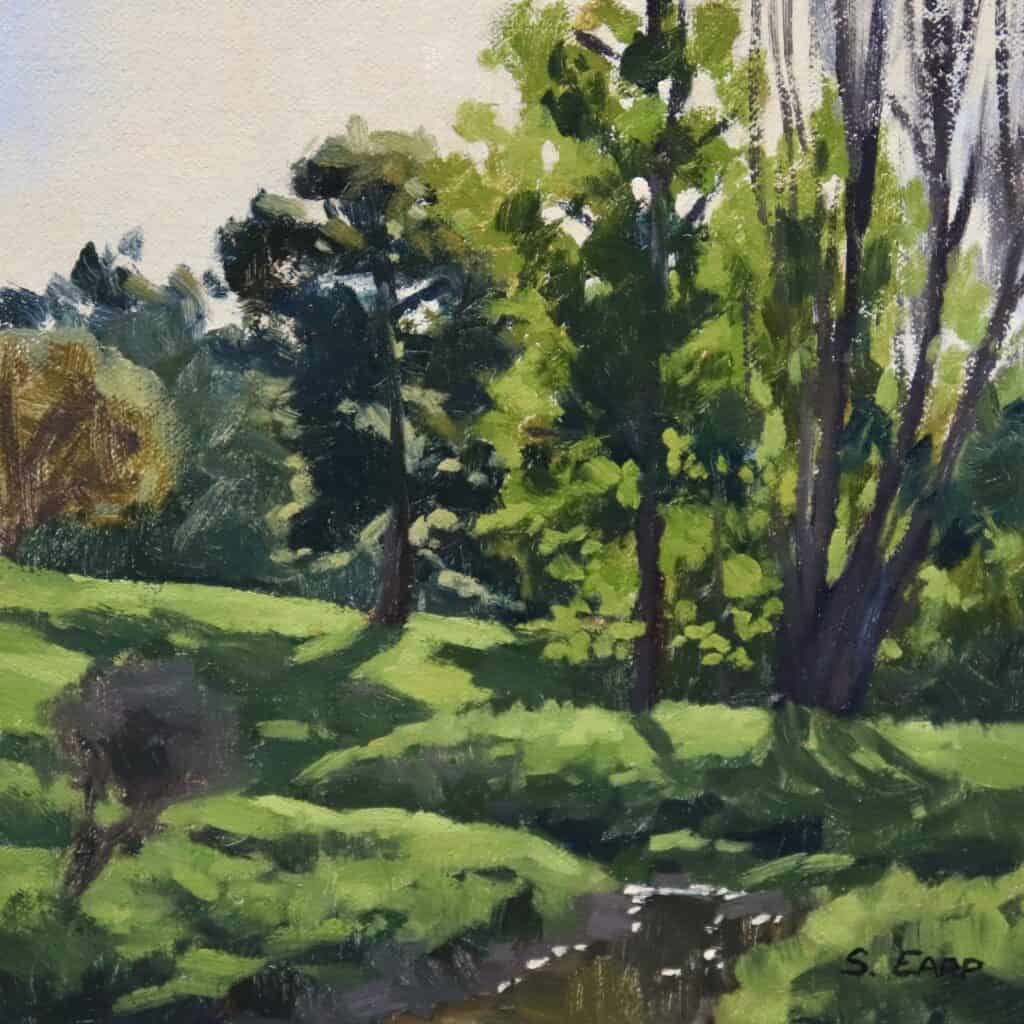 Painting outdoors is excellent for your mind as you appreciate the present moment. It makes you look at landscapes and teaches you to paint quickly, skills you can apply to studio work.
En plein air painting is a great and fun excuse to be outside and enjoy the sun, flowers, and fresh air while doing what you love.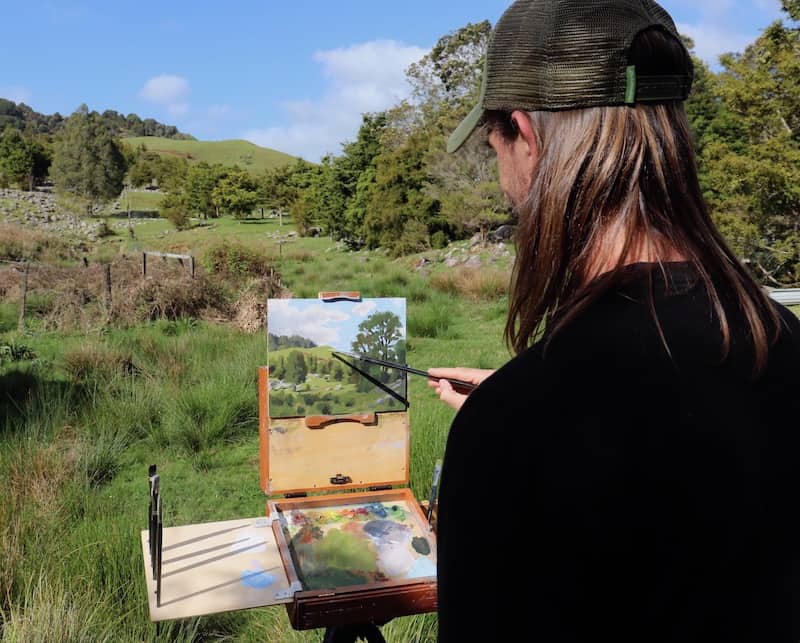 Check out these tutorials on plein-air painting;
How to Paint a Mountain Landscape En Plein Air
How to Paint a Snowy Mountain Landscape En Plein Air
Improve Your Painting – Paint Outdoors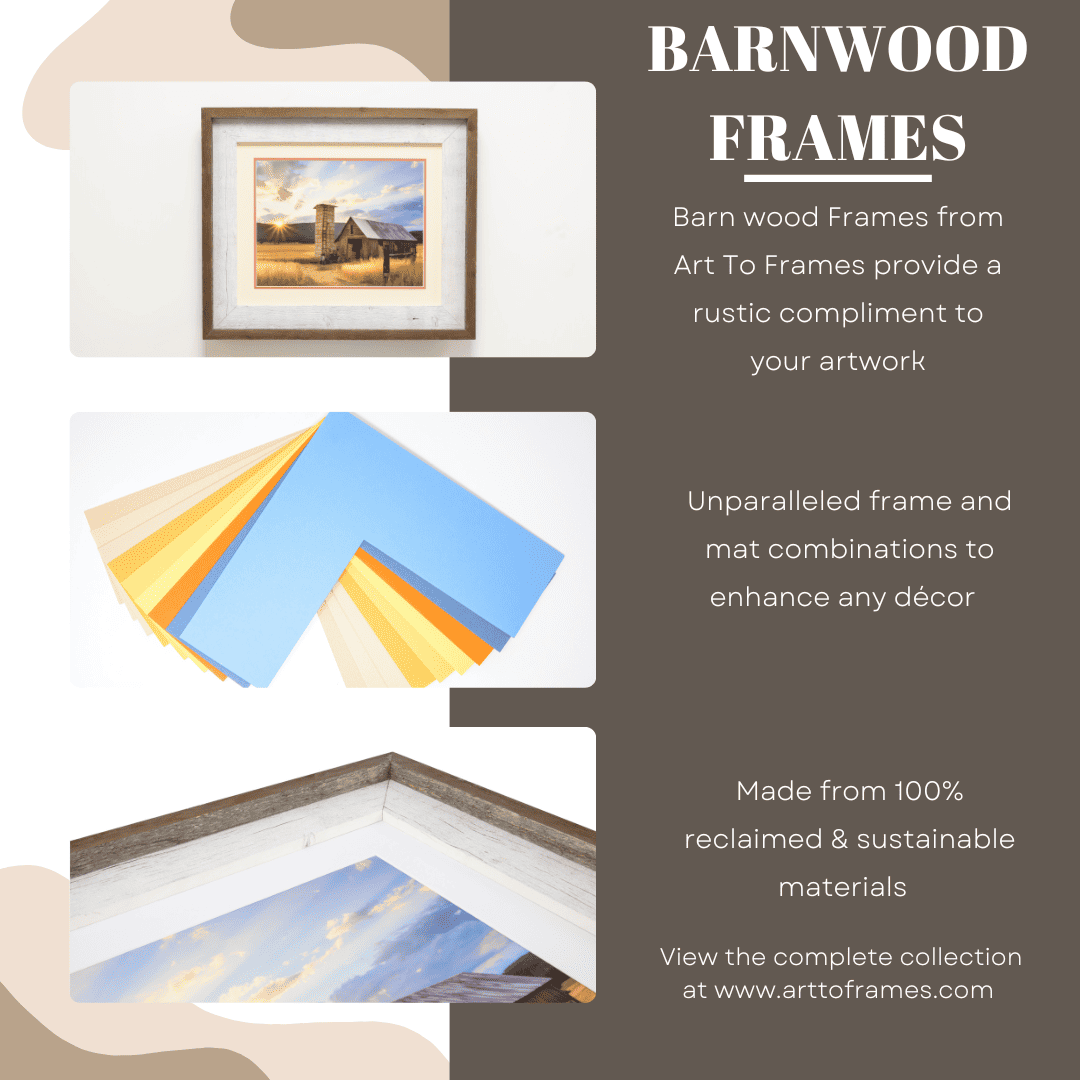 9. Create Atmosphere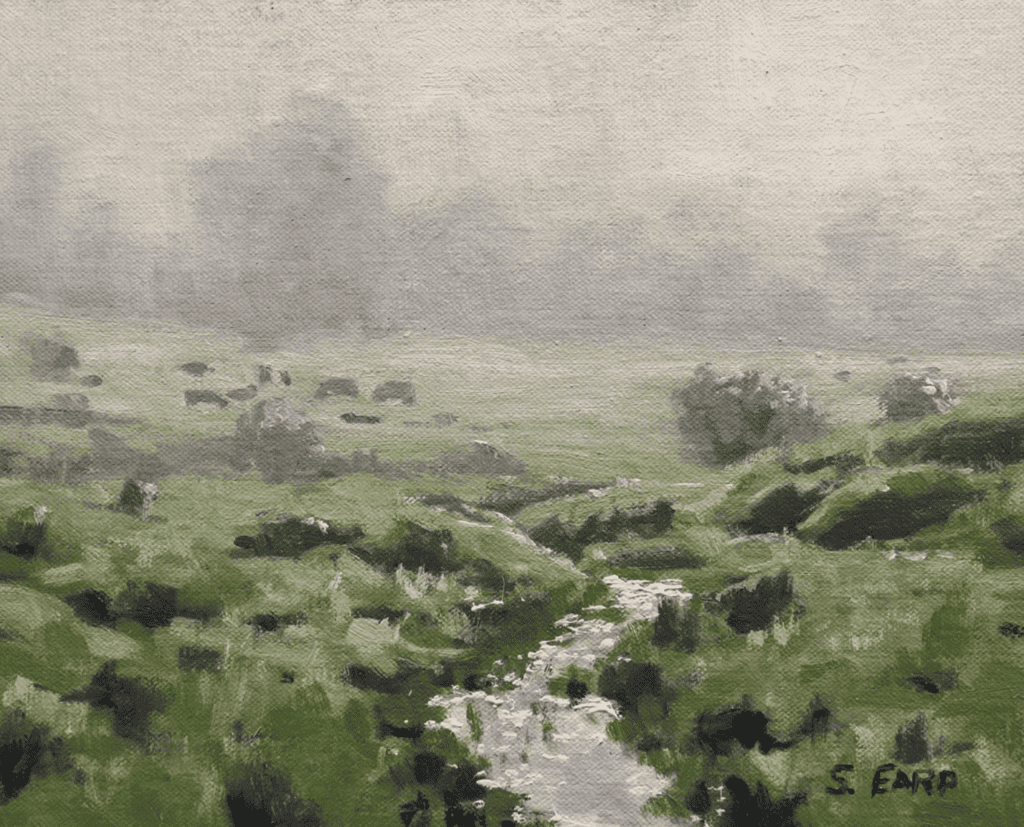 Another inspiring way to elevate your paintings is to create a specific atmosphere or mood. Whether you're aiming for a peaceful and serene landscape or a dramatic and moody seascape, your use of color, lighting, and tonal values can contribute to the mood of the art piece. 
Consider the emotions you want to evoke in your viewers. For example, are you trying to invoke a sense of peace, serenity or contemplation?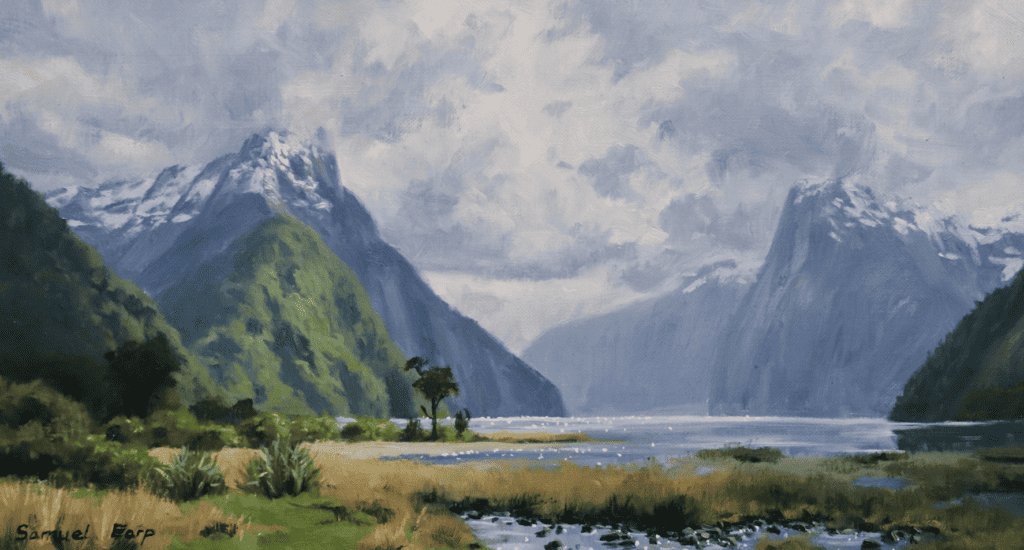 Lighting is a crucial element in creating an atmosphere, and the direction and intensity of light sources create shadows. Creating a contrast between light and dark can often contribute to the mood of your painting. 
For example, strong contrast between different colors of black and white paint, very light lights, and very dark shadows can create drama and atmosphere. However, subtle changes between light and dark values can communicate a sense of calm in a painting.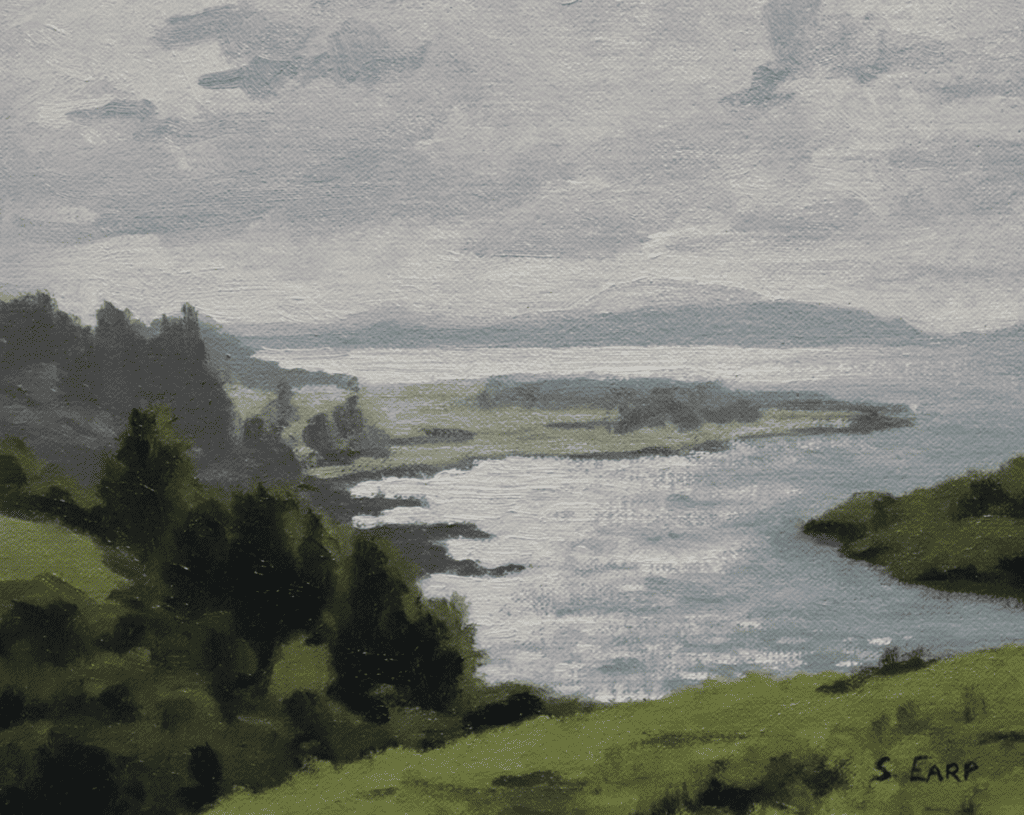 Consider the time of day or weather conditions you want to depict and use lighting to enhance the realism and emotional impact of the painting. 
10. Play with Light and Shadow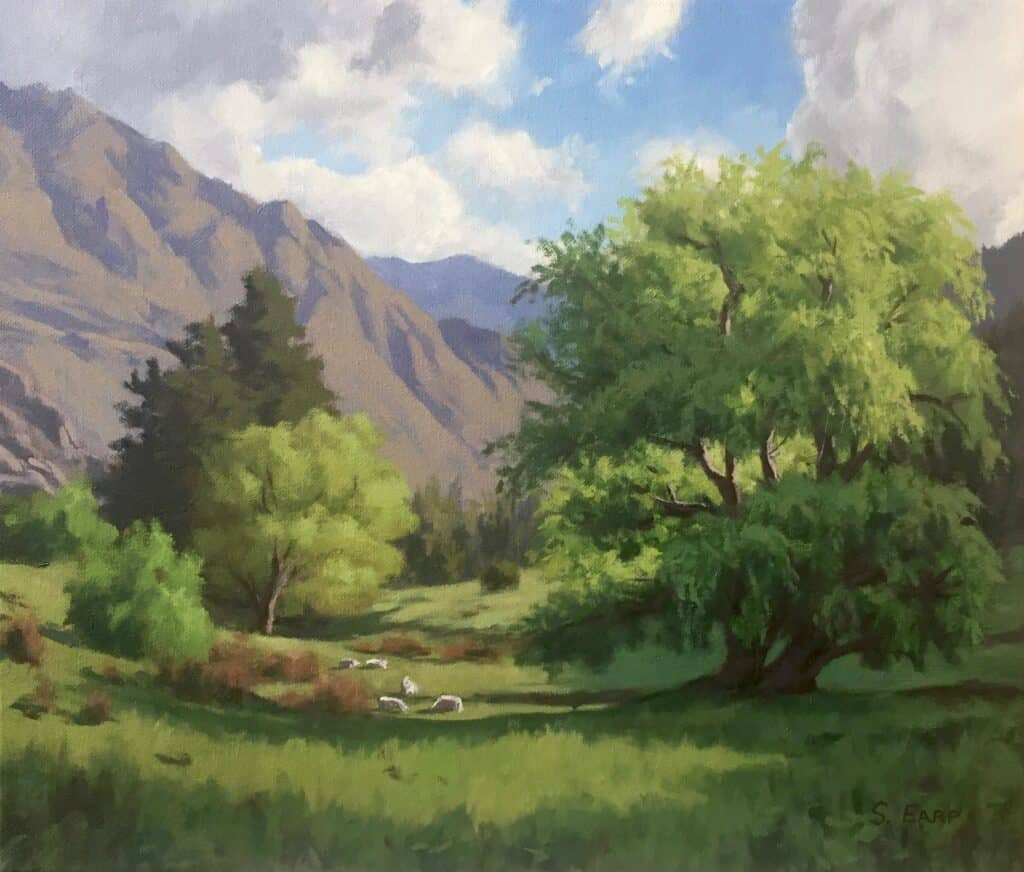 This follows from creating atmosphere in your paintings; emphasizing light and dark in your artwork is an effective technique to invigorate your paintings. 
Consider experimenting with shadows to add depth and texture to your artwork. You can create captivating, dynamic, and visually exciting paintings by examining how light influences the space around you.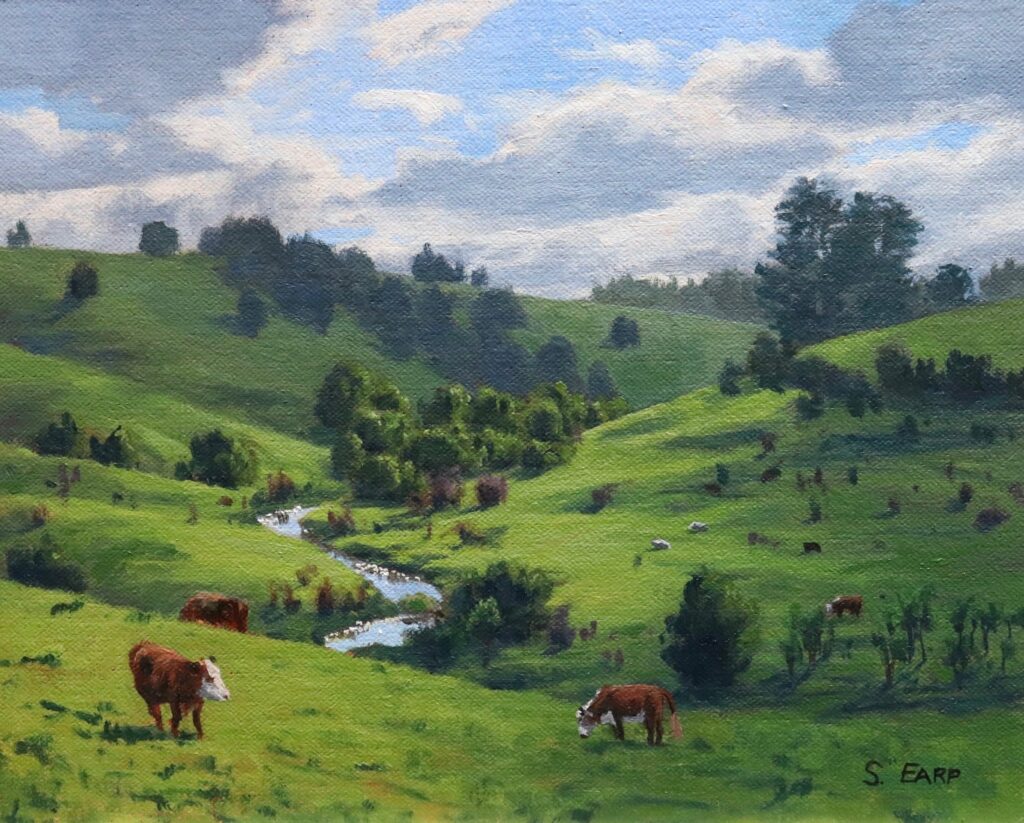 Study how light interacts with different surfaces and objects. For example, observe how shadows form and change throughout the day. You may find inspiration in how light casts shadows or how dark objects contrast with light ones.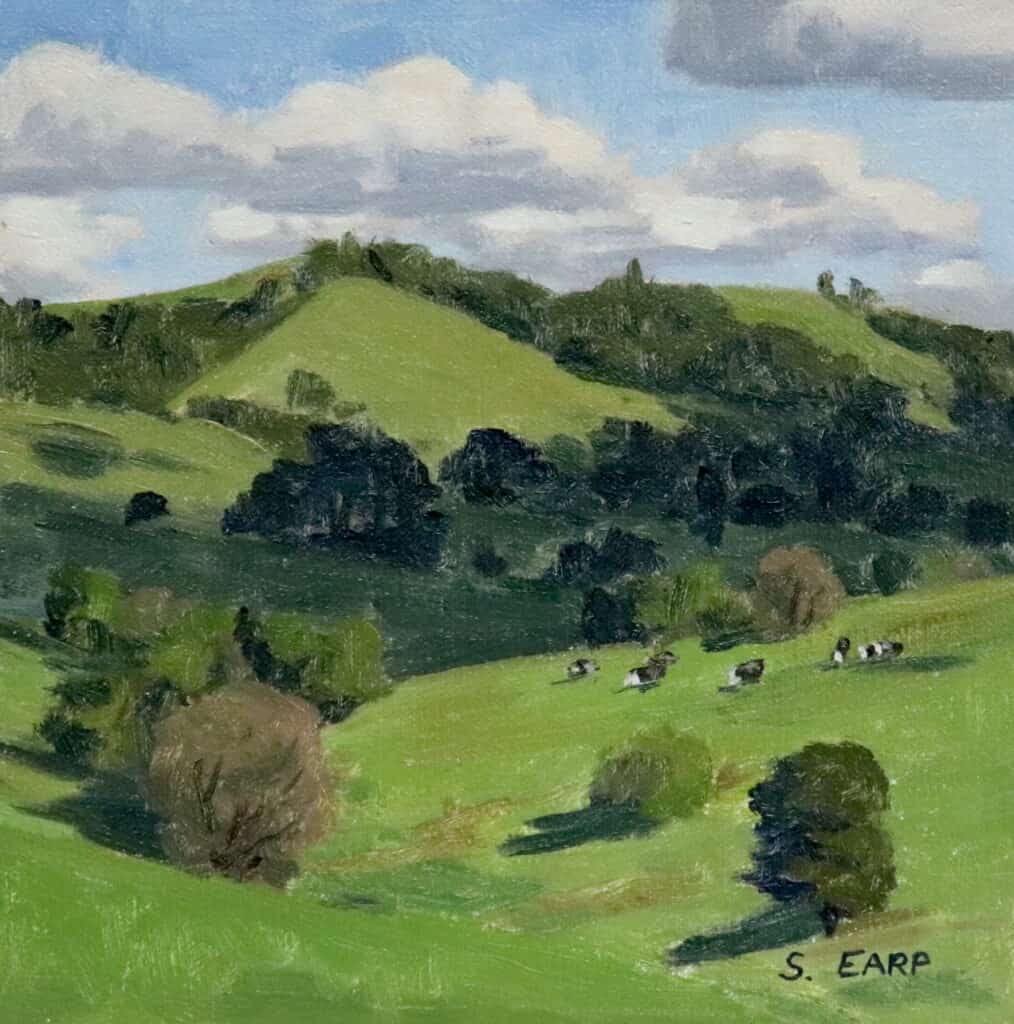 Playing with light and dark can help to push your creative boundaries and open up new avenues for exploration. You can create unique and captivating paintings that reflect your style and approach by using contrasting colors and experimenting with different lighting scenarios.
11. Sketch Ideas For Paintings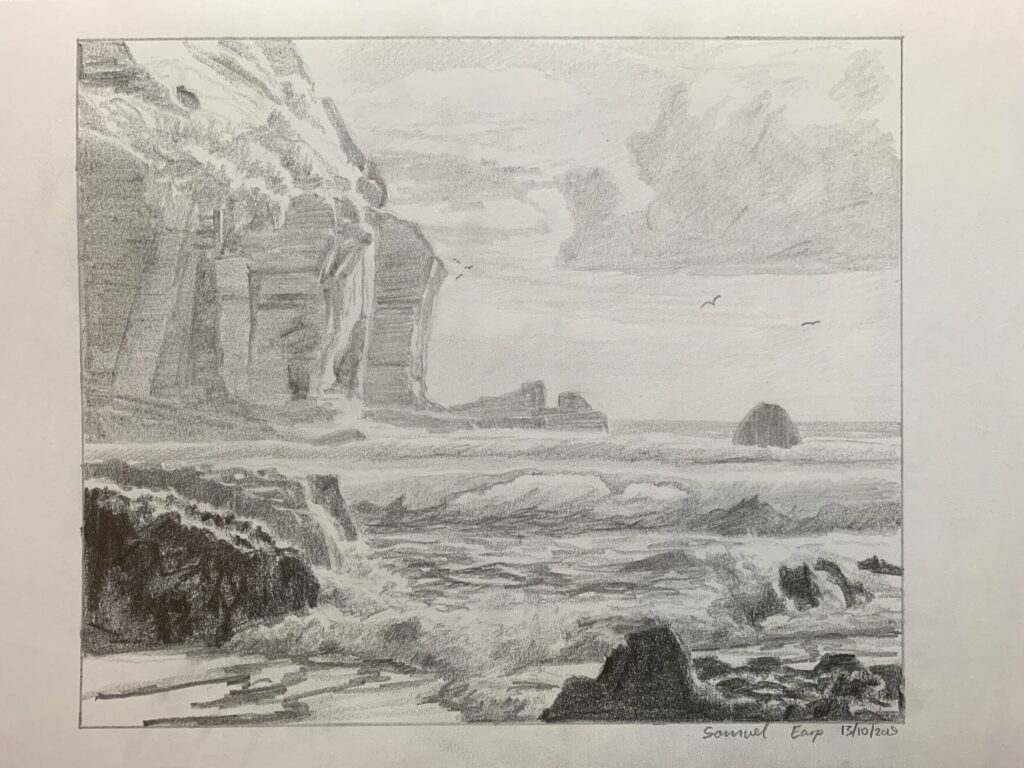 When you're in a creative rut, it can be challenging to find inspiration. Sketching ideas for paintings in my sketchbook can be helpful when feeling uninspired. 
I do This sketching exercise anyway to design compositions for paintings. Still, it can also help clear your mind and generate new ideas.
Whether indoors or outdoors, there's always something to capture on paper. You can review your photo reference from your walks in nature and develop some painting ideas.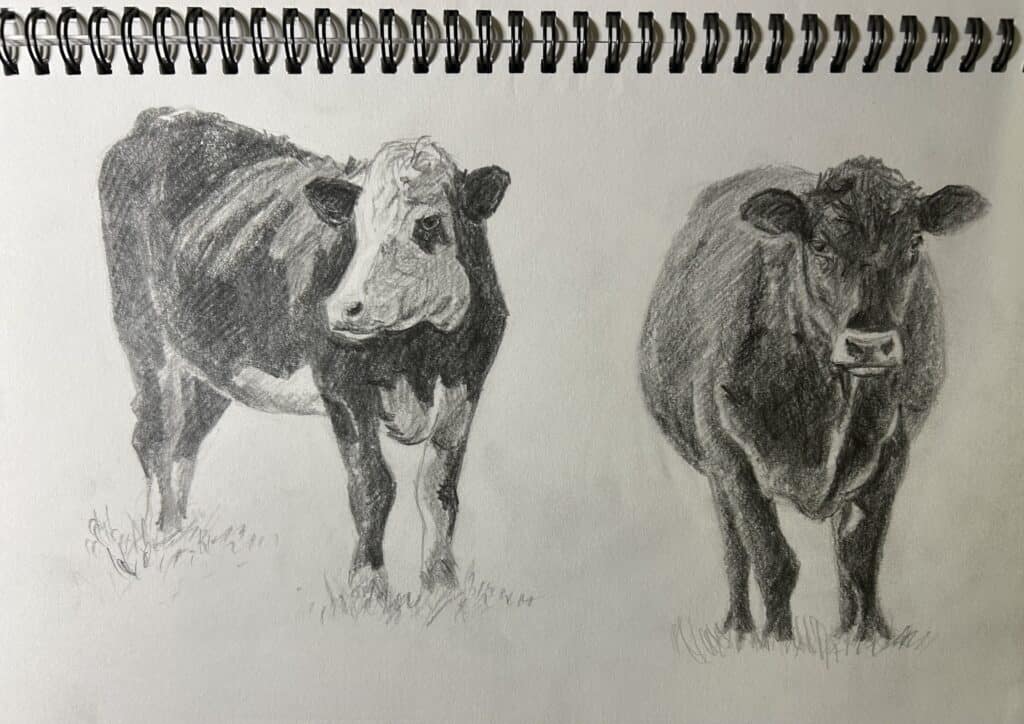 Once you've sketched some painting ideas, look at what you've created. Then, use these sketches to inspire your next painting or art project.
Sketching ideas for paintings is just one cool way to overcome an artist's block and find inspiration. The other cool thing is drawing can be done cheaply, as all you need is a sketchbook, a few pencils, an eraser, and a ruler.
Check out these articles on drawing and composition;
5 Composition Ideas to Improve Your Landscape Painting
Final Thoughts
Having artist's block, feeling unmotivated or uninspired can be a frustrating roadblock to any creative endeavor. However, you can break through that wall with these inspiring painting ideas and rediscover your artistic passion. 
Whether you create a landscape painting, experiment with mood and atmosphere, create dramatic seascapes or paint boats, remember to have fun and let your creativity flow freely. Whenever you're feeling stuck, remember that inspiration is all around you. 
As the great artist Pablo Picasso once said, "Art washes away from the soul the dust of everyday life." So pick up those brushes and pencils, and keep painting your way towards a more inspired and fulfilling artistic journey.
Price is in US dollars 6 Painting Tutorial Videos Frosty Morning – Running Time: 71 minutes Summer Willows – Running Time: 76 minutes Mountain River – Running Time: 67 minutes Forest Stream – Running Time: 66 minutes Autumn Trees – Running Time: 79 minutes Winter Willows – Running Time: 66 minutes

Price is displayed in US dollars 6 Painting Tutorial Videos Crashing Waves – Running Time: 83 minutes Houghton Bay – Running Time: 57 minutes Rocky Shore Seascape – Running Time: 60 minutes (approx) Sunset Seascape – Running Time: 50 minutes Taupo Bay – Running Time: 60 minutes (approx) Piha Beach Seascape – Running Time: 62 minutes

Price is displayed in US dollars Painting Tutorial Video – Summer Willows Running Time: 76 minutes