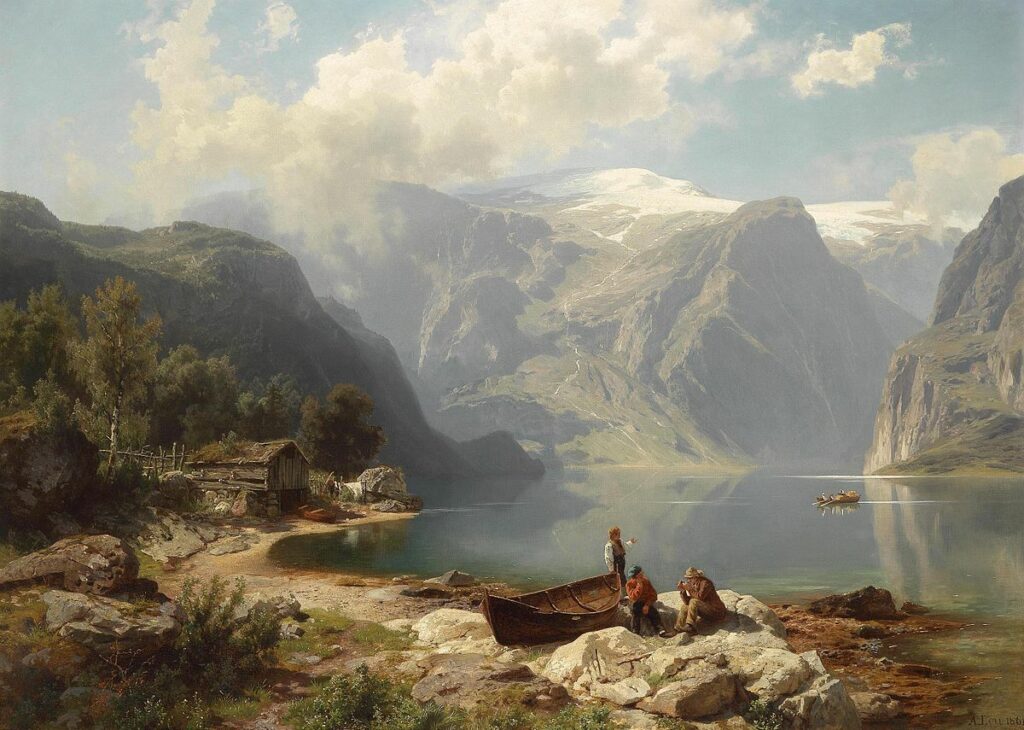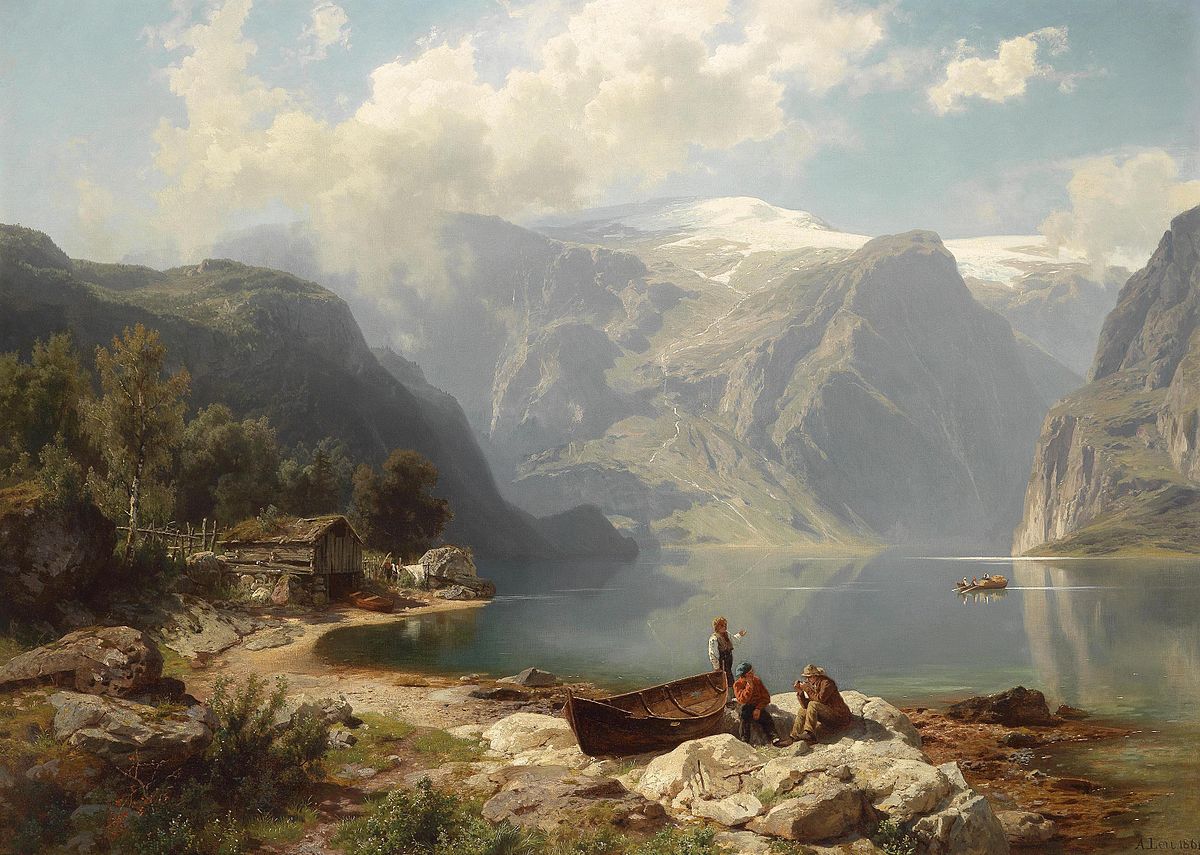 I have always loved landscape art and even as a child when I used to draw and paint all the time, it has always been my favourite subject to paint. As a traditional realism landscape artist and plein air painter, I am drawn to colourful, vibrant but natural-looking landscape paintings and many of my inspirations come from historical painters, particularly from the 19th Century.
In my opinion, the paintings that were produced in the 19th Century and early 20th Century are some of the best landscape paintings I have ever seen, with a strong emphasis on colour, tonality, composition and atmosphere.
In this blog post, I have compiled a list and examples of ten of my favourite historical painters who really inspire me and have influenced my own artworks. I hope these historical painters give you lots of inspiration too.
1. Albert Bierstadt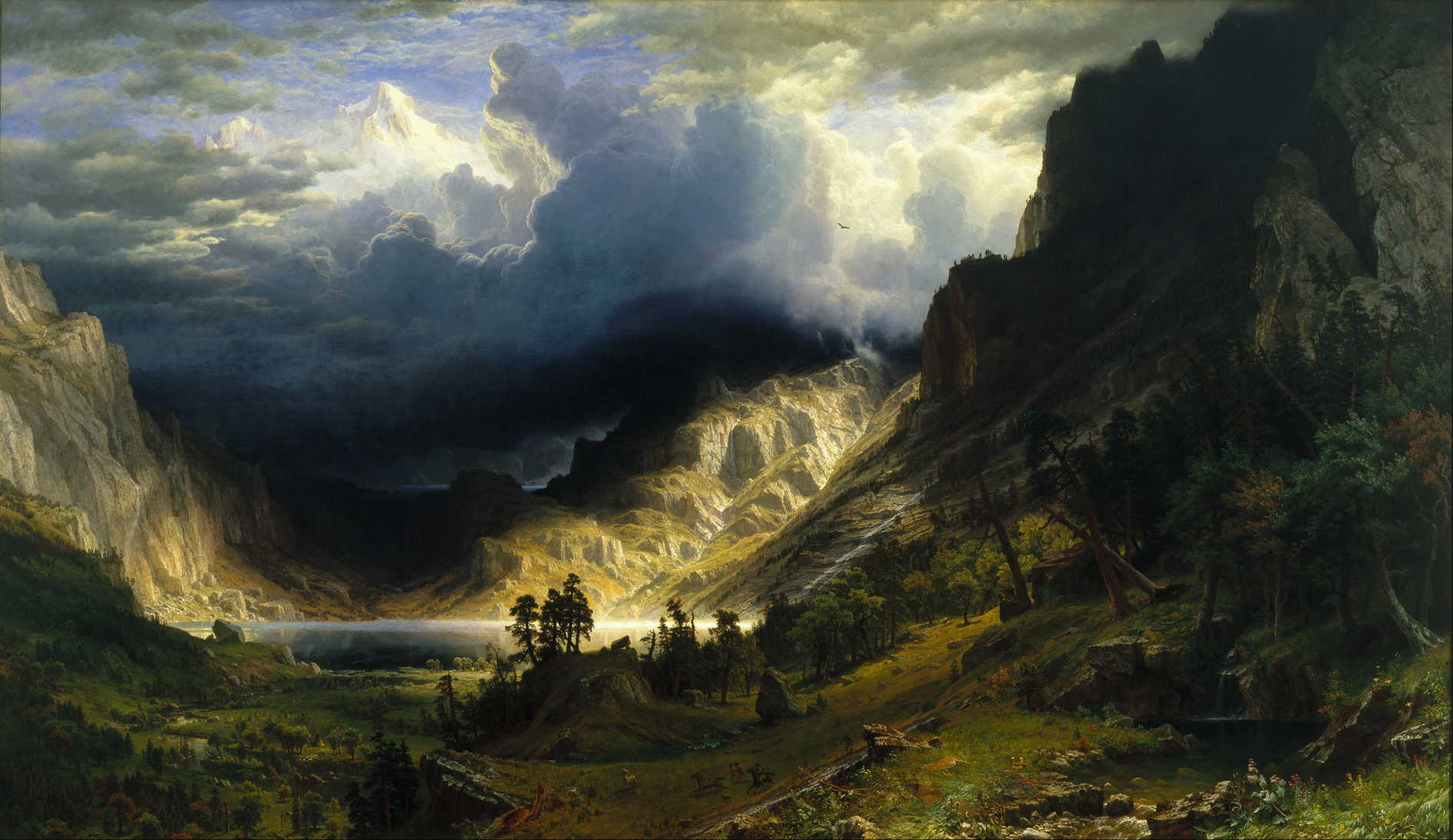 Albert Bierstadt was born in Germany in 1830 but emigrated to America with his parents at the age of one. He started drawing at an early age and began painting with oils in 1851. Bierstadt attended art school in 1853 in Düsseldorf, Germany before returning to America in 1857.
Epic – is the term used for Albert Bierstadt's paintings, in which he skillfully crafted his artworks to depict a poetic narrative. He painted captivating landscapes on enormous canvases of as part of his career-long voyage of discovery across the American continent.
The use of dramatic lighting effects was a common theme of Bierstadt's grandiose Western subjects of which he painted many, especially the Rocky Mountains. His enormous paintings of the newly accessible American West found their way into many private collections for what were at the time staggeringly high prices.
Albert Bierstadt is one of my go-to artists for reference as I love the drama and beauty of his paintings and his use of tone to create atmospheric perspective is clearly visible.
2. Edgar Payne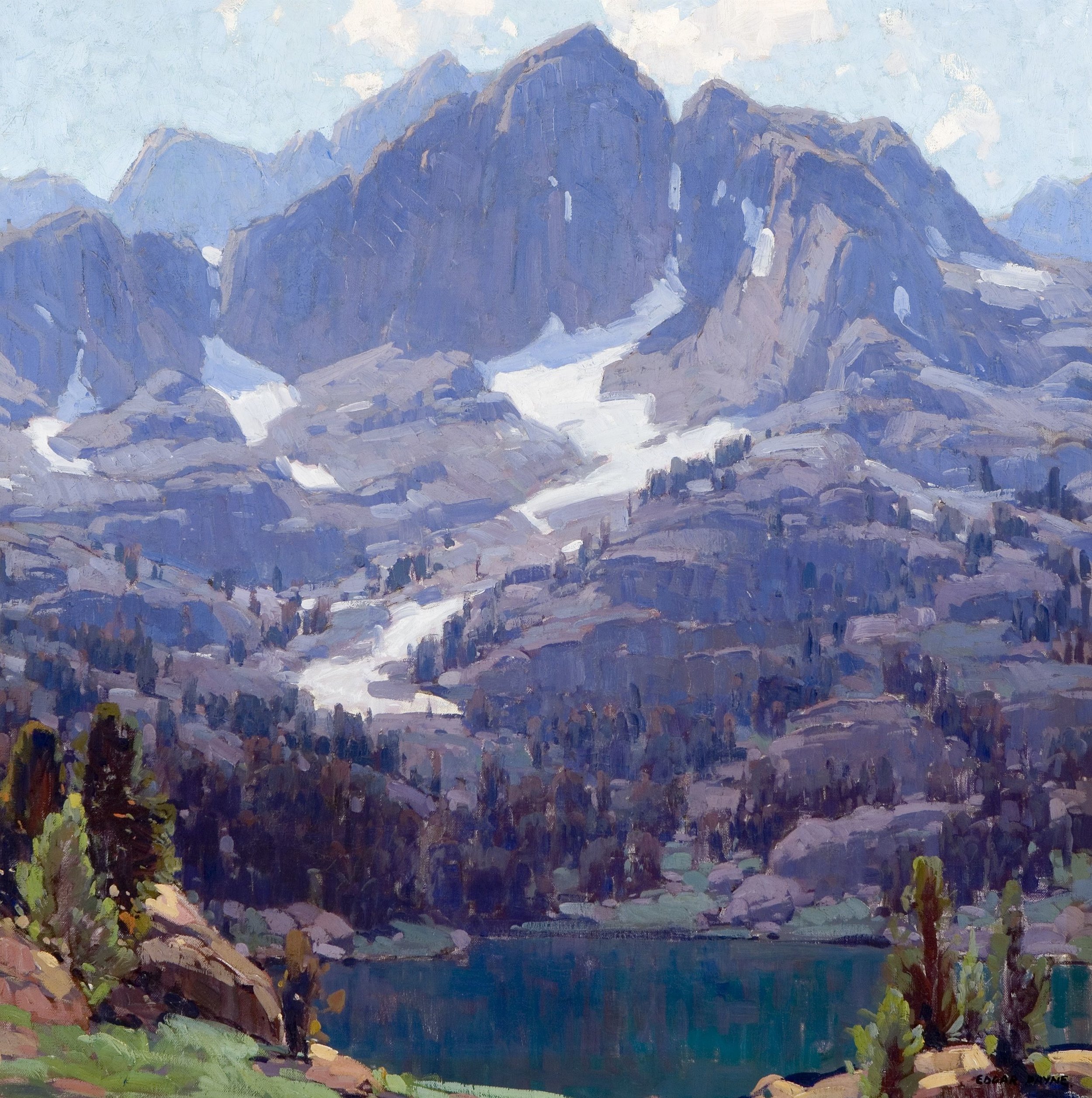 Edgar Alwin Payne was an American plein air painter born in 1883 who was renowned for his vibrant paintings and loose gestural brushwork. He painted many scenes in America and Europe and most notably the Sierra Nevada and Alpine mountain landscapes that caught his eye. He also painted southwest desert scenes with distant Native American figures on horseback as well as Italian and French marinescapes of boats and fishermen.
At the time Edgar Payne was unique among his fellow artists who painted more idyllic quieter landscapes, choosing instead to paint rugged, vital landscapes informed by his reverence of nature. An avid traveller Edgar Payne is famous for depicting sublime paintings of the desert, and towering mountains of Europe and was one of the first artists to trek through the Sierra Nevada in search of subject matter to paint.
As a plein air painter myself I am particularly inspired by Edgar Payne's work, I love the vibrancy of his paintings, his loose brushwork and his use of colour and tone. A close observation of his brushwork and use of colour is in itself a visual manual of how to paint.
3. August Wilhelm Leu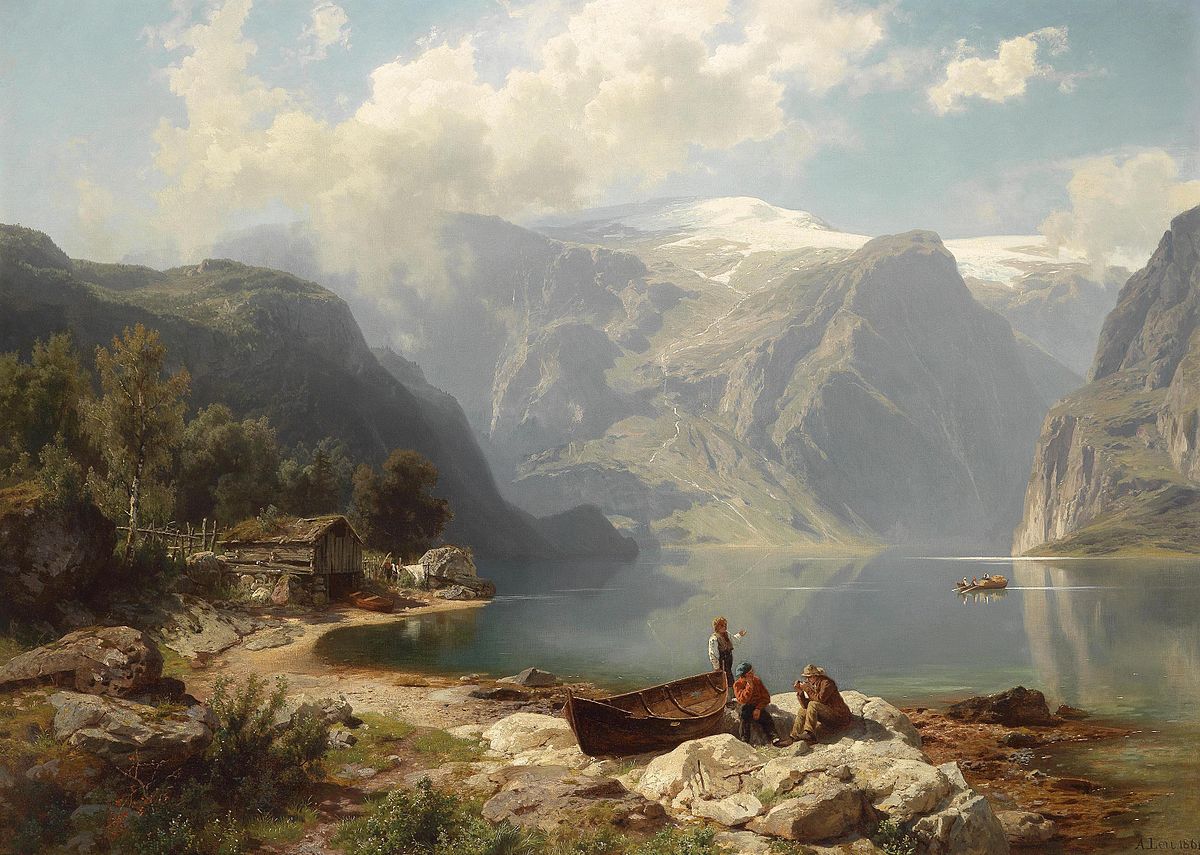 August Wilhelm Leu was a German a 19th Century painter who was well known for painting mountain scenes of Norway and the Alps. Born in 1818, Leu was a landscape painter of the Romantic School, a movement that originated in Europe in the late 18th century that emphasised emotion and individualism.
August Wilhelm Leu became a royal professor and a member of the Academy of Art when he moved back to Berlin in 1882 after spending time in Brussels and Düsseldorf.
I love how August Wilhelm Leu's artworks are painted to a romantic ideal and I especially love how he achieves the low chroma depth in many of his mountain paintings.
ARE YOU STRUGGLING WITH YOUR PAINTING?
JOIN MY ONLINE ART SCHOOL AND UNLEASH YOUR INNER ARTIST.
Step-by-Step Painting Tutorials
Helpful Tips and Techniques
In-depth lesson notes
Inspiring reference photos
Instant access to all content, including videos, lesson notes, reference photos and more.
A vibrant and friendly community, meet other members, ask questions, and share your art.
Zoom meetings for Q&A's, painting critiques and painting livestreams.
Ideal for beginners and experienced painters.
Lots of inspiration, help and support to take your painting skills to the next level.
4. Peder Mørk Mønsted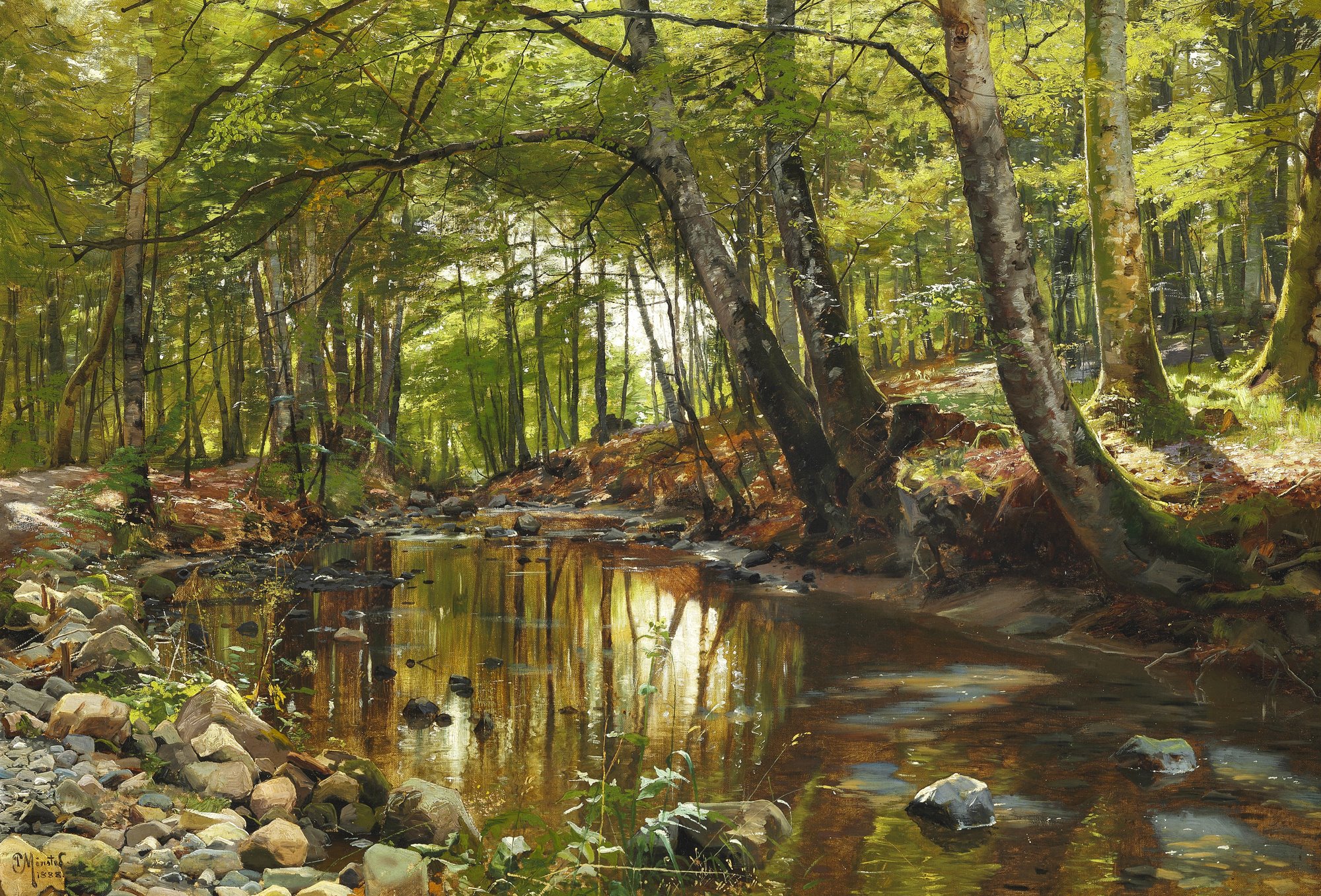 Peder Mørk Mønsted was a Danish realism painter who was best known for his landscapes, seascapes and countryside and farm scenes among others. Born in 1859, from an early Mønsted received painting lessons at the art school in Aarhus and from 1875 to 1879 studied at the Royal Academy of Fine Arts.
Peder Mørk Mønsted really had an eye for accurate detail and colour, he had a long and prolific career and travelled to places such as North Africa and the Middle East in order to paint. He regularly exhibited his artworks in Paris and Munich.
Peder Mørk Mønsted is hands down one of my favourite historical painters and in my opinion, his paintings are simply amazing and I'm particularly fond of his woodland and forest scenes. I love Mønsted's use of vibrant, natural, organic colours in his paintings but what I especially love about his work is the balance of detail and the gestural nature of his brushwork. His paintings look detailed but not so detailed that it's affecting the composition or ability to read well to the viewer. A closer inspection of his works reveals well-executed brush work that still retains a looseness to the marks.
5. Frederick Judd Waugh
Frederick Judd Waugh was an American painter born in 1861 and died in 1940. He was predominantly a marine artist who painted many energetic and epic seascapes that focused on the movement of breaking waves and their relationship with other elements such as rocks.
For me, I love the atmospheric depth Waugh has achieved with his use of organic natural colour and the tonality of his paintings. The strong emphasis on the breaking waves really draws the viewer into the paintings giving a sense of atmosphere that make you feel like you are really there. I particularly like his emphasis on the rocks in is painting especially when they are juxtaposed again a heavy swell.
When getting my inspiration for seascape paintings Frederick Judd Waugh is one of my go-to painters I refer to for ideas.
6. Edward Theodore Compton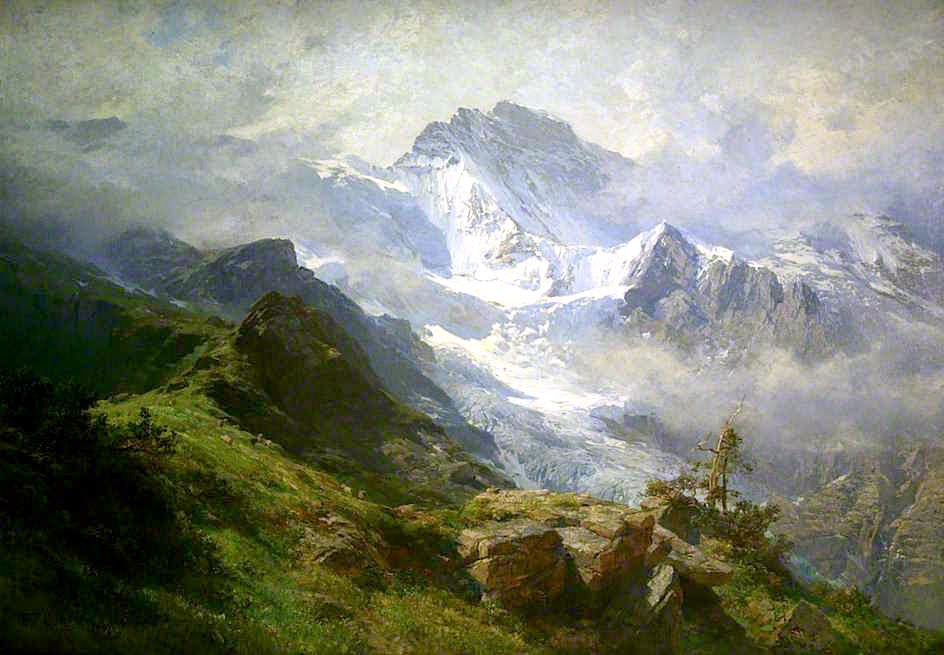 Edward Theodore Compton was born in London, UK and emigrated to Germany with his family at a young age. He had already attended art schools and was largely self-taught. After emigrating to Germany he became involved in an art community where he and his father were known for teaching.
As an illustrator and mountain climber Compton became known for drawing and painting breathtaking mountain landscapes, particularly of alpine scenery. He travelled to Austria, Corsica, North Africa, Spain and Scandinavia, rendering mountain landscapes in oils, ink and watercolour paintings.
The things I love about Edward Theodore Compton's artworks are his compositions, especially as many of his mountain landscapes are depicted from atop steep slopes adding a sense of awe and reverence to his paintings. His use of vibrant organic colour and sharp contrast between areas of light and shadow adds to the grandeur and mystique of his artworks.
7. Even Ulving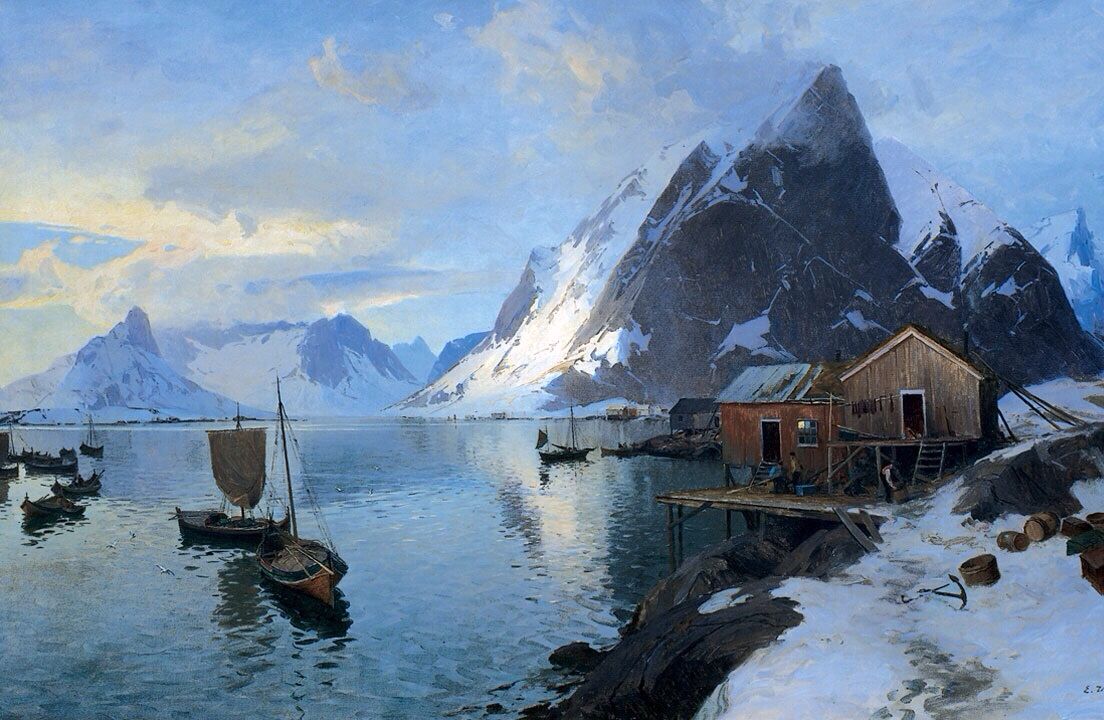 Continuing the theme of mountain paintings Even Ulving is definitely another one of my favourite 19th century landscape artists. Ulving was a Norwegian painter born in 1863 who painted a lot of mountain and water scenes.
I especially love Ulving's engaging compositions and accessible painting style, rendered with gestural brushwork and vibrant organic colour. Many of his paintings feature magical lighting effects where there is a dramatic contrast between light and shadow and for me personally, his artworks influence my own paintings.
8. Hans Heysen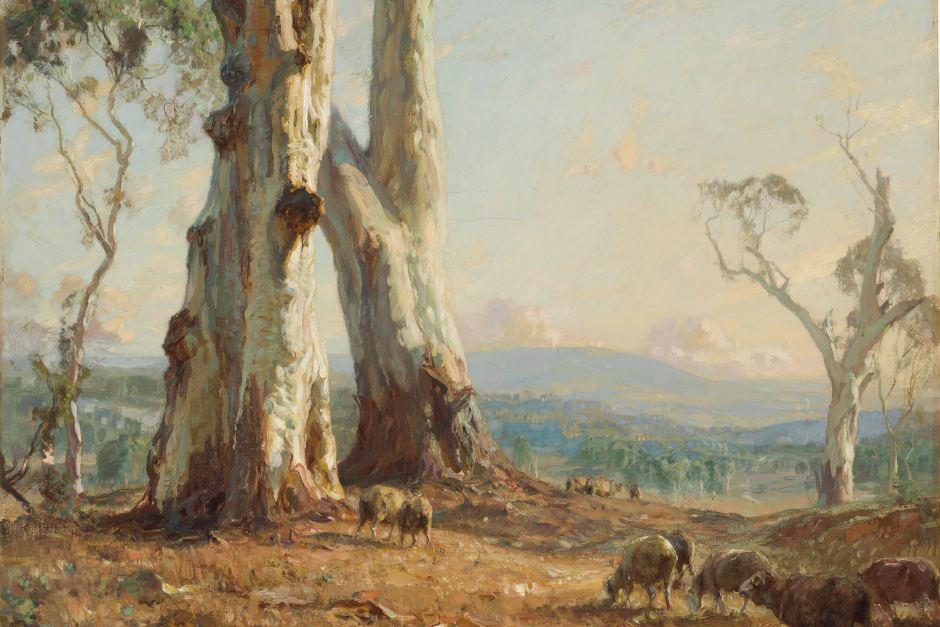 Sir Hans Heysen was a German-born artist who emigrated with his family to Adelaide in South Australia at the age of seven. Heysen is well known in Australia for his many drawings and paintings of farm scenes and the bush which often feature massive gum trees.
From a young age, Heysen studied art at night school and was quickly recognised as a rising talent. At age twenty he was sponsored by some wealthy Adelaide art enthusiasts to study art for four years in France.
Having visited Australia many times and viewing with my own eyes some of the works of Hans Heysen in the Art Gallery of New South Wales in Sydney, I can attest to the magnificence of his artworks. His brilliantly rendered brushwork that depicts the intricacies of tree bark and the abundance of subtle colour changes within the gum trees he painted is nothing short of genius. Whenever I see a Hans Heysen painting up close I immediately want to grab my art materials and go and paint some gum trees myself.
9. Ivan Shishkin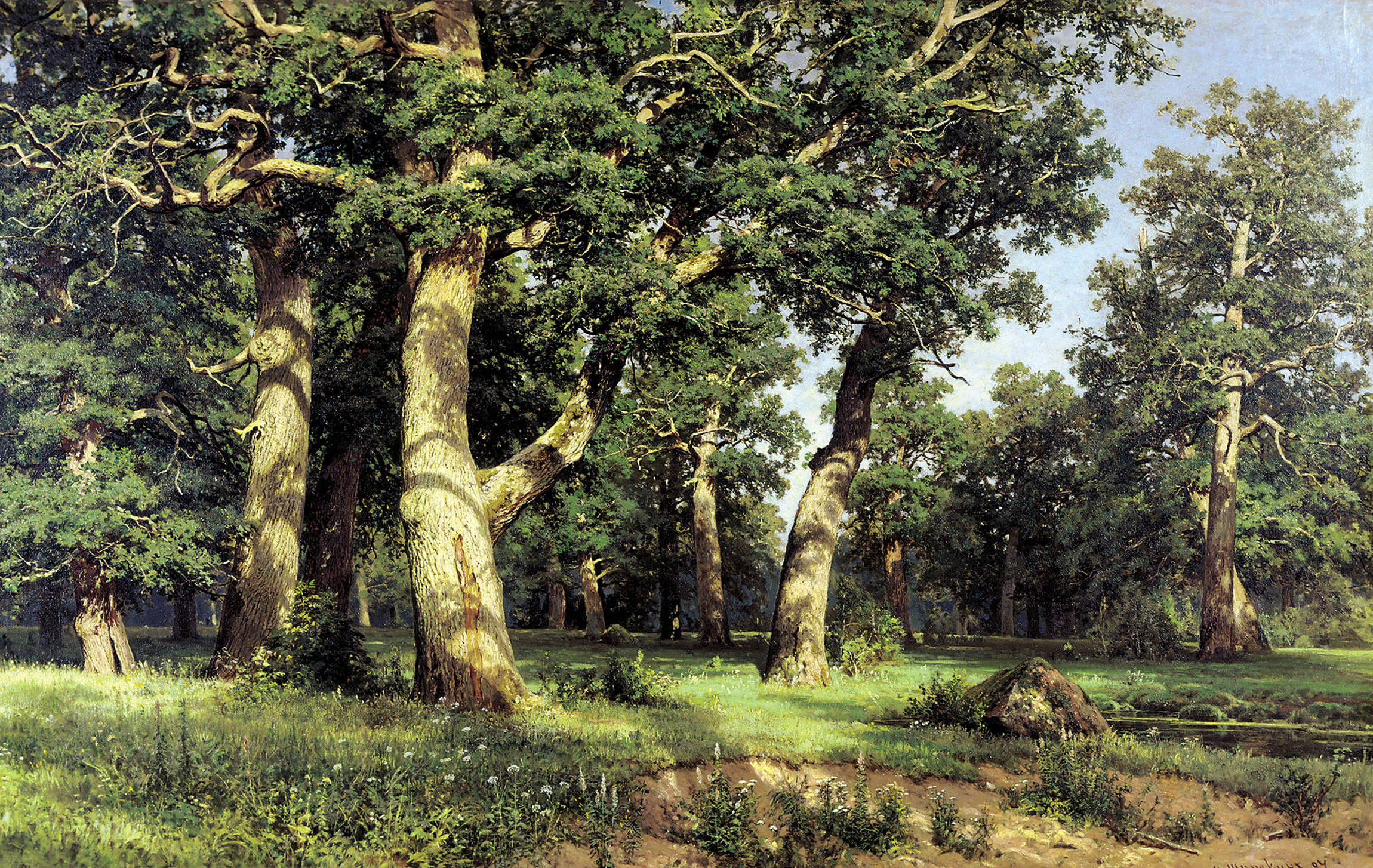 Ivan Ivanovich Shishkin was a Russian painter who was born in 1832 and is known for some of the finest paintings of trees, woodland and forest scenes among others. Shishkin studied at the Moscow School of Painting, Sculpture and Architecture and then attended the St Petersburg Imperial Academy of Arts between 1856 and 1860 where he graduated with highest honours.
Ivan Shishkin spent some time painting in Switzerland and Germany and exhibited his artworks in Moscow, Nizhny Novgorod, Paris and Vienna. Shishkin had a very technical approach to painting landscapes and nature and he was also an outstanding draftsman and printmaker.
In my opinion, I think Ivan Shishkin's attention to detail is next level and his paintings are superb. I hope to one day see an Ivan Shishkin painting in real life!
10. William Trost Richards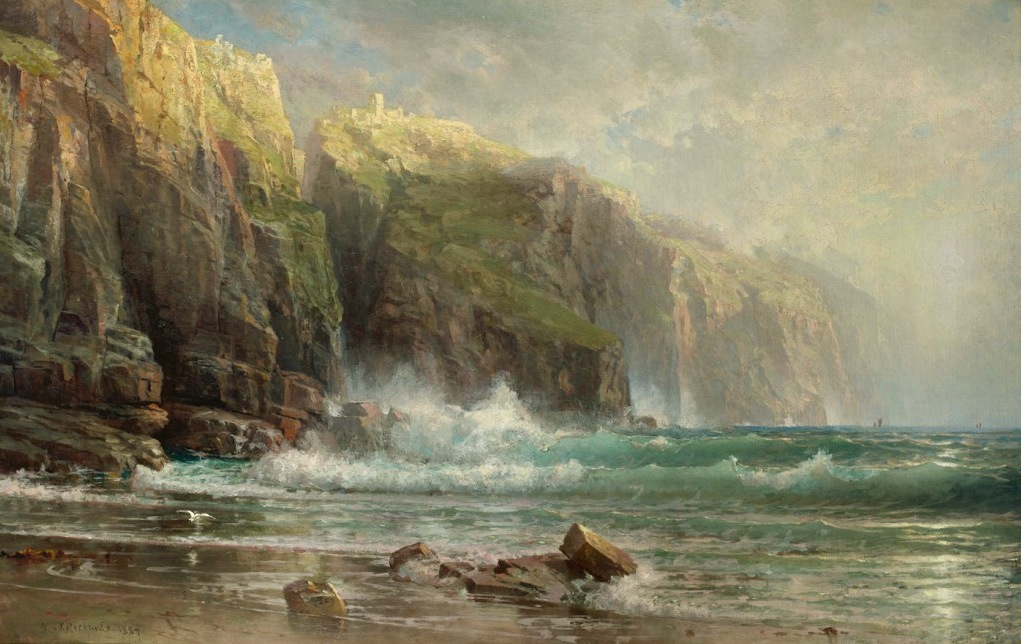 William Trost Richards was an American landscape painter, born in Philadelphia, USA in 1833 and died in 1905. He was associated with the Hudson River School style of painting and is famous for his dramatic seascapes and epic landscapes.
William Trost Richards spent much of his career painting American landscapes such as the Catskills and Adirondacks. He also frequently travelled to Europe where he would often spend part of the year there before returning home. He would visit England, Scotland and Norway and produced many epic paintings of these locations including the coastline of the Island of Guernsey, where I was born.
When getting inspiration for seascapes (and landscapes), William Trost Richards is another one of my 'go-to' painting legends I refer to for ideas. I love his dramatic waves and the depth dynamic he achieved in his paintings.  
Thanks for reading 😊