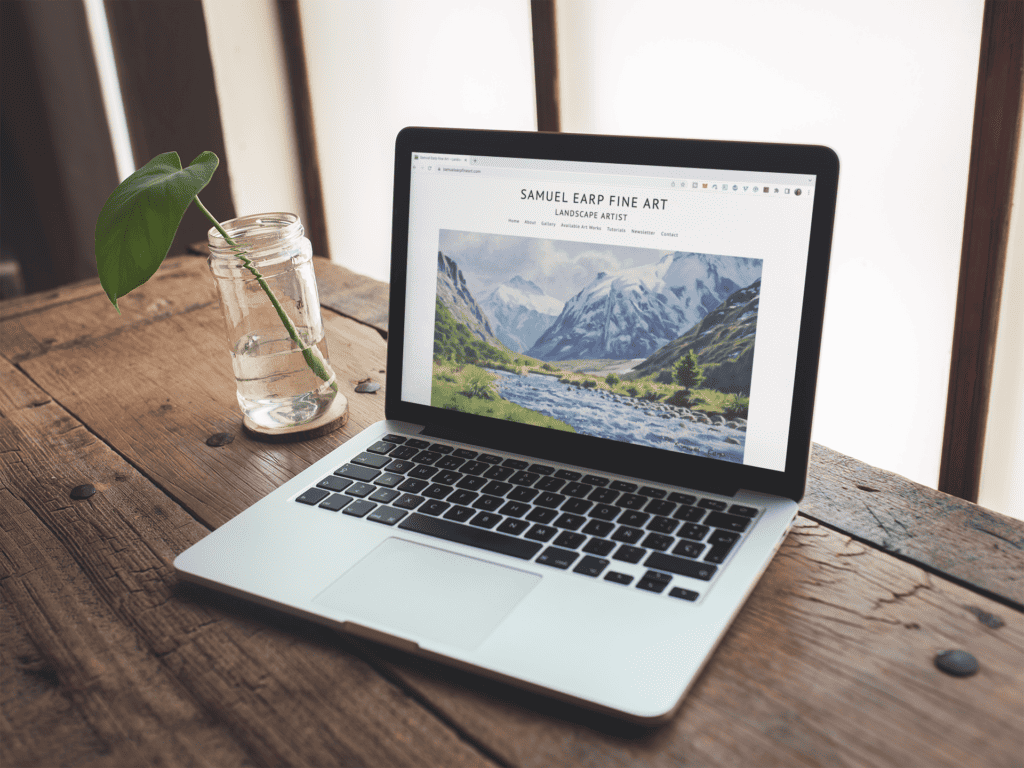 Introduction
In this article, I give you an overview of the five best website builders for artists, photographers, illustrators, designers and creatives that are ideal for showcasing your work. 
The art world has changed a lot in the past twenty years, and because of the internet, artists no longer have to rely on galleries to sell their artworks to make money from them. Instead of selling art themselves, one of the many ways artists make money is to have their website to showcase their art, photography, crafts and other creations.
Creating a website is essential for artists to reach their audience and promote their artwork online. However, knowing which is best for you can take time, given that many website builders are available. 
This article is based on my experience creating websites to showcase my work and make money from my art online. I am not techy, but a creative that loves to paint landscapes, and I have personally used some of the website builders detailed in this article.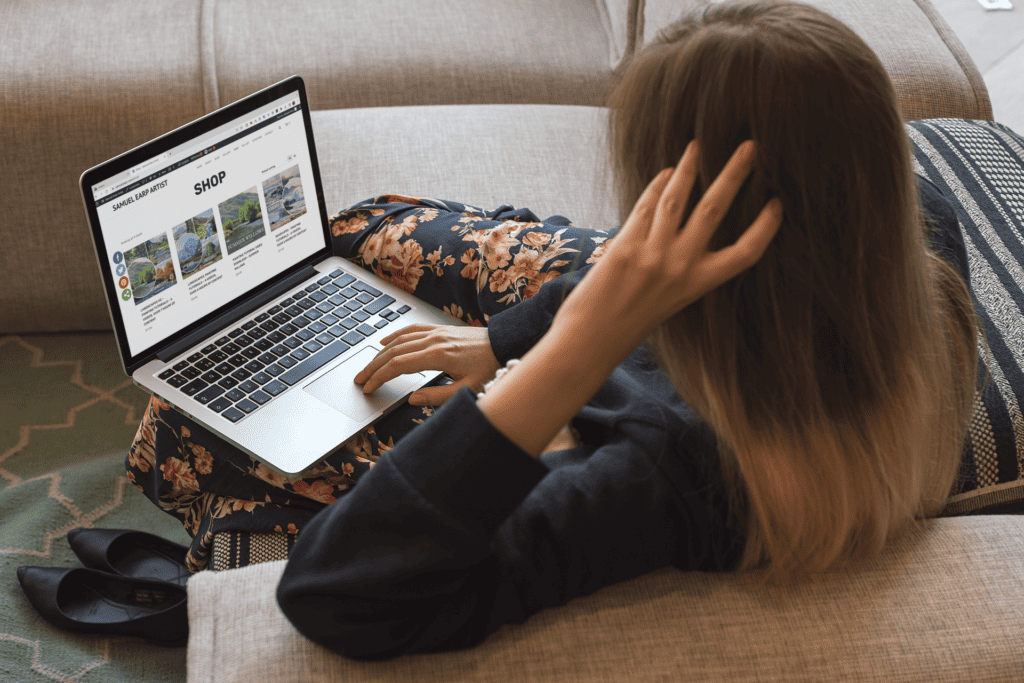 How Can a Website Builder Help You as an Artist?
Having a website to promote your artwork gives you, the artist, total control over your art business. You can monetise your creations and sell your artwork online, and you get to keep all the money, as you won't be paying gallery commissions.
The main benefits of having your artist website include the following:
Complete control over your art business

Display your artwork to its highest potential

Show potential customers your online portfolio

Engage with and grow your audience

Sell your art directly from your website

Ability to monetise your creations and content

Email sign-ups and marketing to promote your artwork

Website blog
With your artist website, the possibilities to make money from your art are endless.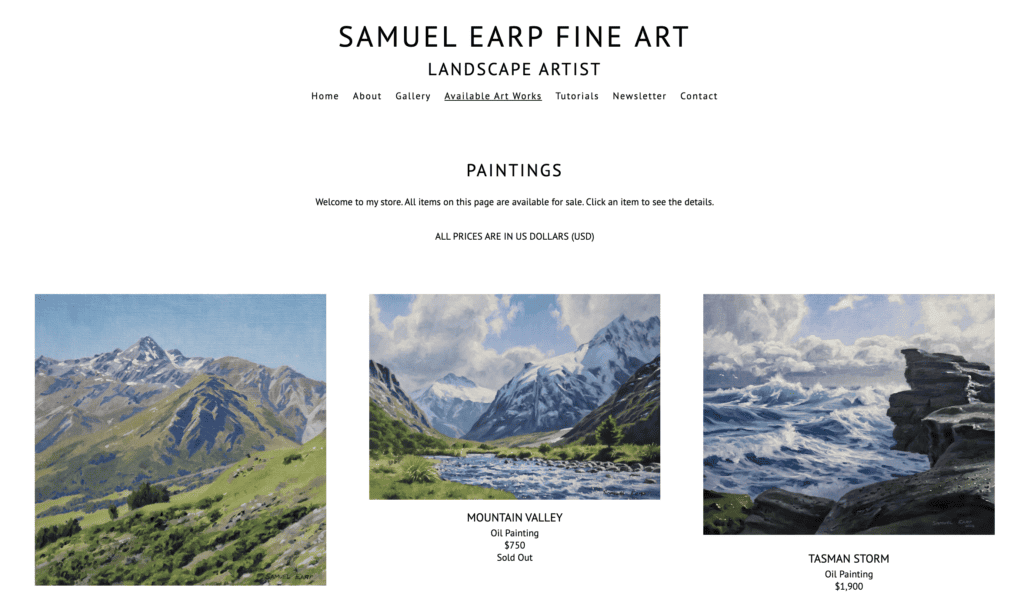 When is it Time to Create an Artist's Website?
One of the main things to consider before you create your website is whether you will be happy that images of your art potentially being on the internet forever. If you are going to showcase your artwork online, you need to produce work to the highest standard that you can make it.
If you are a new artist, you should take your time to improve before building a website and instead spend time working on your craft. Then, for example, when you have around ten good artworks, consider showcasing your paintings/creations online.
What to Look for in an Artist Website Builder 
There are many things that artists should consider when creating a website, including:
Website interface

User experience and functionality

Price

Ease of website integrations, such as payment systems and email sign-ups

The reputation of the company

Customer support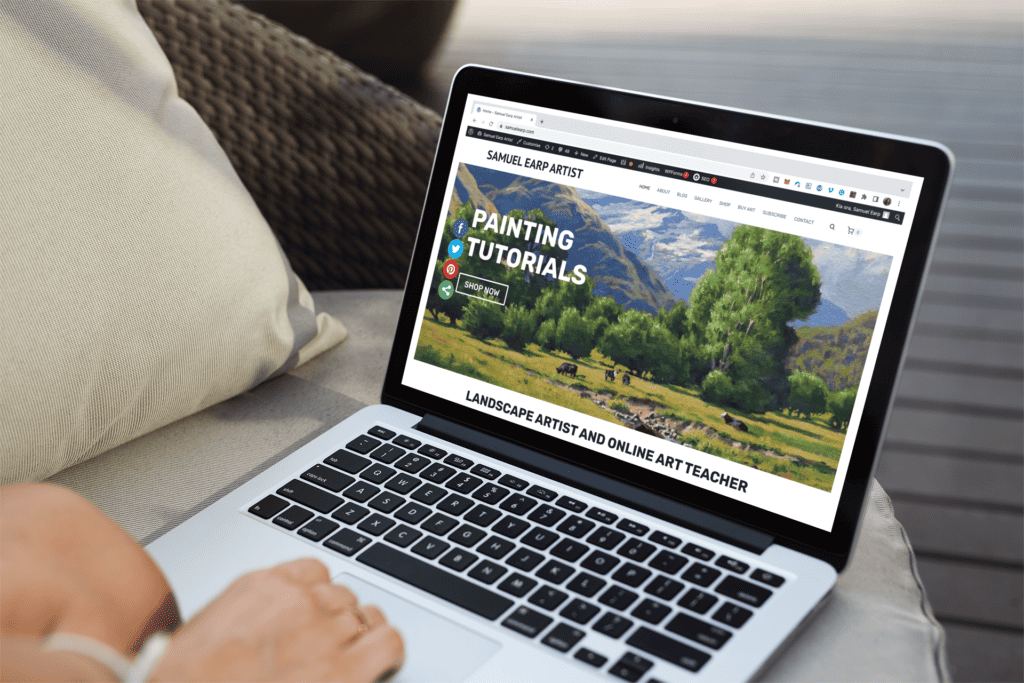 If you, the artist, are like me and not very technology-minded, choose a website builder that is easy to use and doesn't require you to know how to code. Fortunately, most website builders work through drag and drop and are intuitive.
The Best Website Builders for Artists
As mentioned, building a website is essential for artists to showcase their work to the world and grow an audience. However the thought of building a website can seem daunting, but fortunately, several website builders can help you, the artist, to create a stunning website. 
Here are the best website builders for artists.
1. Weebly
Weebly is an excellent and popular general-purpose website builder that offers a range of features so users can create and manage their websites.
Weebly offers a user-friendly interface that is easy to use, where you can create your website through the drag-and-drop editor which means you don't need to know how to code. This is excellent if you are an artist or creative like me who doesn't have a lot of technical expertise or knowledge of coding.
Weebly is one of the top names in website-building companies.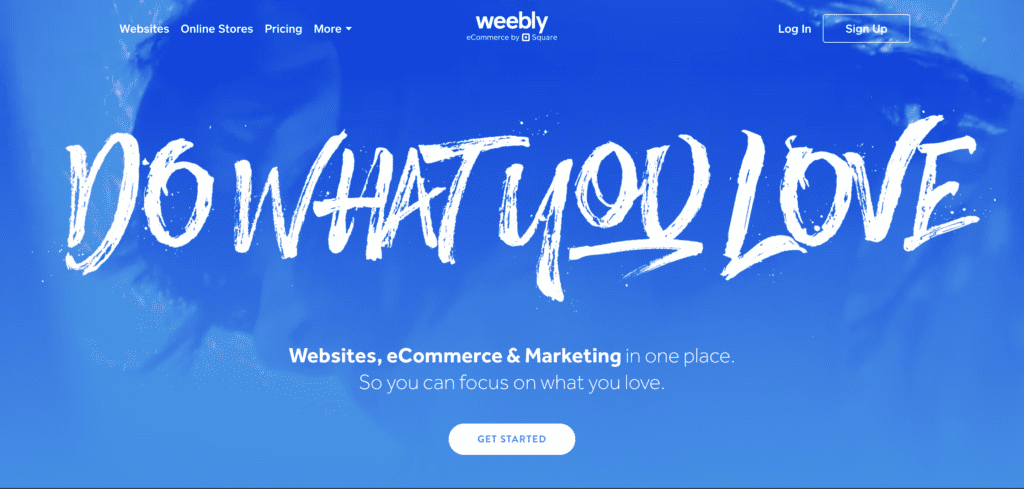 Features
Fully customisable designs, Weebly offers a range of templates that users can choose from, allowing them to customise their website's layout according to their requirements.
Weebly is great for small businesses, solopreneurs and artists and includes e-commerce functions such as creating an online store and connecting with customers so you can manage your creative business online. 
Weebly's templates and designs have responsive themes, automatically adjusting to fit different screen sizes, including mobile devices.
Pricing
Weebly offers a free version of their website builder so you can start creating your website right away. If you would like to take your website to the next level and create your own custom domain, then you can upgrade their 'Personal' plan, which starts at $10 per month.
2. Portfoliobox
Portfoliobox is a website builder specifically aimed at artists, photographers, illustrators, designers and creatives. I have a second website to showcase my paintings built on the Portfoliobox content management system (CMS).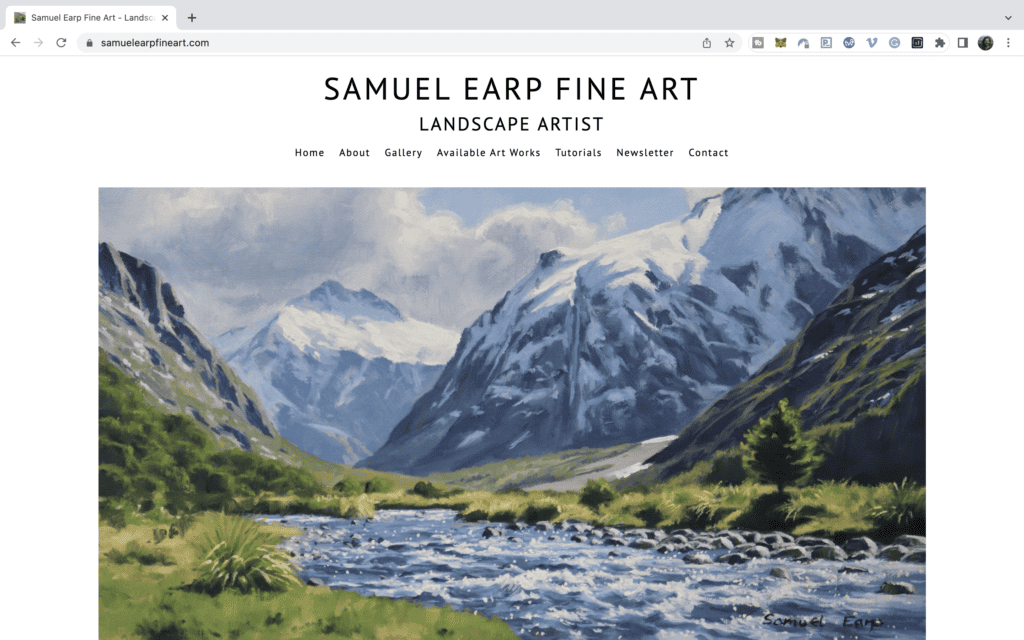 The Portfoliobox CMS is specifically designed with artists and photographers in mind to promote their work to the highest standard best. For this reason, the website templates are clean and straightforward, which is best so that your artwork can do the talking.
If you would like to see an example of a website built using the Portfoliobox platform check out my fine art website.
Features
Portfoliobox has a range of beautiful templates that will allow you to create a stunning website. It also has SEO tools to help artists rank higher on search engines. 
User Experience
The user interface is simple to use with no requirement to know how to code. In addition, the intuitive website builder itself is also intuitive, allowing you to create a stunning and clean-looking website that is ideal for showcasing your work.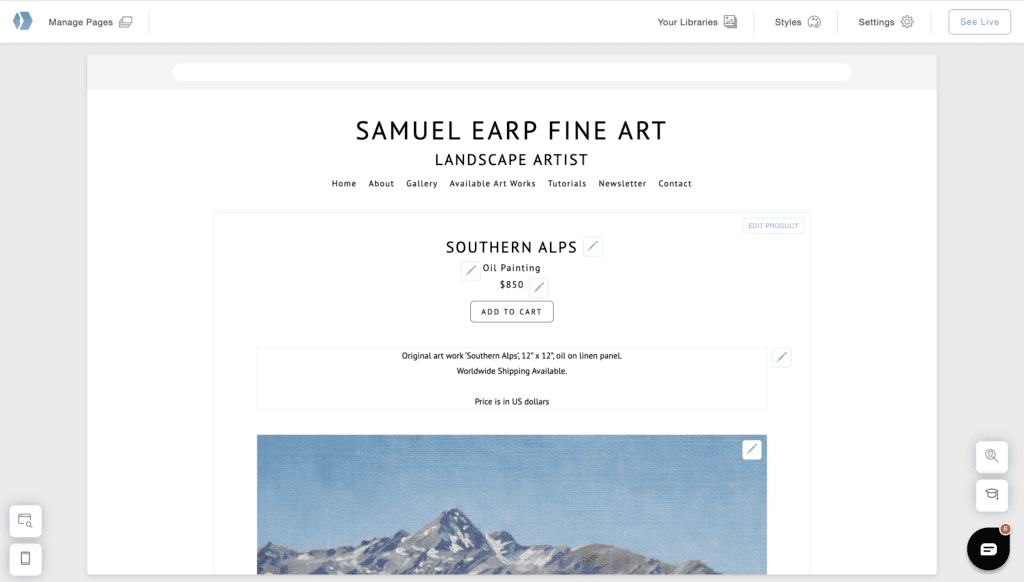 Pricing
Portfoliobox has a range of plans that is good value for money, starting from $3.50 per month when writing this article. In addition to paid plans, you can get a free domain with their Pro program, priced at $9.50 monthly.
What I Like and Dislike About Portfoliobox
Likes
I love the simple layout of the templates, and there is no doubt that I display my art to its highest standard.

The user interface is good and generally easy to use.

Good customer service
Dislikes
Some of the functions of the CMS are limited.
3. WordPress
Because WordPress is one of the most popular content management systems, I have built my main website where you are reading this blog post using WordPress.
WordPress is used by over 40% of the world's websites, and there is a reason for this. It has way more functionality than other website builders such as Squarespace, Wix and Weebly. This is due to the thousands of plugins available, of which it is estimated there are over 58,000. The available plugins extend the functionality of your website.
With so many plugins, using WordPress, you have infinite customization options when it comes to building an artist's website.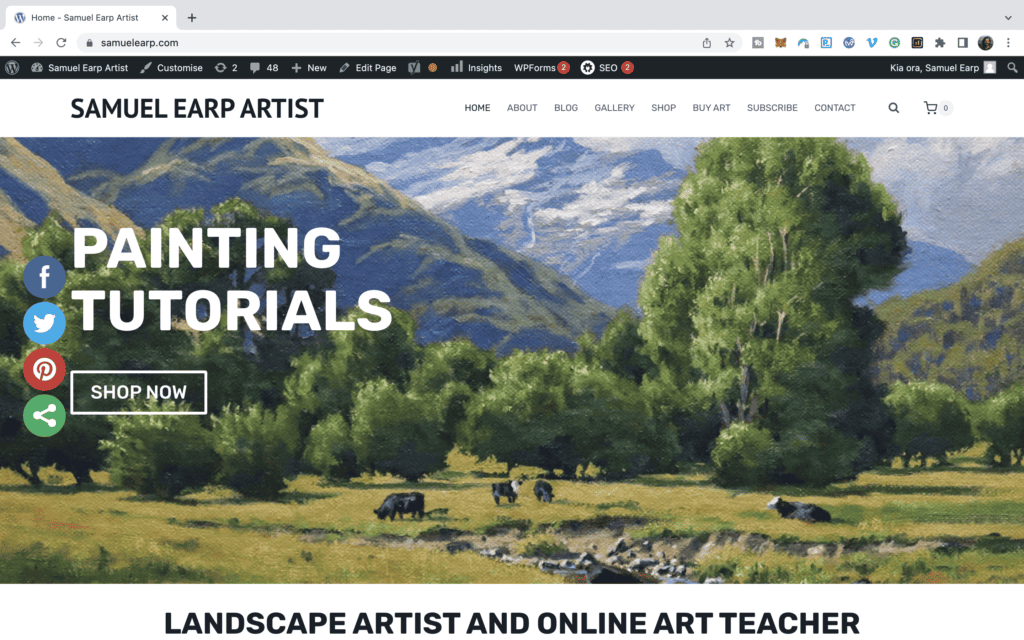 WordPress Web Hosting
Namecheap
When creating a WordPress website, you must first pay for a domain name and website hosting. I use NameCheap as it is easy to use, and, as the name suggests, it is inexpensive and has good customer support.
Bluehost
Another excellent WordPress web hosting service is Bluehost which is popular and very affordable.
Features
WordPress has many themes and templates, such as Kadence, which I am using for my WordPress website, and it works by drag and drop. While coding is not required, the CMS has plenty of functionality to add custom code if needed.
Ideal for blogging, using WordPress is one reason I switched over as I write blogs about painting. There are so many features to optimize your blog, including plugins and blogging tools for keyword research and SEO. Blogs are an excellent way of driving traffic to your website hence my art blog, which you are reading now.
With WordPress, the possibilities to create a stunning artist website are endless.
User Experience
WordPress can be daunting, but it is relatively easy to use once you have started working with it. However, the freedom to customize your website as you would like, combined with the many thousands of plugins, overrides any difficulties you may have when starting. 
Pricing
WordPress is free; however, you must pay for a domain name and website hosting. Many of the plugins are free, but you may have to pay for premium features of some of the plugins.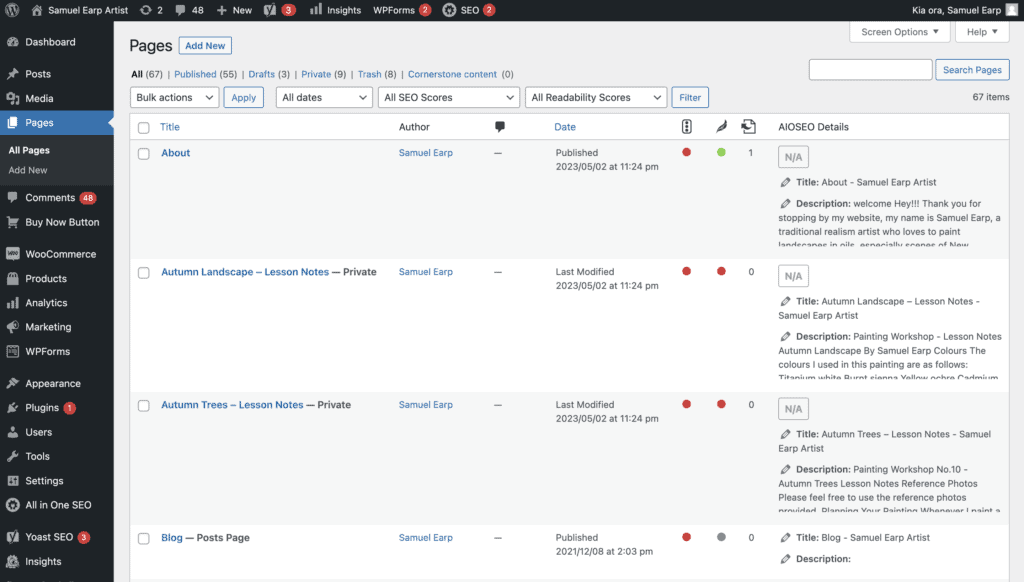 What I Like and Dislike About WordPress
Likes
I love the overall functionality of my WordPress and the many options for customizing my website.

I especially love the blogging aspect of WordPress as there are many more options to customize your blog than compared with a website builder like Squarespace. The drag-and-drop editor is excellent.
Dislikes
The user interface looks a little dated and overall it can seem a little daunting to the new user.

Many of the plugins often have a premium version you need to pay for so the costs can go upward quite quickly

Some of the plugins conflict with each other which can cause malfunctions on your website.
4. Wix
Wix is a popular website builder that, like Weebly, offers a variety of templates and features to help users create beautiful websites. 
Whilst I have not used Wix myself, many people agree that Wix is easy to use and offers a user-friendly interface that is ideal for those who do not have any technical expertise. You can drag and drop elements as per your choice.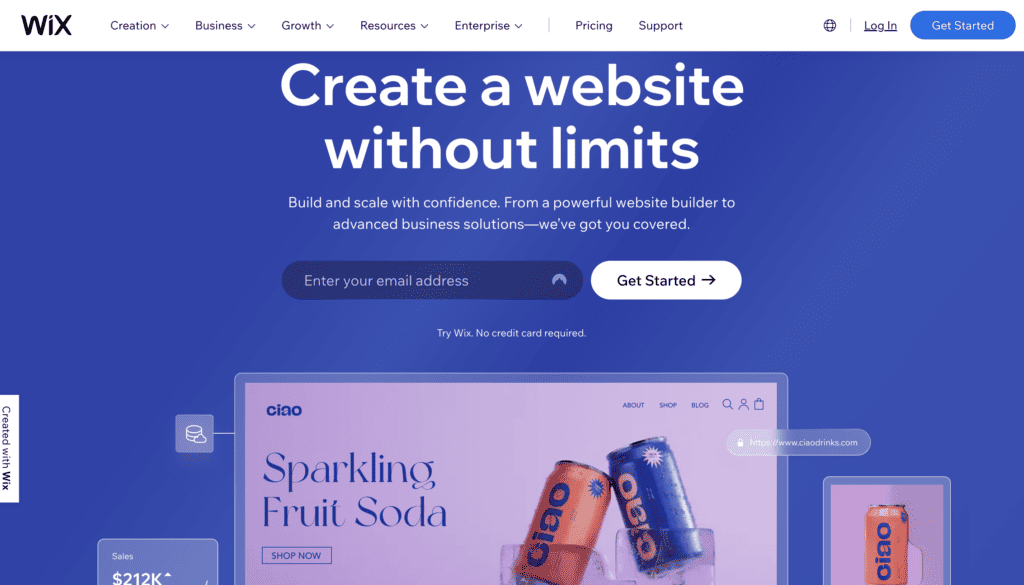 Features
There is a wide variety of templates for you to choose from that Wix offers, allowing you to customize your website design and showcase your works according to your requirements.
Wix is great for creatives, solopreneurs and small businesses with fully integrated e-commerce features, including creating an online store, connecting your e-commerce features with customers, and managing your art business online.
Wix also offers a range of SEO tools and features to help optimize your website and make it easier for you to discover your artwork in search engines.
Pricing
Wix premium plans start at $4.50 per month and a free 14-day trial where you can begin building your website. All premium plans include 24/7 customer care.
5. Squarespace
Squarespace is another good website builder ideal for artists and anyone needing a website. I have experience using Squarespace, as I hosted my website with them for many years. Squarespace is one of the leading names in website builders, along with Weebly and Wix.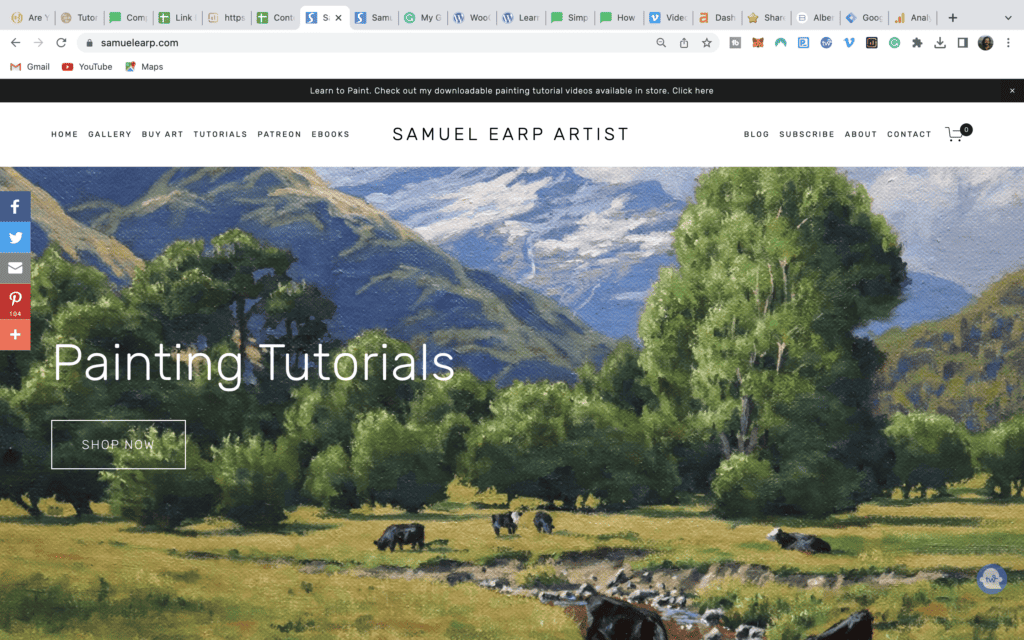 Features
Squarespace has a range of templates ideal for artists with a lot to choose from. Their websites have a clean and modern design that can help artists showcase their work. In addition, Squarespace has good SEO tools that can help artists rank higher on search engines, blogs, e-commerce, and more. 
User Experience
The user interface is clean and easy to use. The Squarespace website builder works through drag and drop, so you do not need to know how to code. In addition, Squarespace has many free plans, online tutorials to help you build your website, 24/7 customer support and live chat.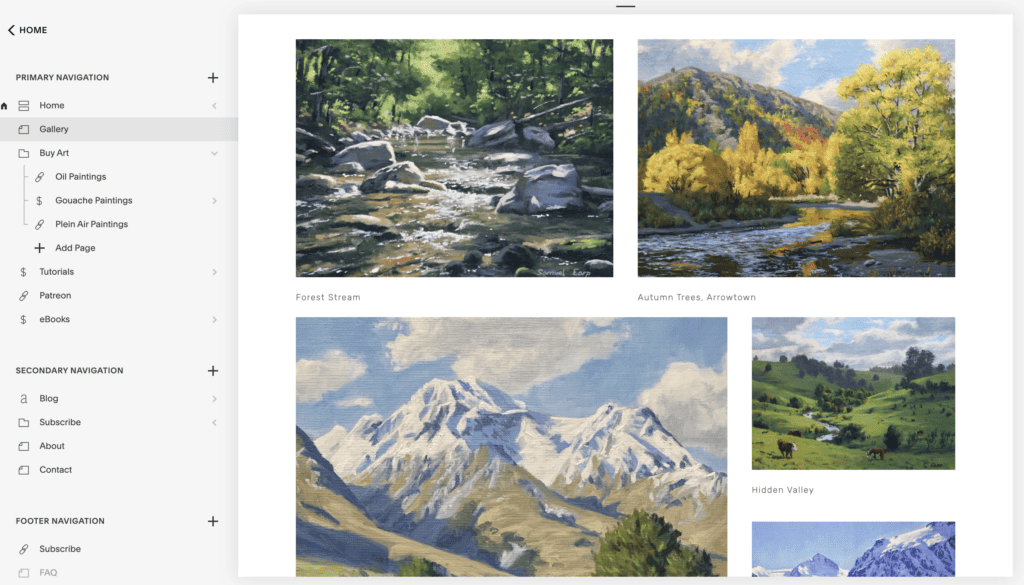 Pricing
Squarespace has a range of competitively priced plans, starting from $16 per month when writing this article. You also get a two-week free trial to begin building your website immediately to see if it is for you.
What I Like and Dislike About Squarespace
Likes
I love the usability and layout of the user interface, and I got the hang of it quite quickly. 

Beautiful templates to use to showcase your art. 

Good customer support. 
Dislikes
I started to notice limitations with the Squarespace CMS, mainly related to the blog. With the template I was using, I wasn't able to add a sidebar which for me was becoming a problem.
How to Choose the Right Artist Website Builder
When it comes to choosing the right website builder for you, it largely depends on the requirements that you need. For example, suppose you are an artist who paints landscapes and wants a simple online portfolio to show potential clients, collectors and galleries and sell original artworks and prints. In that case, I recommend a website builder like Portfoliobox as it is specifically designed for artists and creatives.
If, however, you would like to monetize your paintings, photos, and illustrations by creating content such as a blog or video media or you have many products you can sell that have originated from your art, then using a website builder such as Weebly might be better suited for you.
Price may also influence the decision of which website builder to use, as when you are starting as an artist, you may have limited funds to invest in a website so you may use a cheaper website plan.
Lastly, if you are an artist with a specific goal in mind to create multiple sources of income from your art in the form of a blog and have various products for sale, then I recommend WordPress. 
One of the main reasons I moved from Squarespace to WordPress was that I wanted to focus on my art blog, and I was beginning to see the limitations of Squarespace. However, Squarespace is still an excellent platform on which to create an artist's website.
How to Design a Simple Artist's Website
When it comes to designing an artist's website to showcase your art, photography, illustrations, designs, crafts etc., it is best to keep the layout of your website simple to display your creations best.
Use a White Background for Your Website
Setting a white background for your website will make it feel more spacious and open, allowing your art to be displayed to its highest potential. This is because the white background will allow for the true colors of your art, whereas having a different colored background may conflict with the colors of your artwork.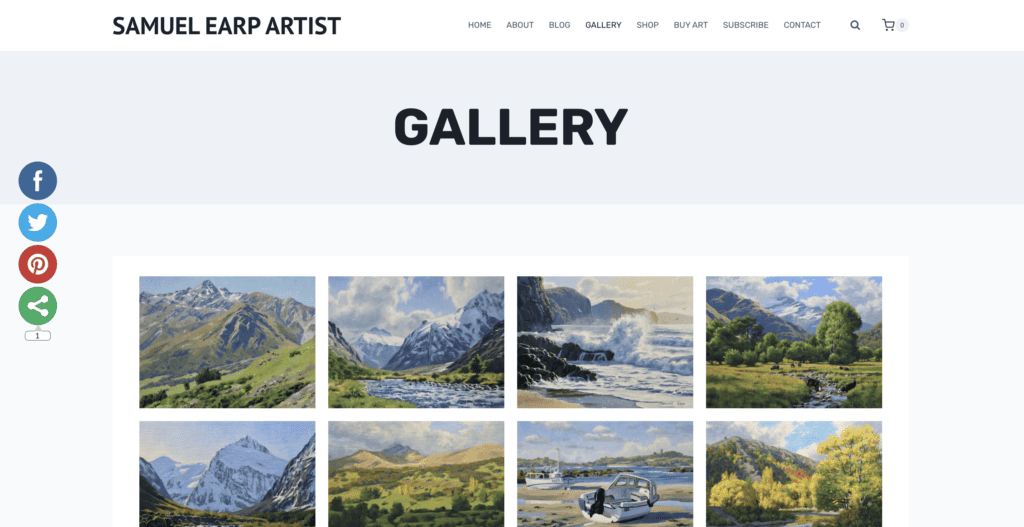 Keep the Header Simple
When navigating through your website, you want to keep it as clean and straightforward as possible. The main pages to link to in your header should be 'Home', 'About' ', Shop' and 'Contact' pages. You could also create a 'Gallery', although your shop could be your gallery too, and you can add a 'Blog' and 'Subscribe' page where your audience can subscribe to your email list.
Make it Easy for a Buyer to Purchase Your Art.
If you create a shop on your website, make it easy for a buyer to purchase from you by adding the price of your paintings next to each item. Make it easy for the customer to buy something from you by setting up a cart function and a payment system. 
All too often, I see artist offering their work for sale with a note to say to email the artist for prices. Unfortunately, for many people enquiring about the cost of paintings is too much work, and it could result in a loss of sales.
Present Your Artwork to the Highest Standard
When uploading images of the artwork you intend to sell, displaying several high-quality images of your art is crucial. You can make mock-ups of your art to show it hanging on a wall in a room using a site such as Placeit.

How to Drive Traffic to Your Website
Once your website is up and running, you want to drive traffic and grow your audience.
Use Pinterest and Instagram
Pinterest and Instagram are great for engaging with your art as they are visual platforms. Pinterest has been one of the best ways of getting traffic to my website, as I have made pins for my blog post articles and paintings for sale.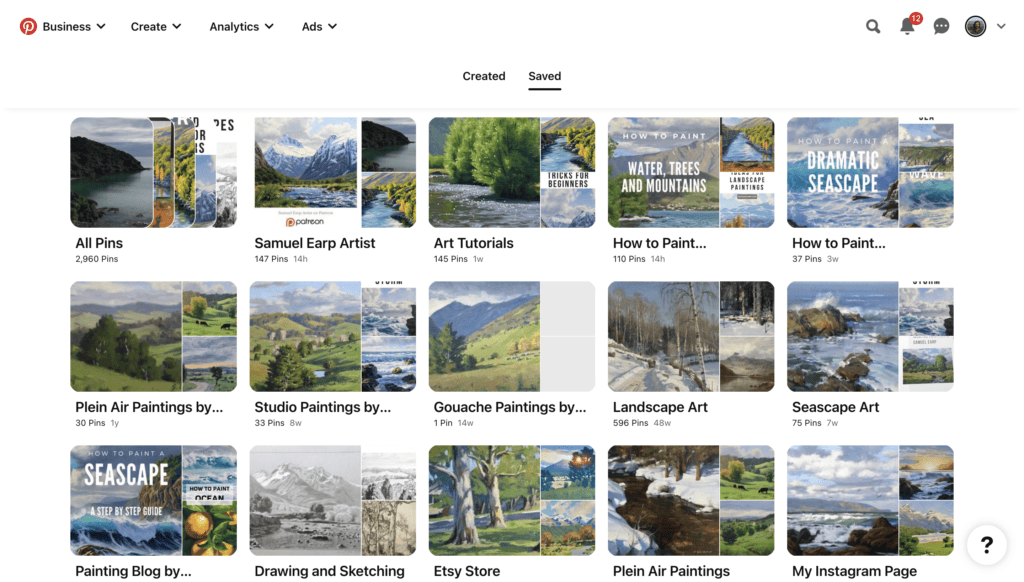 I have sold many paintings on Instagram and used them to drive traffic to my website.
Posting images to Pinterest and Instagram can be time-consuming, so I use Tailwind, which is an app for scheduling both Pinterest and Instagram posts.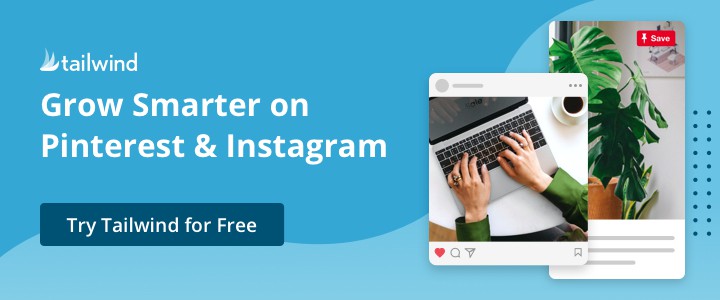 Use Keywords and SEO
Using the right keywords within your website be it for your art or other products can help your website to rank in search engines. This is where having a blog on your website can really help to make search engine optimization drive traffic to your site as you will be able to make your articles keyword rich.
Learning about keywords and SEO takes a bit of research and is beyond the scope of this article but it is something to consider when growing your audience.
Create an Email List
When visitors come to your website, some of them could be potential buyers, so you will want to keep in contact with them. This is where you should create a page on your website so people can join your email list, and for this, you will need to use a bulk email service. I use MailerLite.

Emailing your audience is a great way to keep them engaged and make sales of your art and creations. It also means you don't have to rely on someone else's platform such as Instagram or Facebook in order to communicate with your audience.
Conclusion
When creating your artist's website, it is important to choose the right website builder that offers the features you need for your art business. It is also best to keep your website looking clean and simple, so it is easy to navigate and will show your art, photography, illustrations and designs to their highest standards.
If you are after a simple clean looking website to showcase your portfolio and make some sales of your original works, then Portfoliobox is recommended. On the other hand, if you want a website with multiple functions, Squarespace, Wix, or Weebly are more suitable. Finally, if you want complete control over your fully customizable portfolio website, I recommend WordPress.
Price is also a key factor when choosing a website builder, so if you are starting, are an emerging artist or are in the early stages of your art/photography career, you will likely want to keep your costs low. Therefore you might choose a website builder with a lower entry price.

Final Thoughts
The information I have provided in this blog post is mainly based on my experience building several websites for my own art business. However, it also comes from the point of view of someone that could be more technically minded. I prefer simplicity in a website, but every artist and creative is different, has different requirements, and there are many caveats to it. Regardless I hope you found this blog post helpful and that it helps you on your art journey.