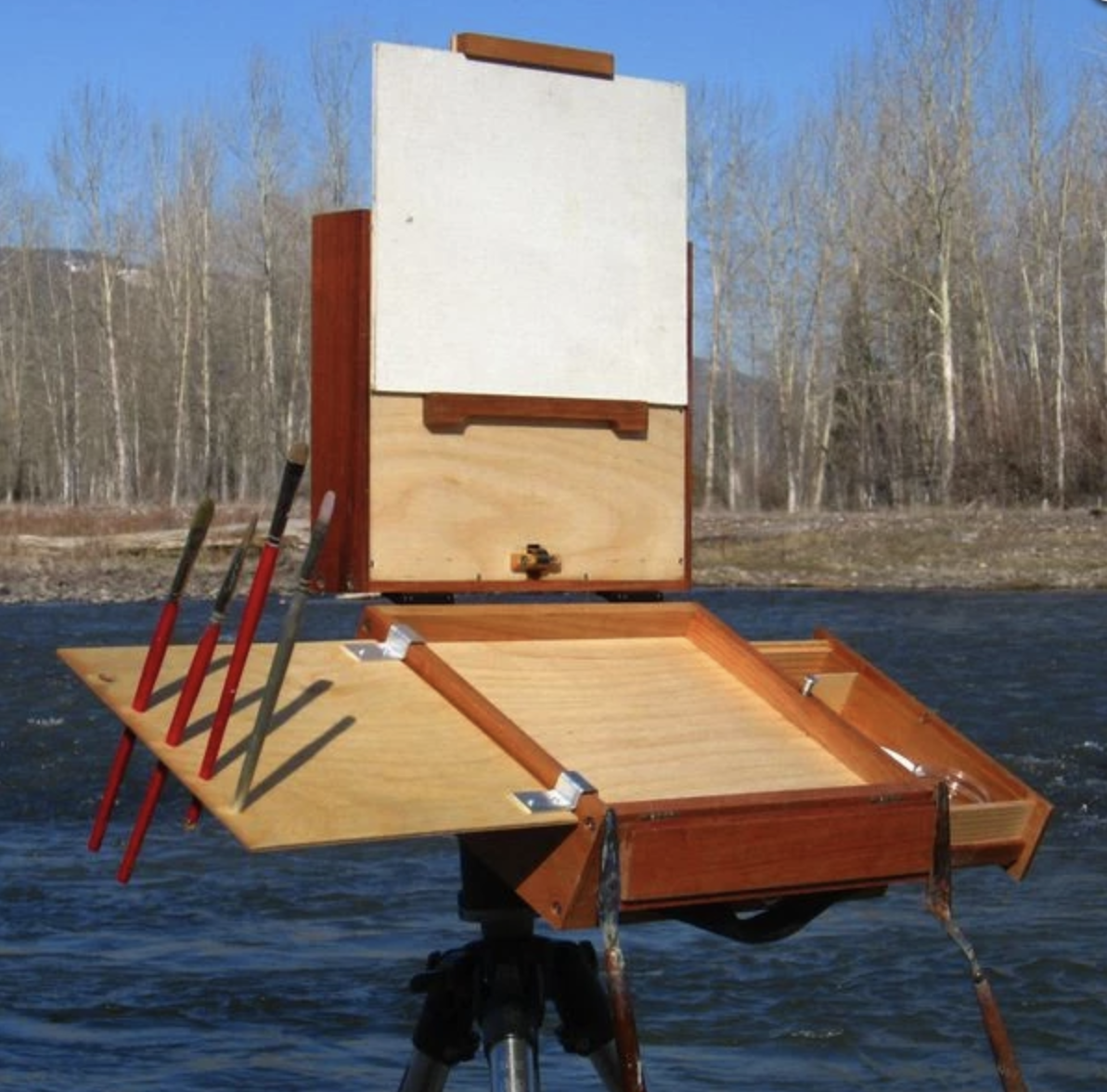 In this blog post I have had the honour of interviewing Ben Haggett who makes pochade box easels through his company Alla Prima Pochade. Ben Haggett is a woodworker and plein air painter and he operates from his home in Missoula in Montana, USA. As a plein air painter myself I personally have been using one of Ben's pochade boxes for the last few years.
The pochade box easel has an interesting history. The first 'box easel's known as 'French box easels' were invented in the 19th century around the time of the French impressionists when painting outdoors became popular. Pochade boxes themselves are typically highly portable, often with built-in storage compartments for paints, palette, brushes and wet paintings.
One of Ben Haggett's inspirations for painting en plein air and making pochade boxes is the Canadian artist Tom Thompson who was born on the 5th August 1877. He is known for his beautiful paintings of the Canadian wilderness where he incorporated a loose gestural painting style. Below is a picture of his well-used pochade box easel.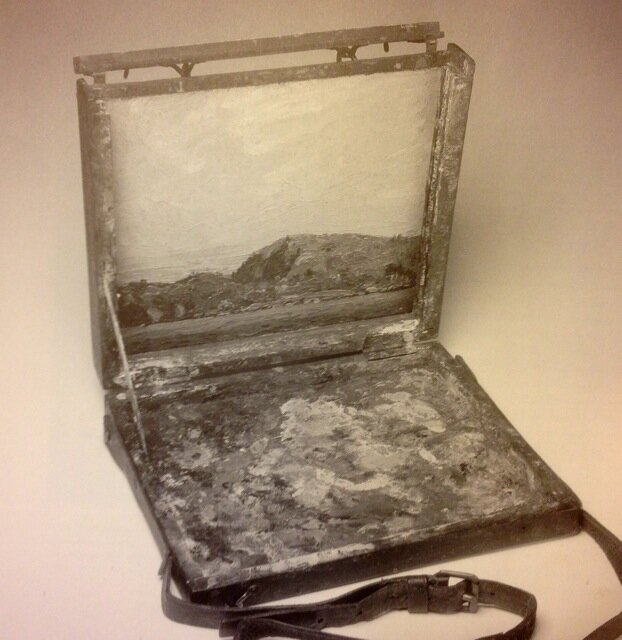 The pochade box easel is an essential piece of equipment for any plein air painter. The thing I love about my Alla Prima Pochade box is that it is beautifully handcrafted by Ben himself and it is very intuitive. In a world where everything is mass produced it's a joy to paint on an easel that has a traditional feel to it and is so thoughtfully constructed.
As an artist who uses an Alla Prima Pochade box I was curious to find out more about the construction process and what inspires Ben to make them. So without further ado, here is the interview with Ben Haggett.
Enjoy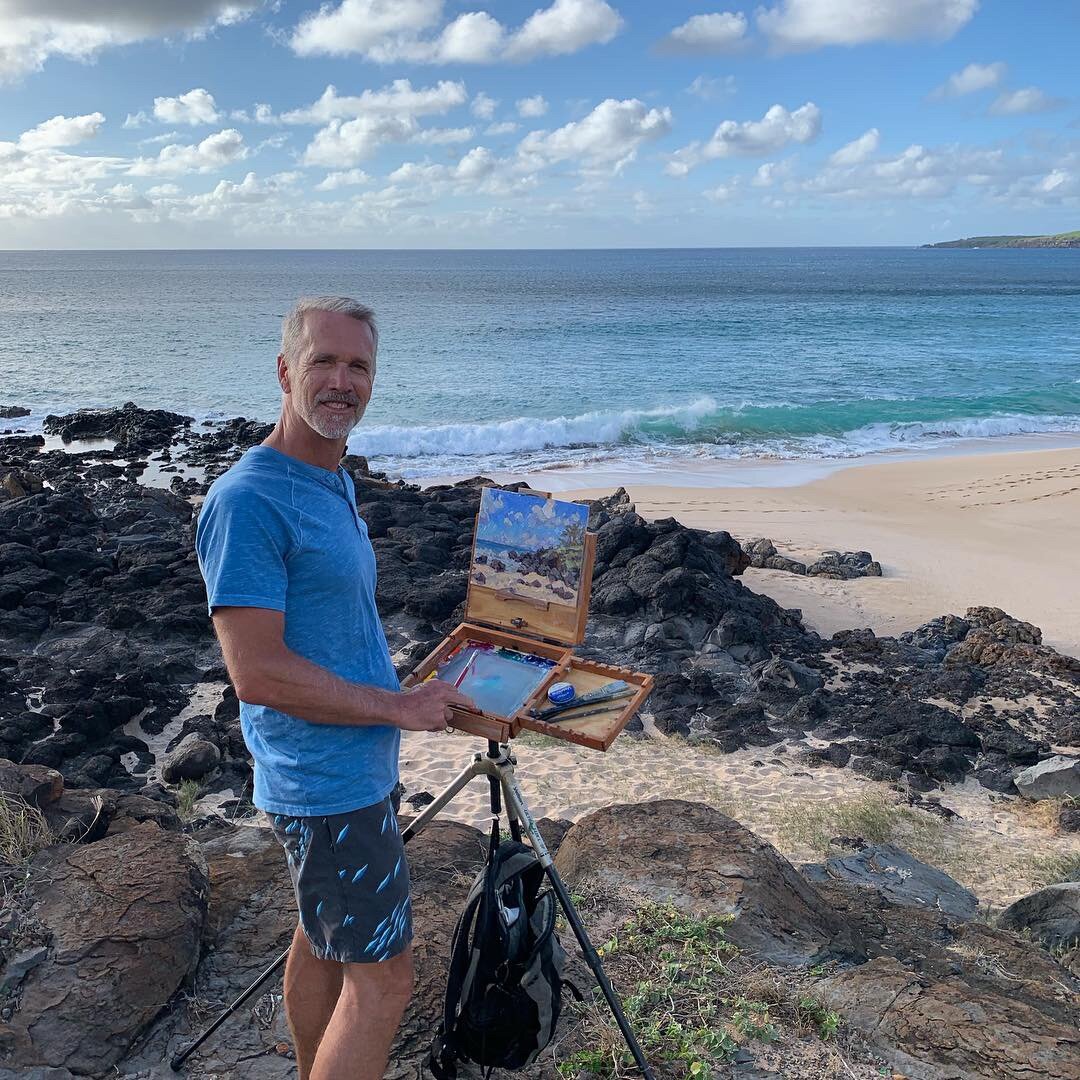 Q: What inspired you to make pochade boxes?
A: I first painted outside, 'en plein aire', back in the 90's. But I got really interested in it in the early 2000's. I made little pochade boxes for myself, and was personally always interested in the lightest, simplest method I could devise to paint on a panel and transport the wet panel, as simple as that. That's the basic challenge of painting small, on location, with oils. It's been the same question for over a hundred years—with tubed oil paints, and the advent of chipboard and plywood, and even cardboard, artist's immediately wanted to put these things to use painting on location. I'm just another painter in that lineage.
Q: What is the story behind your business, how did Alla Prima Pochade Boxes start and when did you make your first box?
A: My first paint boxes were made around 2000. But around 2007 I came up with the idea of trying to find some friction hinges to make a box for myself, thus eliminating having to use some sort of hinged locking arm or knob to keep the lid and the palette area of the box fixed at any angle I wanted. As far as I know, no one had tried that at that point. Once I thought of that, I realized the sides of the box became available for drawers, or sliding palettes, or whatever. And I was off building… So I made the first of what became the 10×12 Bitterroot then.
Q: Can you explain a little about your process? How are the pochade boxes made and what materials do you use?
A: My process is pretty simple—I started out in an uninsulated, unheated garage in the middle of a Montana winter, using my basic tools from working as a carpenter. My tools set has evolved since then, and my skill set as well. But it's still the same basic process. I start with FAS select Cherry and Poplar, and the best grade of Baltic Birch Plywood I can get, and I mill the raw material down to the dimensions I need and manipulate every single piece of the box, usually on multiple surfaces. In the old days I used a tape measure. Now I use Mitutoyo calipers and work to +/- .003 inches, run parts on a CNC, hand sand, hand oil with my own finishing blend, hand wax and buff…there's just no getting around the labor intensive nature of the process and I just try to embrace it.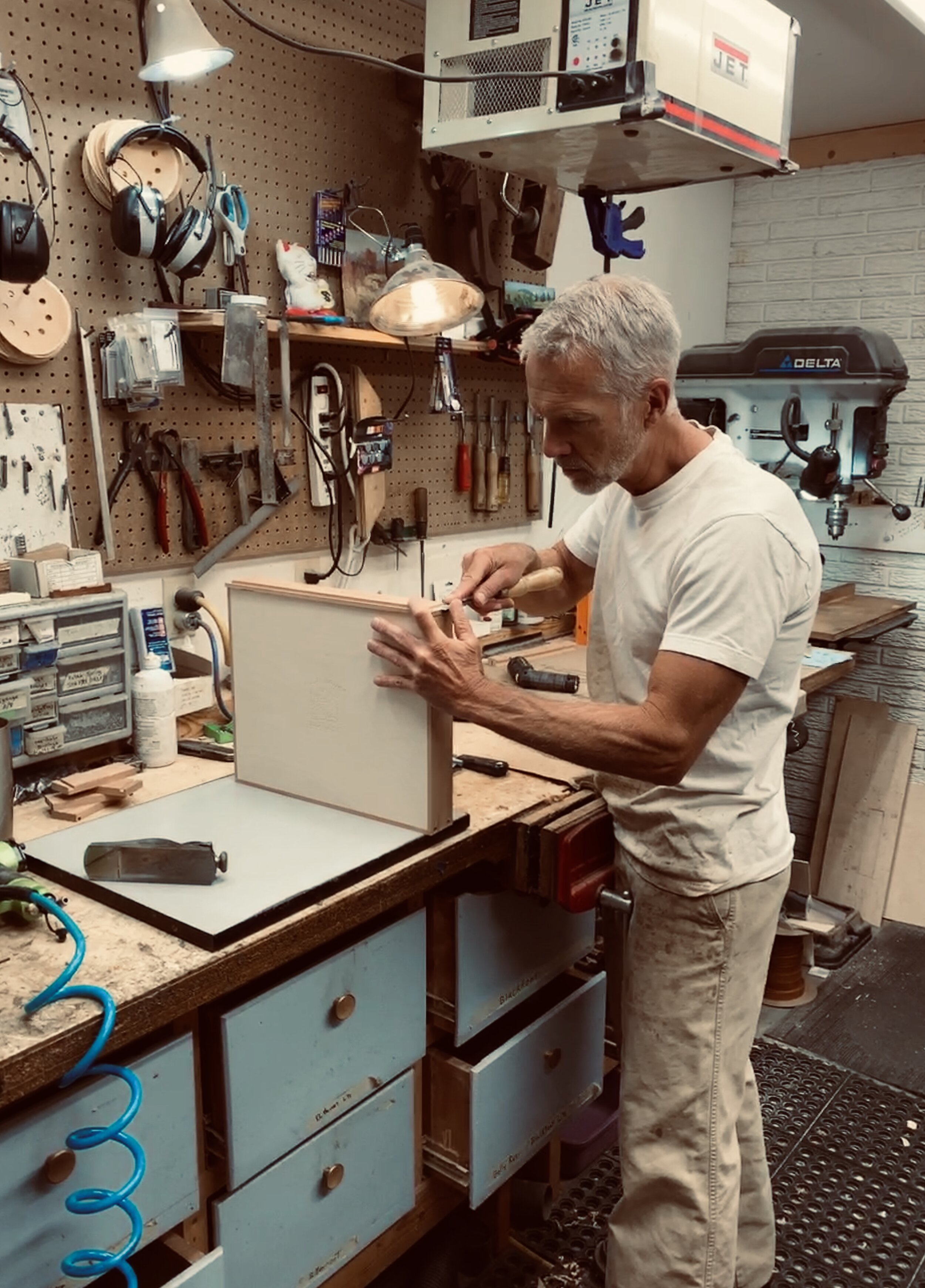 Q: What challenges do you face as a pochade box maker?
A: The challenges as a business are more to do with the business model I decided to adopt rather than the pochade boxes themselves. To put it very simply and honestly, I do not choose to follow the prevalent model of 'designing in the U.S.' and then outsourcing the building of the boxes to factories I might never visit, people I wouldn't meet, borrowing money to build 'x' number of product and then marketing that product. I just won't do that. Period. Ever. The downside of course is that while I can make a living from building what I want to build in the way I want to build it, I will never make a 'retirement' from it, so to speak. As long as I can be in the shop, I'll survive I think, so meanwhile I'll just build the very best tool I can.
Q: What is your most popular pochade box?
A: It's hard to say these days. It used to be the Bitterroot, standard, with drawers. No question. Now though, it's much more evenly distributed.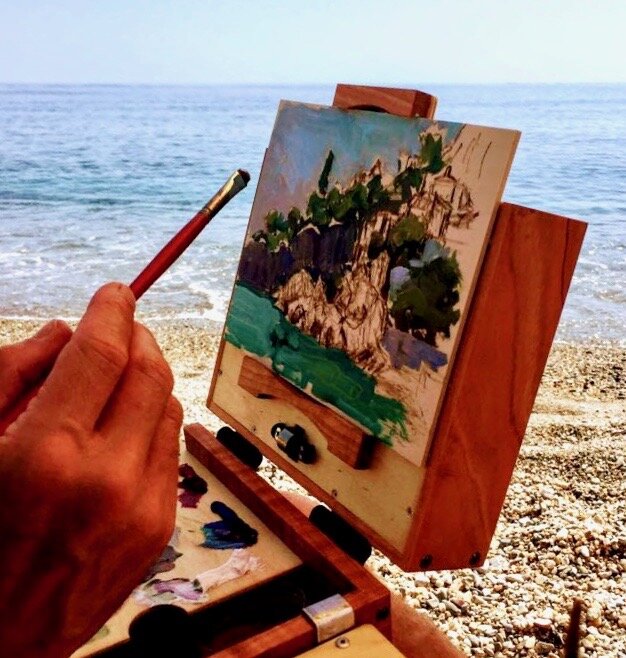 Q: Are you working on any new pochade boxes or products at the moment?
A: Of course, always. I never stop refining and tweaking, for sure. Then I always have something in the pipeline I'm working on, whether it's redesigning a box I already make, or looking at watercolor or pastel designs. I'm primarily an oil painter, so my bias is toward that medium, but I have designs for other stuff—it's just finding time to prototype and develop, which is really fun. But then—the horror—adding them to the website, shooting photo and video. I like designing and building things. Promoting them, not so much. It's a struggle to just keep things that I currently make up to date with photos and video—my old demo videos are a case in point. Sorry!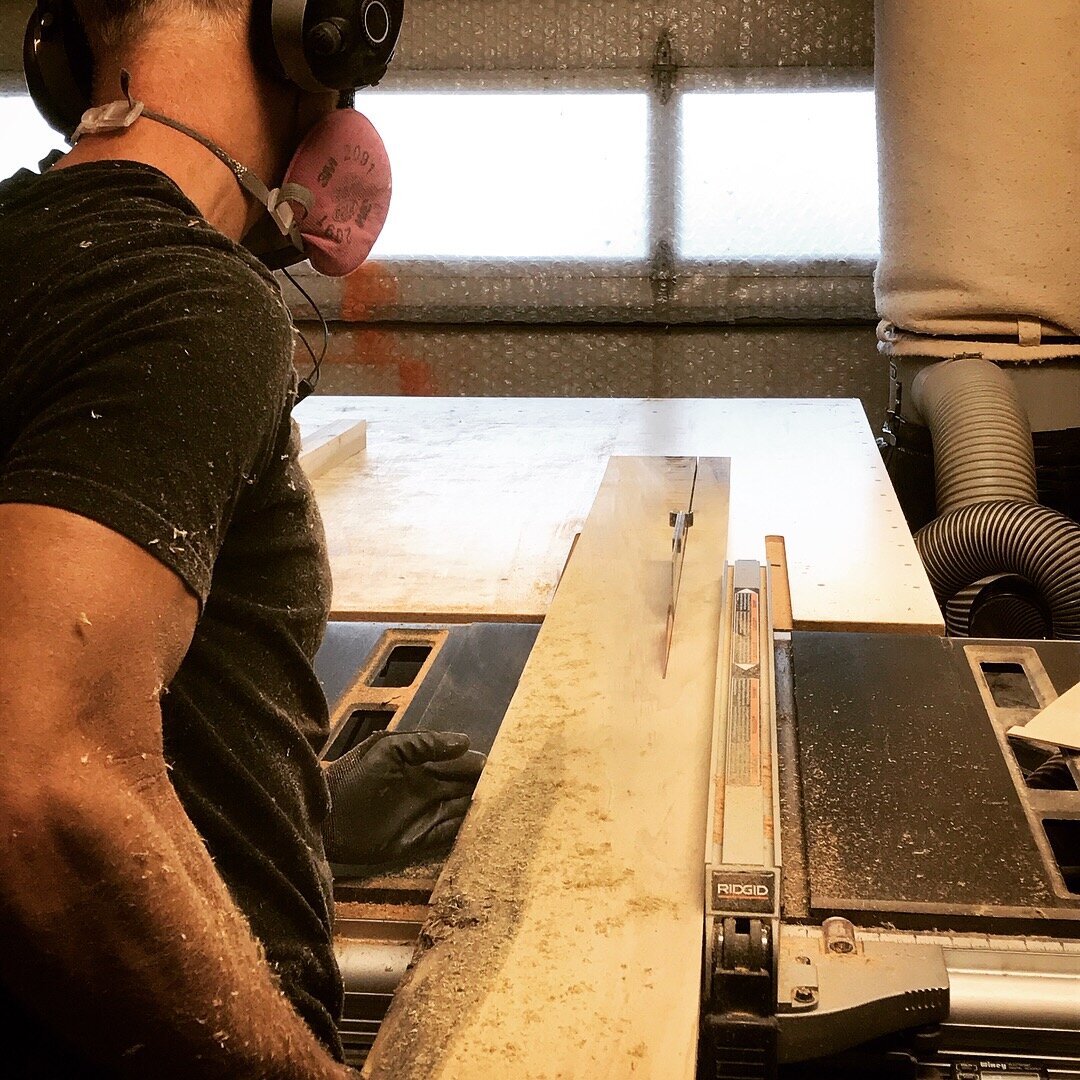 Q: Do you ever make custom pochade boxes?
A: Full custom, no. Well, I have made a few, but mainly because I wanted to try something out, and the customer request overlapped what I wanted to try. And I try to do little tweaks whenever I can, extra brush holes, no brush holes, 5×7 panel users, that kind of thing. But full custom, it would just be so time expensive… And my email exchanges for just standard boxes can run to several pages as it is.
Q: What is your vision for the future of Alla Prima Pochade Boxes?
A: Well, I'm a micro-business. A nano-business, really. I don't plan to expand or outsource. I plan to keep refining, keep tweaking, add new designs as I see the need, and just keep trying my best to create the kind of tool that is pleasant to look at, nice to hold, and then as nearly as possible disappears when brush hits canvas and the real work begins. If I can't do it anymore, then hopefully I will be able to find a person who wants to be mentored and who can carry it on.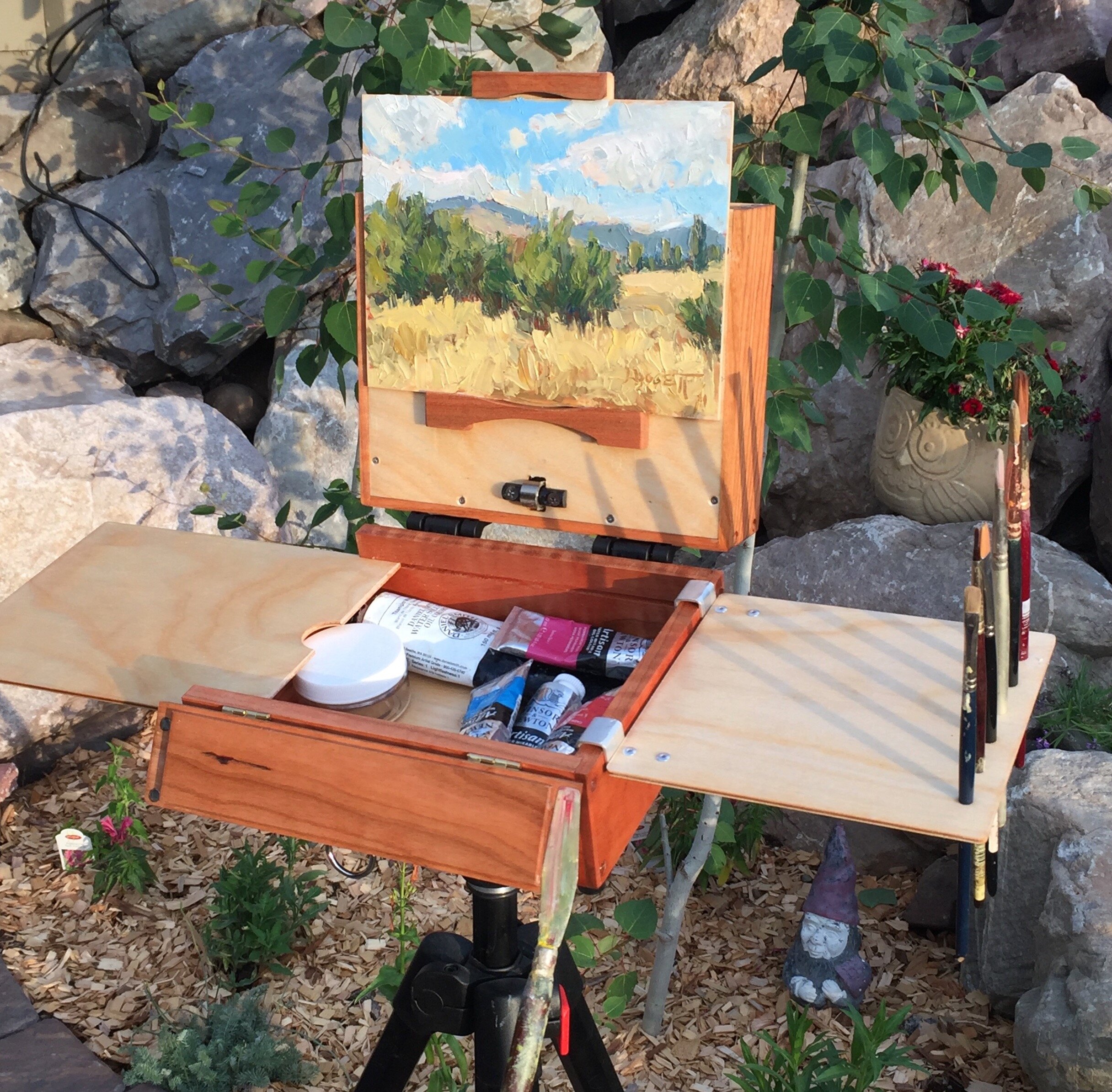 Q: Where can people buy one of your pochade boxes?
A: The only place folks can buy one the boxes is direct from me, at allaprimapochade.com. Either myself or my wife and partner Julie will be communicating with them. I'm far too small a business to have retail outlets, so it's just the straight line from my hands to your hands.
Click the link below to find out more about the pochade boxes that are available from Ben's website.
Q: Where can people follow you online?
A: The main social media channel is Instagram: https://www.instagram.com/allaprimapochade/
Facebook: https://www.facebook.com/allaprimapochade
I have my personal Instagram: https://www.instagram.com/benhaggettpaints/
Also I have a YouTube channel: https://www.youtube.com/channel/UCoUoEtMK1BBny1_xaNS4z5A
Thank you for reading 😊