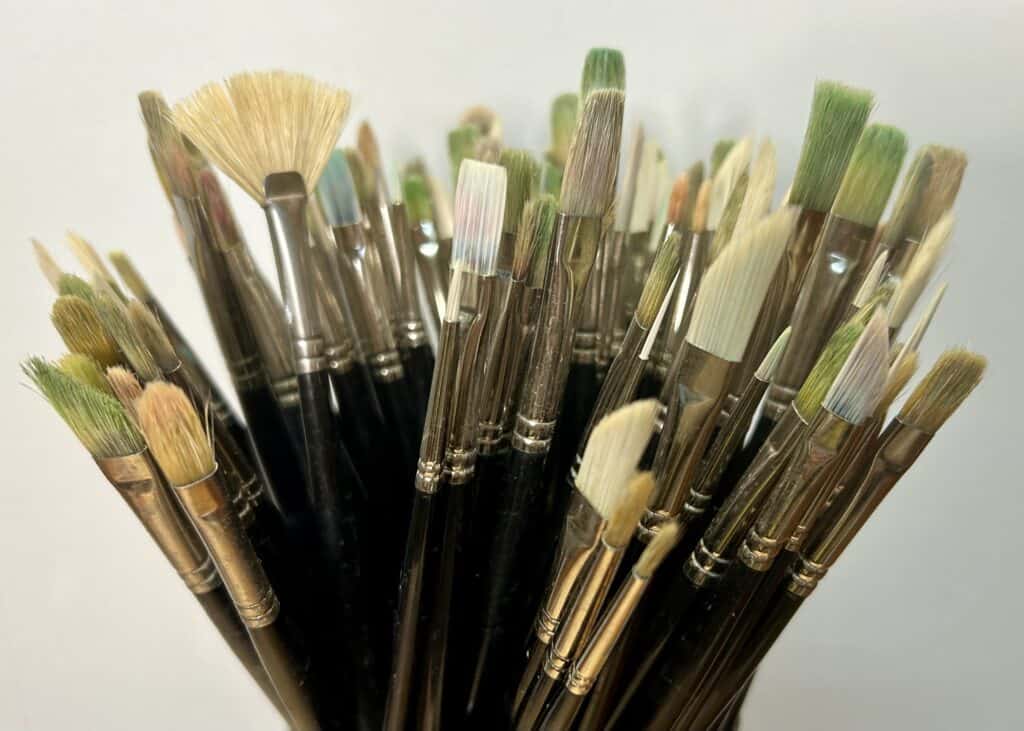 Welcome to this ultimate roundup of the best brushes for oil painting! In this blog post, we will dive into the wonderful world of oil painting brushes, where I list the best brands and recommended oil painting brushes to use.
I am a landscape artist, and my paint brushes are essential tools for my job, so I need quality brushes. But if you are new to oil painting, how to you know which good oil paint brushes to use or which brand is best?
Whether you're a beginner artist taking your first dip into the oil paint pot or a seasoned maestro commanding the canvas, choosing the right brush can be as crucial as the stroke you lay down with it.
Best Oil Paint Brushes in 2023
1. Rosemary and Co.
Rosemary and Co. is a family-owned business producing high-quality artist brushes since 1988. They are based in Yorkshire, England. The company is dedicated to traditional brush-making methods, combining time-honored techniques with modern materials. Skilled artisans meticulously handcraft each brush.
Rosemary and Co. is recognized for its commitment to producing top-quality paint brushes through traditional craftsmanship and using the finest materials.
I personally use Rosemary and Co. brushes and I have done so for many years. Their brushes are excellent quality and a joy to paint with. They also last a long time.
Key Benefits
Finest natural and synthetic hairs sourced for their brush bristles, including sable, hog, and synthetic blends.
Carefully selected materials ensure brush collection with superior performance and durability.
Wide range of brush shapes and sizes to cater to different artistic styles and techniques.
Excellent customer service and satisfaction.
They are dedicated to promoting the arts and supporting artists worldwide.
Brush sets available
Price Range
$ 1.40 – $ 137.67
.
2. Winsor and Newton
Winsor & Newton is a well-known and respected brand in the art world, and they offer a range of high-quality oil brushes. Their oil brushes are designed to meet the specific needs of oil painters, providing excellent performance and durability.
Overall, Winsor & Newton's oil brushes have high-quality craftsmanship, reliable performance, and versatility. They are a popular choice among oil painters, offering a range of options to suit different artistic preferences and techniques.
Key Benefits
High-quality bristle materials used for their oil brushes, including natural hog hair bristle and synthetic fibers.
Available in various shapes and sizes.
Crafted with precision and attention to detail.
Brushes include features such as fine points, excellent spring, and good paint-carrying capacity.
Designed for ease of use and comfort.
Long handles provide balance and control during painting sessions.
Price Range
$ 4.61 – US$ 44.99
3. Escoda
Escoda's oil and acrylic paints and brushes provide artists with high-quality tools to enhance their artwork. With diverse brush series, shapes, and sizes, Escoda offers options suitable for various painting styles and techniques, allowing artists to achieve the desired results in their oil and acrylic paintings.
Key Benefits
Escoda utilizes different bristle materials for their brushes, including natural bristles such as hog bristles and synthetic fibers.
Range of shapes and sizes, such as rounds, flats, filberts, and more, are available.
Excellent control, precision, and paint retention.
Durability with a long lifespan.
Brush sets available
Price Range
$ 7.41 – US$ 947.88
4. Da Vinci
Da Vinci offers a comprehensive selection of oil paint brushes made from a variety of bristle types. With their commitment to quality craftsmanship and a wide range of brush shapes and sizes, Da Vinci oil brushes provide artists with the tools necessary to achieve desired results in their oil paintings.
Key Benefits
Brushes are meticulously crafted using high-quality materials and traditional brush-making techniques.
The brushes feature a variety of bristle types, including natural bristles like hog and red sable, as well as synthetic fibers.
Range of shapes and sizes, such as round, flat, filbert, and fan brushes available.
Designed to offer excellent paint load capacity, control, and durability.
Oil brushes are durable, reliable, and precise.
Price Range
$ 7.41 – US$ 400.11
5. Blick Masterstroke
Blick offers a range of natural and synthetic oil brushes specifically designed for oil painting. Blick provides natural and synthetic oil brushes, allowing artists to choose the soft bristles that suit their needs and preferences.
Whether artists prefer the traditional feel of natural bristles or the versatility of synthetic fibers, Blick offers a range of options to accommodate various oil painting techniques and styles.
Key Benefits
Made from high-quality natural bristle materials, such as hog bristle.
Synthetic oil brushes are made from high-quality synthetic brush fibers that mimic the characteristics of natural bristles.
Bristles hold their stiffness, are durable, and hold and distribute oil paint effectively.
Available in multiple shapes and sizes, including rounds, flats, filberts, and more.
Brushes are designed for versatility.
Durable, flexible, and good paint retention.
Responsive with spring in the bristles, providing artists with control and precision during their oil painting process.
Price Range
$ 1.19 – US$ 700.00
6. Utrecht
Utrecht Art Supplies offers a selection of oil paint brushes made from high-quality materials. With a range of bristle types, shapes, and sizes, their oil brushes provide artists with the tools necessary to achieve desired results in their oil paintings.
Their oil brushes are crafted using high-quality materials to ensure durability and performance.
Key Benefits
Variety of bristle types available, including natural bristles like the hog bristle brush, and synthetic fibers.
Many shapes and sizes include rounds, flats, filberts, and more.
Designed to provide optimal paint retention, control, and responsiveness.
Durable and long-lasting.
Price Range
$ 4.48 – US$ 43.03
7. Princeton
Princeton Brush Company is a well-known manufacturer of artist brushes based in New Jersey, USA. The company is dedicated to creating brushes that meet the needs of artists, and they value the importance of craftsmanship and innovation.
Princeton Brush Company collaborates with professional artists and brushmakers to develop and refine their brush designs, ensuring optimal performance and quality.
Key Benefits
Wide range of brush types and styles, including synthetic and natural hair brushes, available.
Available in various shapes and sizes, including rounds, flats, filberts, and more
Excellent paint retention, control, and durability.
Engineered to withstand the demands of oil painting techniques.
Princeton Brush Company is committed to sustainability and ethical practices in its manufacturing process, emphasizing environmentally friendly materials and responsible sourcing.
Price Range
$ 4.31 – US$ 57.96
ARE YOU STRUGGLING WITH YOUR PAINTING?
JOIN MY ONLINE ART SCHOOL AND UNLEASH YOUR INNER ARTIST.
Step-by-Step Painting Tutorials
Helpful Tips and Techniques
In-depth lesson notes
Inspiring reference photos
Instant access to all content, including videos, lesson notes, reference photos and more.
A vibrant and friendly community, meet other members, ask questions, and share your art.
Zoom meetings for Q&A's, painting critiques and painting livestreams.
Ideal for beginners and experienced painters.
Lots of inspiration, help and support to take your painting skills to the next level.
Recommended Brushes for Painting Landscapes
As stated earlier, I use Rosemary and Co. brushes, which I personally use for painting landscapes. I believe you can paint any landscape artwork with the brushes listed below.
Paintbrush Types
The first thing to consider when selecting your brush is the type, and there are several different varieties of paint brushes for oil painting. The most common types are bristle and synthetic brushes.
Brushes also come in many shapes too, which we will look at in the next section.
Bristle Brushes
These are my favorite brushes and the workhorses of my painting process. They produce beautiful thick, bold strokes. Bristle brushes, often made from hog hair, are tough, resilient, and love to tango with thick oil paints. 
Bristle brushes are also resilient and can take a bit of a pounding. They're the Terminator of the brush world – they'll be back, stroke after stroke, offering consistent quality and durability.
Their stiff bristles allow for strong strokes and excellent color-carrying capacity. Your palette won't know what hit it! They are the best brushes to use for oil painting.
Synthetic/Nylon Brushes
Next up on the list, we have synthetic brushes. These are the chameleons of the brush world, adapting easily to your style, whether laying down blocking-in colors or focusing on finer details. 
Made from nylon or polyester, they offer a mid-level firmness, making them versatile for various techniques. 
When painting, I usually bust out the synthetic/nylon brushes when working on more intricate parts of my picture where finer details are required.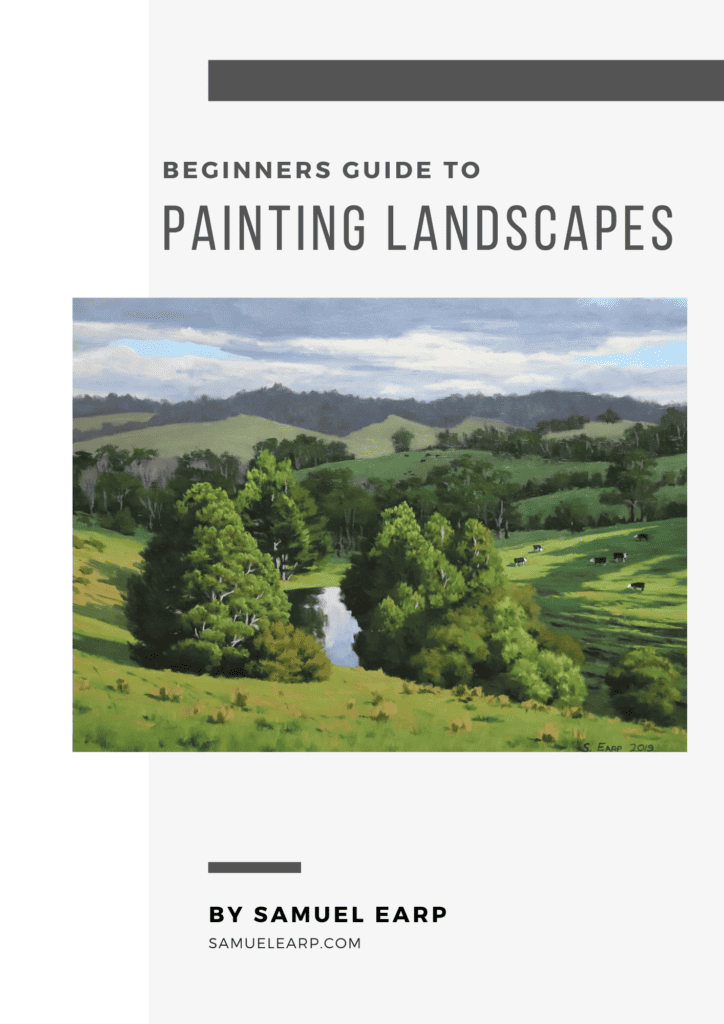 Shapes of Oil Paint Brushes
Flat brush
The flat brush, as the name suggests, is your straight-edge tool. This is the powerhouse of the brush world, capable of using thick paint and laying down large areas of paint in a hurry. These brushes are ideal for plein air painting when you need to work quickly.
With their square ends and medium to long hairs, they're like the perfect date – they can be bold when you need them to be but also know when to show some finesse. 
Ideal for blocking in shapes and creating loose gestural marks, these brushes are a must-have for every oil painter's toolkit. 
Filbert brush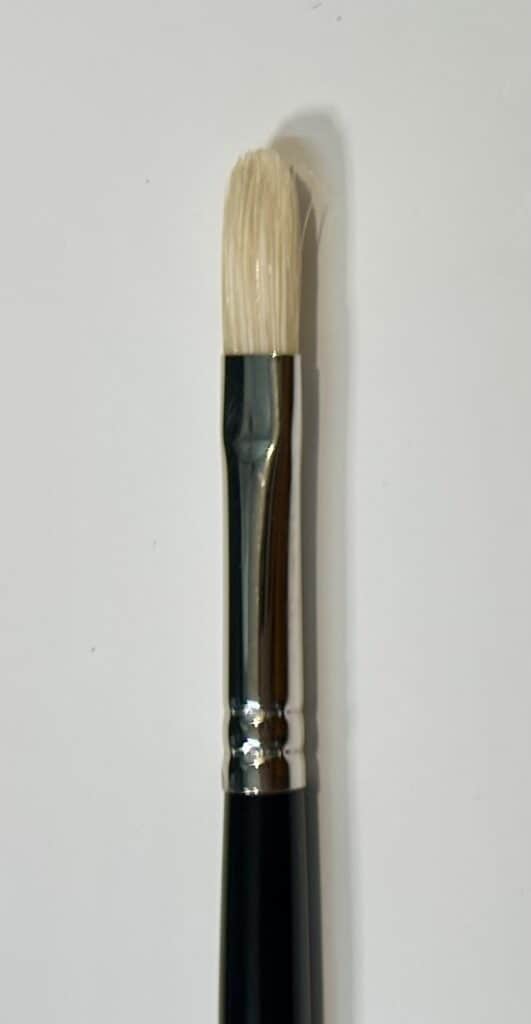 The filbert brush is an oval-shaped brush with a flat, rounded tip. Its combination of both round and flat shapes makes it an incredibly versatile option for many different painting techniques. 
The shape of the Filbert comes in handy when you want to create curved details and controlled brush strokes – a painter's best friend! This brush is ideal for creating thin lines or large shapes. 
It's the perfect solution for needing something between a flat and round brush. And with its signature rounded edge, it can easily be used to paint foliage and petals with ease. So if you're looking for a brush to do it all, the Filbert should be your go-to!
Angle or Dagger brush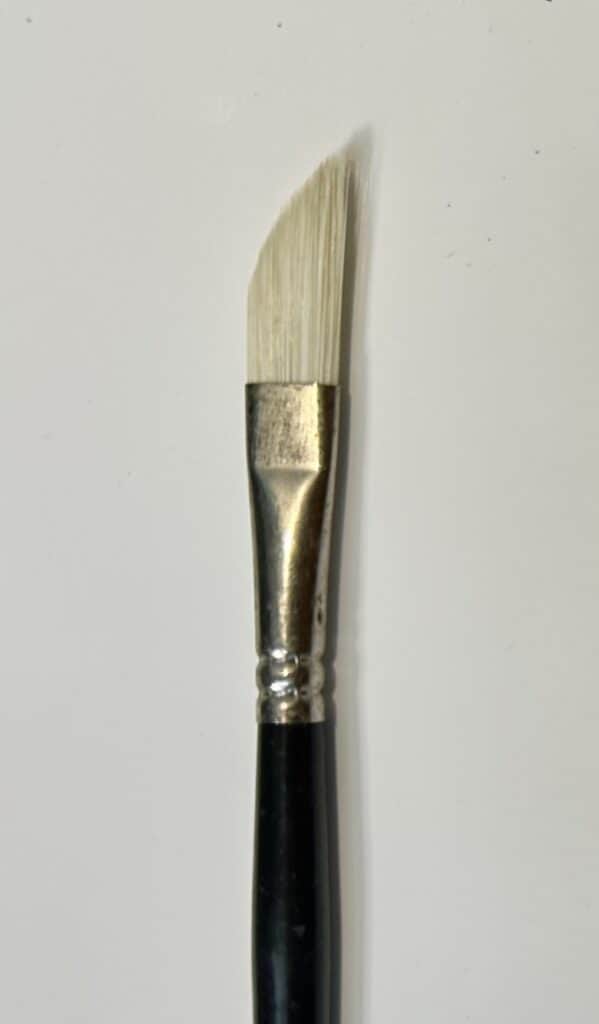 The angled brush is similar to the flat brush but has one significant difference. Instead of having a straight edge across its width, it has an angled tip that makes it perfect for creating sharp lines and controlled strokes. 
This is excellent for creating defined shapes and detailed edges in your paintings, especially using a brush with synthetic hairs. You can also use the tip of the bristles for fine details.
This brush is excellent for painting rocks.
Round Brush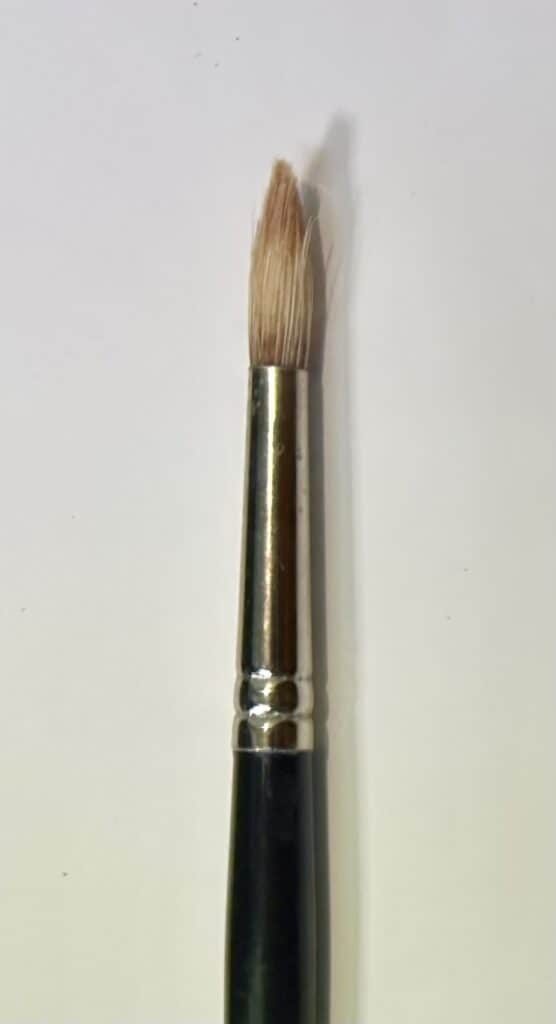 The round brush is a very versatile brush to have in your painting arsenal, and it's excellent for creating all kinds of different effects! 
Its pointed tip allows you to make linear marks and fine brushstrokes easily. I have found that small round brushes are perfect for painting stems and branches in trees.
Small, pointed round brushes are excellent for adding fine details to your painting, such as sparkles in a body of water or shimmering light on the surfaces of some leaves.
Rigger brush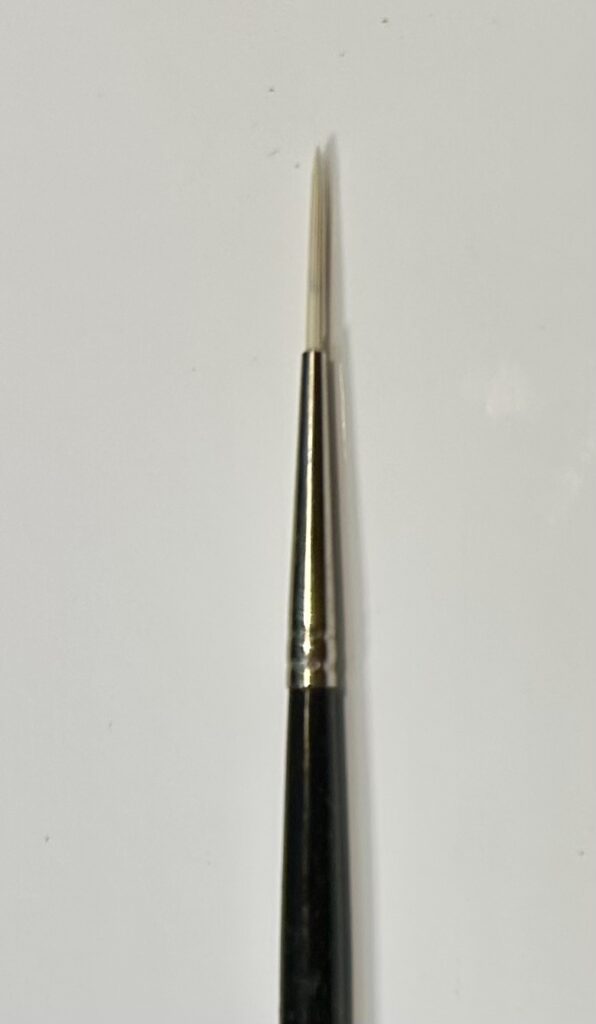 The rigger brush is excellent for creating thin lines and precise details, perfect for adding the finishing touches to your painting! Its long and slim design allows you to get into tight spaces easily.
This brush is ideal for painting twigs and branches when painting trees and vegetation. Rigger brushes with synthetic bristles are perfect for painting this fine detail work.
Fan brush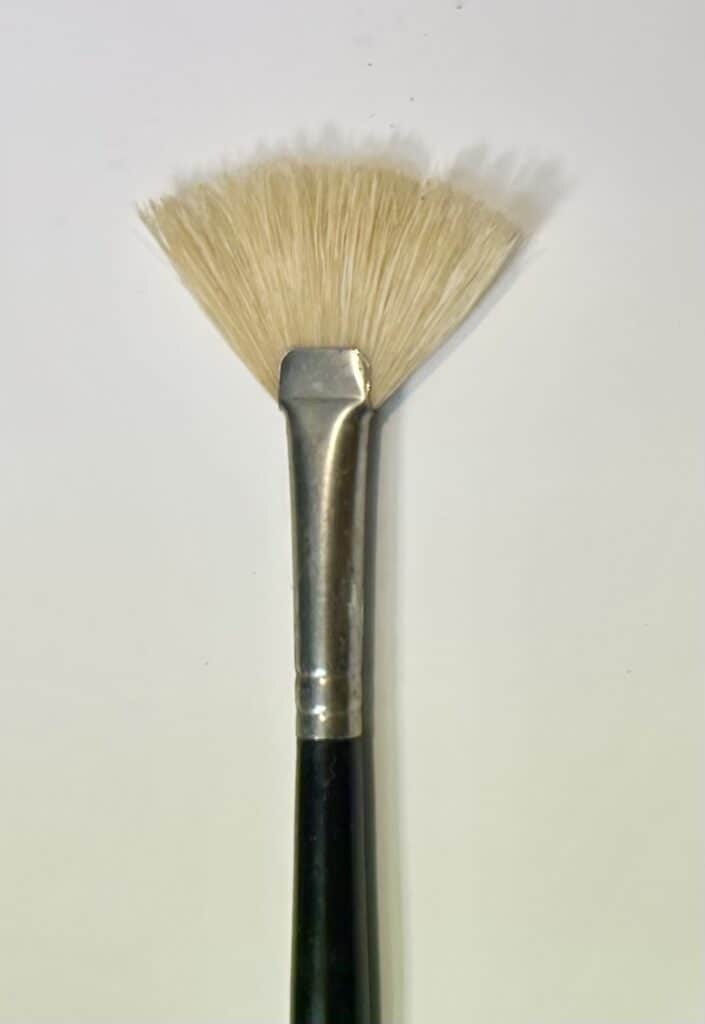 The fan brush creates thin, broad paint strokes with just one swipe. Its unique shape allows you to paint subjects such as grass with ease.
I have found this brush good for painting sea spray in ocean paintings.
Chip brush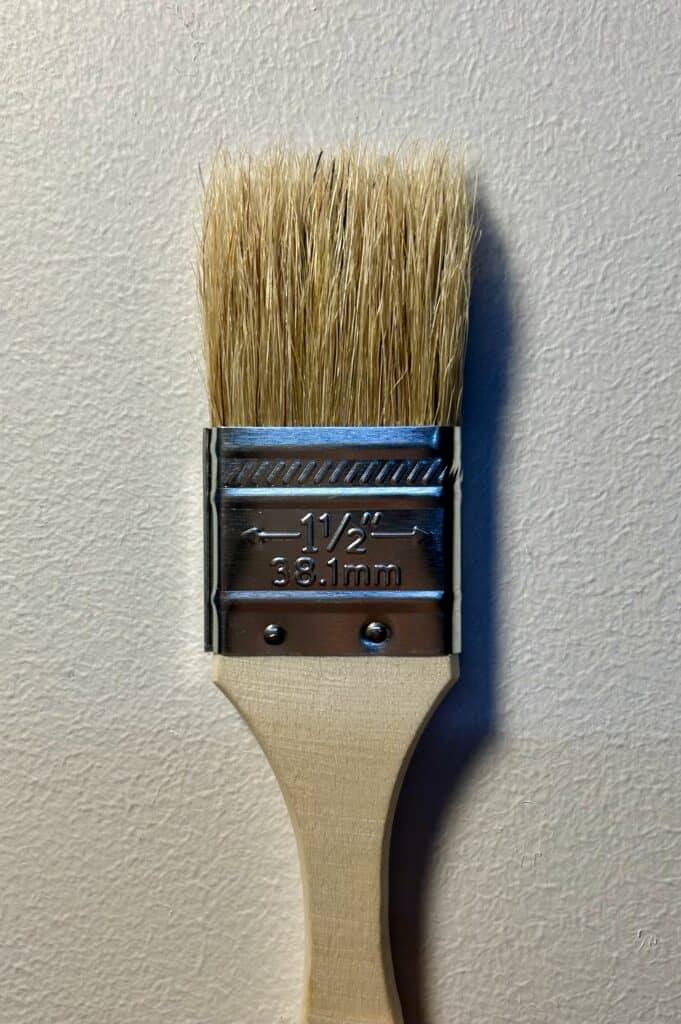 Chip brushes are an excellent tool for painting big, broad strokes quickly. They can be used in many ways, such as stippling or dry brushing techniques.
The chip brush is excellent for blocking-in large paintings and can also be used for applying glue and varnish.
Which Are Better for Oil Painting – Natural or Synthetic Brushes?
Choosing natural or synthetic brushes for oil painting depends on your preferences and the type of artwork you're creating. Natural brushes usually have a stiffer texture, which is excellent for working with thicker paint. In contrast, synthetic brushes are more flexible and retain less paint.
Both types of natural and synthetic brushes are helpful and required in oil painting, especially for subjects such as landscape art. The general rule of thumb I stick to is using bristle brushes for loose gestural brushmarks and synthetic brushes for detailed work. Regardless I remain flexible in the brushes I use for my paintings; I use the right tool for the job.
Additional Tips on Selecting Paint Brushes for Oil Painting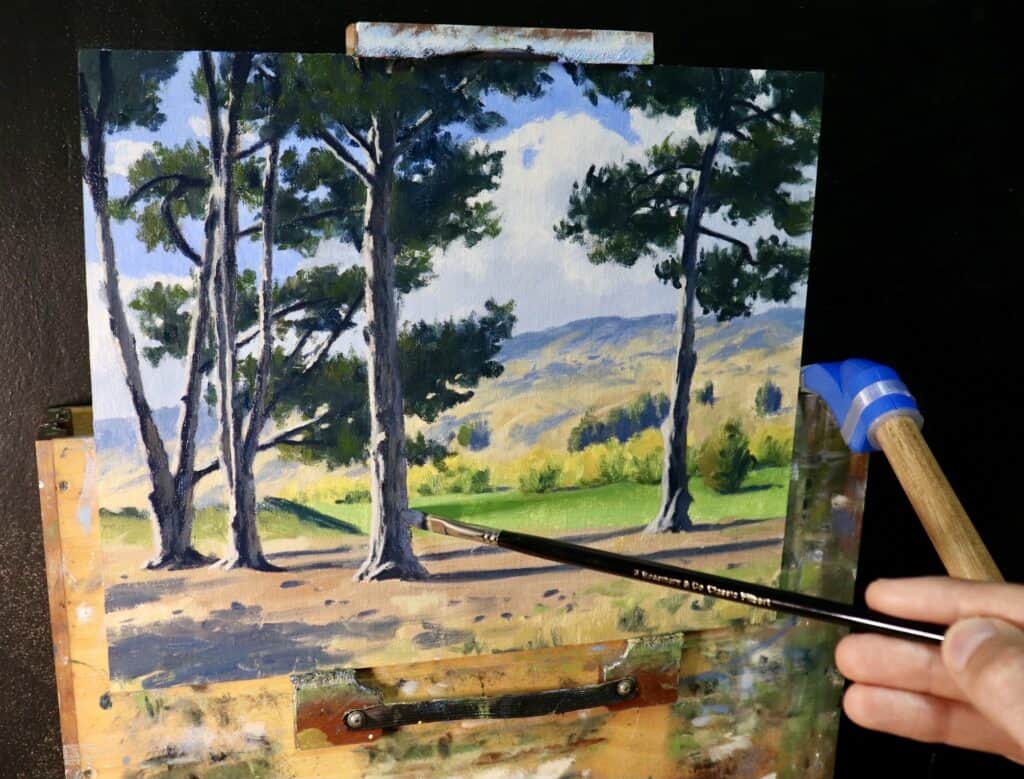 When selecting paint brushes for oil painting, there are a few things to keep in mind. First of all, you should choose oil paint brushes that are explicitly made for oil painting and not just any kind of brush. Oil painting requires a particular type of brush that can withstand the high viscosity of the paint and maintain its shape.
Select the right size brush for your project. Smaller brushes are great for detail work, while larger brushes tend to help cover bigger areas faster. Experimenting with various sizes is a great way to find out what works best for you.
Lastly, when choosing the best brushes around, select a reputable brand. Do some research to find out which brands have the best quality and performance. Like when selecting artists-grade oil paints, investing in higher-end brushes will give you better results and last longer.
How To Clean and Care For Your Oil Painting Brushes
Now that you've picked out the perfect brush for your oil painting needs, it's crucial to understand how to care for them properly. All brushes should be cleaned after each use. This will ensure your best oil painting brushes stay in good condition and last as long as possible.
When I clean my brushes, I first wipe off the excess paint. Then I clean my brushes using either gum turpentine or kerosene. I usually use kerosene when cleaning my brushes outdoors after plein air painting.
I wash my brushes twice to ensure that all the paint has been removed from the bristles. It is also essential to ensure no paint is collecting in the brush ferrule, as this will cause the bristles to splay outwards over time.
Once I have cleaned off the paint from the bristles, using gum turps, I will then wash my brushes using brush soap which softens and conditions the bristles.
Cleaning and maintaining your oil painting brushes is essential to your artistic process. Once your brushes are clean, it's important to dry them properly before putting them away. 
Allow your brushes to air so they dry naturally, or lay them flat on a paper towel so that any excess turps can evaporate. It's also best to store your brushes upright or in a container that won't allow them to bend or become damaged.
Regularly cleaning and maintaining your oil painting brushes is a great way to keep them in good condition and ensure they last for many years. With regular care, you'll be able to enjoy hours of creative fun with your beloved brushes!
Final Thoughts for Best Paint Brushes for Oils
Finding the best paint brushes for oil painting can take some trial and error. Choosing quality materials that are comfortable to use and the right size and shape for your project is essential. Also, remember to practice proper cleaning and storage techniques to keep your brushes in top condition. 
By diving in and trying some brushes, as well as little patience, practice, and brush mileage, you'll find the perfect brushes for your painting style and go on to create inspiring masterpieces.